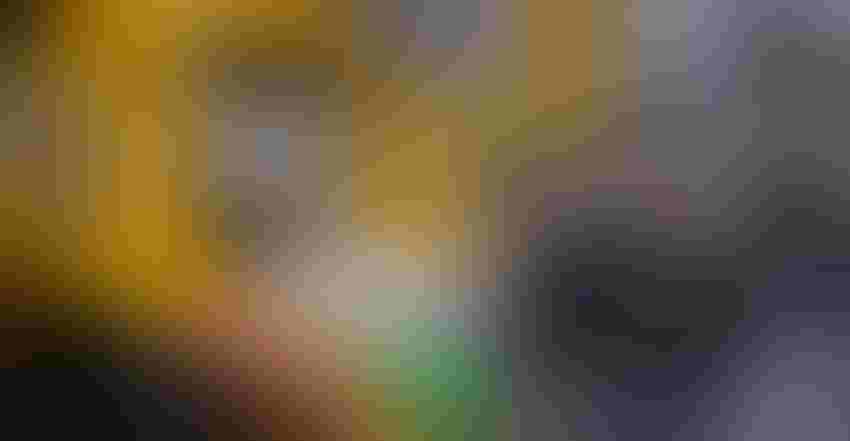 Those viewing the first-ever virtual state of the industry address by the Almond Board of California heard that off-ground harvest techniques in almonds could soon be promoted as a best management practice.
Todd Fitchette
This year's virtual world launched the first-ever Almond Conference with a truly global outreach.
The Almond Board of California's annual conference, typically bookmarked for the second week of December each year in downtown Sacramento, went all-virtual in the wake of COVID-19 restrictions by the State of California against large, public gatherings.
The pre-recorded State of the Industry address, filmed at the State Theater in downtown Modesto, featured Almond Board President and Chief Executive Richard Waycott with board Chairman Kent Stenderup and Vice Chairman Brian Wahlbrink. Stenderup is a diversified grower in the Arvin area of California. Wahlbrink grows almonds only near Modesto, Calif.
That address went live Tuesday morning. It will be available for on-demand streaming later in the week and will also be available on the Almond Board's YouTube channel later.
Daren Williams, spokesman for the Almond Board of California, said there were about 1,200 registered to view the live online session with instant message chats coming in various global and domestic locations. This compares to the 1,000 chairs and standing-room-only crowd at last year's live event at Cal Expo in Sacramento, Calif.
Looking back
The annual address typically looks back at events that shaped the industry and usually presents an optimistic picture of future growth that has for several years now included predictions of the three-billion-pound crop. While that was predicted earlier in the growing season for the 2020-'21 crop, monthly receipt tallies are ongoing. While the final number will not be available until the end of the marketing year in July 2021, the industry should be teased with a closer prediction of what growers harvested as the monthly shipment reports come in after January.
The industry's first-ever three-billion-pound crop apparently caught folks by surprise with how soon it arrived, Stenderup said in the pre-recorded message. What began as a poorly predicted crop size with the 2019 harvest continued into 2020 with a glut of almonds the industry largely was not prepared for.
In 2019 the U.S. Department of Agriculture underestimated the crop by about 350 million pounds, causing grower prices to plummet. As receipts quickly surpassed the 2.2-billion-pound estimate by early 2020, prices tumbled. This continued as the COVID pandemic affected world markets. Then the 2020 crop estimate of three billion pounds hit in mid-2020, further cementing grower prices at roughly $1 per pound less than a year earlier.
A complete shut-down of buying by India, the U.S. industry's single-largest export market, further challenged prices. All that changed in August of this year as in-shell shipments to India turned around and global export markets began to snap up U.S. almonds in record numbers.
China remains the one dark spot for shipments in the last marketing year as retaliatory tariffs cut sales there by over 23 percent. China was once the largest export destination for U.S. almonds. That now belongs to India as shipments there of in-shell product seem to have returned.
Each year almond leaders boasted at the almond conference about their ability to continually position world demand ahead of a growing almond supply. That message continued somewhat, albeit a bit tempered, during the recorded state of the industry address as the trio took turns pointing to the record shipments as recorded on the monthly shipment reports. The Almond Board of California uses a first-of August to end-of-July marketing year that coincides with U.S. harvest, which begins about August 1 of each year.
Stenderup praised handlers for getting in front of the large 2020 crop by marketing and shipping more product at the beginning of the marketing year.
Also promoted within the annual address were the Almond Board's 2025 goals to reduce water usage, control harvest dust, achieve zero-waste and improve pest management; and, the voluntary sustainability program that helps growers with best management practices that can be promoted to the various food companies that now audit farms for their sustainability practices.
Subscribe to receive top agriculture news
Be informed daily with these free e-newsletters
You May Also Like
---