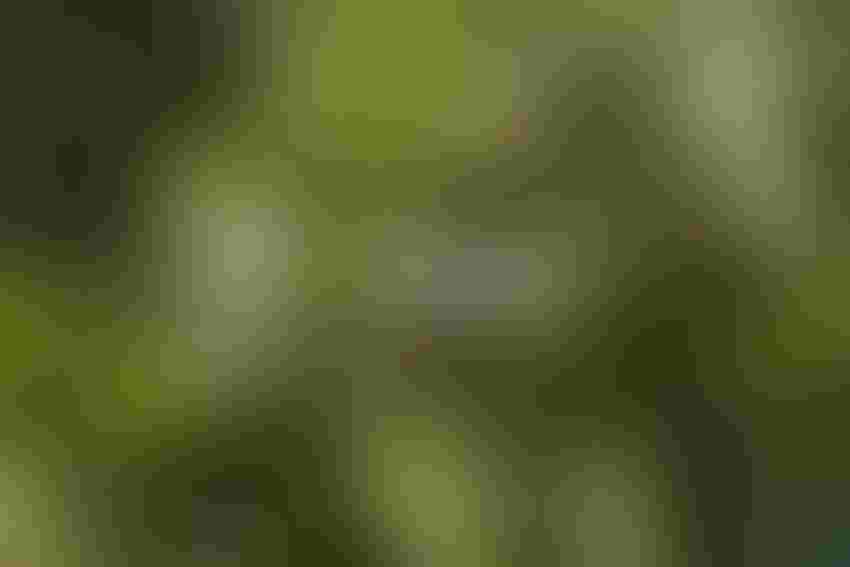 Almonds have several key development stages in the spring, each vital to the tree's health and the crop's eventual yield, explains the Almond Board of California.
Almond Board of California
In Central Valley almond orchards spring is filled with several key development stages, each being vital to the overall tree health and the upcoming year's crop.
"In April, everything is growing very fast: the fruit, vegetative growth and roots—are all growing at the same time and all impact each other holistically," said Sebastian Saa, senior manager of agricultural research at the Almond Board of California (ABC). "The roots must be nourished enough to supply nutrients and water to the vegetative areas, the shoots and leaves, and to support the reproductive growth of the tree, the fruit. Growers must approach their management of springtime practices, therefore, from this holistic vantage point."
It is vital that growers provide for their trees' various needs with efficiency and productivity in mind. That perspective involves a careful focus on managing fertilization and irrigation.
Water, Nitrogen and Sampling Key to Spring Management
In February and the beginning of March, trees rely on their reserves to support their growth. However, from the middle of March to harvest, it is the grower's job to supply trees with the proper nutrients in the right amount and at the right time. To determine how much and at what time nitrogen should be applied, the Almond Board provides growers with an online Nitrogen Budgeting Calculator, as well as an early leaf sampling protocol. Growers can visit Almonds.com/Nutrients/Budgeting to utilize these tools.
In April, as new shoots reach full size and the days warm up, the trees' water demand increases to meet their nutrient needs. At the same time, however, cloudy days are more likely in April, and some varieties at this point have grown more than others. This variability from day to day, and from orchard to orchard, requires growers to be in-tune with the weather, each orchard's level of development and other factors to apply the proper amount of water to each orchard. The advantages to proper irrigation during this time of year are enormous: hull growth will perform well and there's potential for large kernels. Saa recommends that growers pay attention to how much water they are providing their trees and to apply only as much as the trees need, as too much water applied can be as bad as too little.
In general, if growers are striving to be methodical and responsible in their irrigation and fertilization plans, they are likely to reap many benefits: saving in fertilizer costs, reducing nitrogen leaching and improving tree performance by providing the energy that the tree needs to achieve sustainable yields.
How do you know if your current irrigation and fertilization plan is working?
Walk your orchard and read your trees. The tree will tell you if you are doing the right thing; you need only to learn how to speak its language.
Tree Listening 101: Natural fruit drop
There are three natural fruit drops almond trees experience between March and May of each year. The first two drops occur in March or at the beginning of April, and they are essentially the drop of small, unviable fruits. The third drop affects fruit that has almost reached full size and occurs later in April or the beginning of May. This third drop occurs because of competition between fruits and is often the result of orchard management and the amount of fruit that is in the tree. Poor management and an excess of fruit on the tree tend to increase this drop, and therefore loss of overall crop, while good orchard management alleviates this third drop and keeps more kernels on the tree.
To determine how the trees are performing growers should look at the orchard floor to get a sense of how much fruit has dropped. The first two drops will provide growers with valuable information about the conditions that impacted pollination (e.g., adequate bee hours, advantageous weather). The third and final drop will let growers know how well they managed their orchard between March and April.
When walking their orchards growers should also look at the recently formed shoots and the size of the leaves they produce. A couple questions to keep in mind includes, "Do they have adequate vigor? Are the individual leaves green and a good size, or do they look smaller than in previous years?" Answering these questions will allow growers to determine how well their management plan performed, and what they should do differently next year.
In addition to analyzing fruit drop and the vitality of the shoots and leaves, growers should assess the trees' roots, checking the root flash, and determine where the active roots are and how deep they go, making sure that their irrigation is reaching the roots and their nutrient applications are reaching flash where new roots occurred. Fertigation systems are a tool that allows growers to wisely allocate nutrients throughout the root profile to maximize their efficiency.
Finally, growers should follow ABC's early leaf sampling protocol to collect samples in April that will allow them to forecast the nitrogen status of their trees.
Of course, one cannot learn their trees' language in one season – practice makes perfect. The more one reads their trees, and the more they do so from season to season, year to year, the better they will ultimately be able to efficiently manage their orchards.
"Managing almond trees is a multi-year plan," Saa said. "If you're managing your trees well both before and after harvest, flowers will experience a better bloom and be more fertile next season."
Additional Resources for Optimal Management
Saa recommends growers consult these resources for help in managing their trees and optimizing yields:
California Almond Sustainability Program (CASP): This program helps growers determine how they're performing in nine production areas and includes intuitive nitrogen and irrigation calculators. The nitrogen calculator helps manage applications for efficient fertilizer use and generates a Nitrogen Management Plan, which is required by the Irrigated Lands Regulatory Program (ILRP). Learn more at Almonds.com/Growers/Sustainability.

Almond Irrigation Improvement Continuum: This comprehensive manual covers irrigation management and scheduling practices from beginning, intermediate and advanced levels. Visit Almonds.com/Irrigation to view the full manual and to access The Irrigation Station videos, which provide hands-on demonstrations of how to implement irrigation best practices in the orchard.

University of California Integrated Pest Management: This site offers guidelines for a monitoring-based IPM program to effectively manage pests, while reducing the risks of pesticides on the environment and human health. Visit IPM.UCANR.edu/Agriculture.
How are yields determined?
Research determines that three factors define almond yield:
The number of flowers set

The percentage of fruit set
Flower set depends on spurs, or short shoots, that are at least two years old. Mature trees produce more than 80 percent of their total yields on spurs. Because spurs are alternate-bearing from year to year, a significant number will die or not bloom from one season to the next.
Extensive research in evaluating yield in almonds, conducted by Saa in conjunction with the University of California, shows that the key to optimizing yields in commercial almond orchards is to focus on maximizing healthy populations of productive spurs.
Source: Almond Board of California, which is solely responsible for the information provided and is wholly owned by the source. Informa Business Media and all its subsidiaries are not responsible for any of the content contained in this information asset.
About the Author(s)
Subscribe to receive top agriculture news
Be informed daily with these free e-newsletters
You May Also Like
---