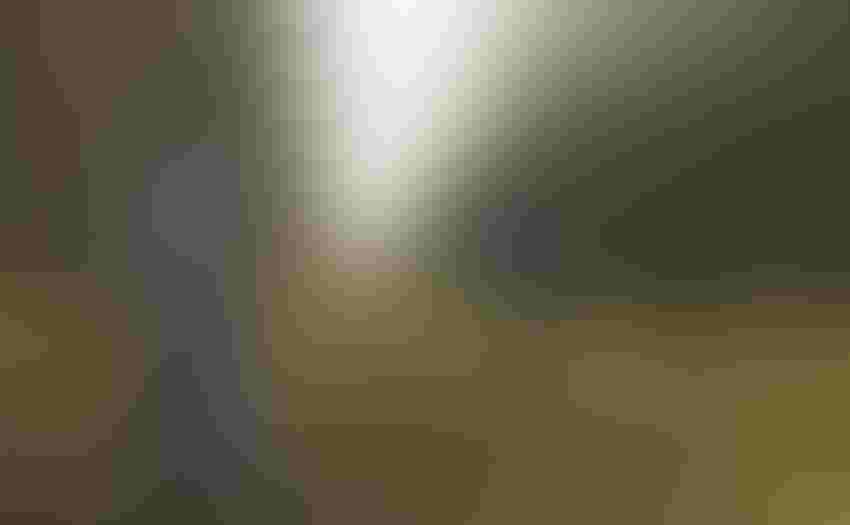 A poling crew rids almond trees of mummies after harvest.
Almond Board of California
Mummies in both ancient Egypt and your local almond orchard have something in common -- by definition, "a body dried and preserved by nature" or "a dry, shriveled fruit resulting from any of several fungous diseases."
Smart growers include The Mummy Shake as part of their post-harvest protocol to remove temptation to invade those left-over mummy nuts with kernels that become a desirable food source for orchard pests. Mummy nuts, in essence, act as a hotel -- with room service -- for pests.
Before the orchards get a chance to rest, relax, and store up nutrients for next year's crop, the mummies -- potential overwinter homes for Navel orangeworms -- need to be removed, by hand or by machine.  Left on the tree, the mummies absorb any rain or morning dew, just enough for NOW larva to exploit the situation all the way to adulthood.
The folks at the University of California Integrated Pest Management Program recommend mummy nuts be counted by January to allow enough time to reduce any NOW population before bloom. Sprays should not be needed in orchards where trees have been harvested and fewer than two mummy nuts per tree remain, they advise.
"Examine 20 trees per block. If an average of two or more mummies per tree are found, remove by shaking or hand poling the entire block. Destroy mummies on the ground by disking or mowing," according to UC IPM. 
"Mummy shake has to be properly timed," says plant pathologist Themis Michailides of UC Davis. "If you shake the trees right after harvest when they're still dry, the mummies tend not to fall. You need to wait until the rains come and the nut stem cells soften a bit, or they'll continue to stick to the trees. If the timing is correct, mechanical, followed by pole shaking, will knock all of them to the ground where they can be shredded and the larva inside the nut will be destroyed."
Cooperative effort needed
To be effective, this sanitizing process needs to be a cooperative effort with neighboring nut orchard growers.
"Entomologists emphasize that the mummy removal process should be on a widespread, an areawide, scale so you don't have NOW moths coming from mummy nuts on neighboring orchard trees," says Michaeilides. "Moths can still invade my clean orchard from adjacent trees that were not sanitized.
"NOW survives there over the winter and initiates a new life cycle for the next season.  The more mummies that are left in the field…yours or your neighbors…the more winter larva and flying moths you'll end up with. It's a numbers game in a way and the end result is more insects will mean greater crop damage and the more damage you have, the greater the risk for aflatoxin contamination as the moths carry the proper dosage of fungi spores that cause the contamination."
Cleanliness in this case is a preventive that takes away NOW's opportunity. "If you do a perfect job and eliminate all your mummies, you break the cycle of those insects in your orchard," Michailides says. "It's time, effort, and dollars well spent."
So, that's one key. The other is that there's strength in unity and you need to get surrounding nut growers to be as careful as you are. 
"Sanitation, mummy removal, should be on an area-wide scale," he says. "We have a lot of orchards in the valley and if one sanitizes, but the others do not, the effectiveness is tremendously reduced. Efficiency requires the cooperation of all the growers."
For more news on tree nuts as reported by growers and farm advisors, subscribe to the Tree Nut Farm Press e-newsletter.
Subscribe to receive top agriculture news
Be informed daily with these free e-newsletters
You May Also Like
---