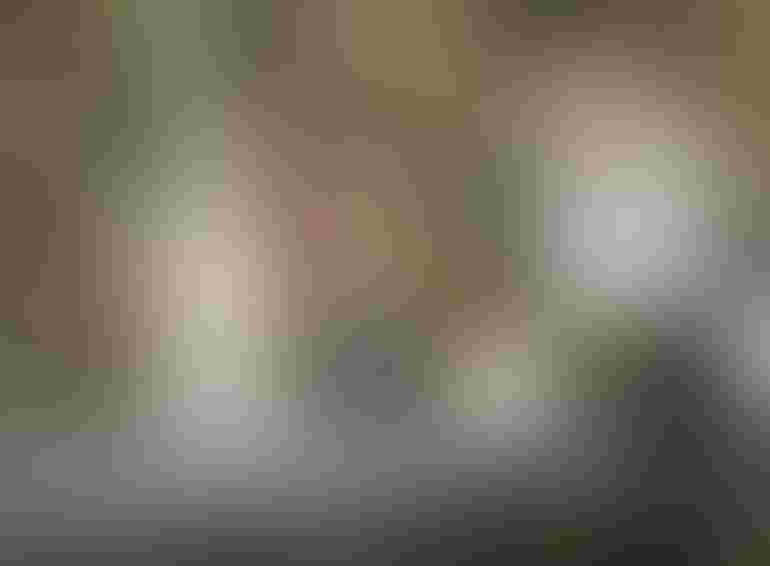 A worker at a Williams, Calif., almond processing plant seals a bag of nuts for shipping.
Tim Hearden
United States commercial tree nut production remains strong despite the many challenges the overall nut industry faces in modern times.
California leads the world in almond production and provides an impressive share of high-quality walnuts and pistachios to the global market. Georgia, New Mexico, Texas, Oklahoma, Arizona and California are major pecan producers and for years have collectively provided the most commercial pecans to the world.
Without question, including pistachios, walnuts and other nut varieties, over the last several years the U.S. nut industry has experienced healthy growth, continuing to dominate in the global marketing of American nuts.
Challenges on multiple fronts
In contrast, 2019 ushered in a series of setbacks that have cast a shadow on those gains.
Nut growers in California know well the challenges this year thanks, in part, to unusual weather conditions. From fall freezes to a wet fall, winter and spring, one of the wettest on record, the growing season was slow to get underway. Combined with a delayed pollinator season, getting started on the new crop year was one challenge to overcome.
But more than the weather, a spiraling trade conflict with China and other U.S. trade partners began to cast a larger shadow over the prospects of a good year. Retaliatory tariffs imposed by China eventually affected U.S. nut farmers and their ability to trade in the global marketplace. While there is some optimism that the latest Chinese tariffs on U.S. farm products may not include tree nuts, there remains a degree of concern as unexpected changes in trade policy can and have come quickly as tensions rise and fall between Washington and Beijing.
To be fair, while some positive developments have come out of the trade conflict, specifically new markets opening for U.S. nut growers and USDA funds to promote U.S. nuts worldwide, there have been other challenges, like new tariffs imposed by India that have concerned many farmers.
Despite those challenges, the U.S. nut industry remains strong and viable and the prospect for rising optimism is good — provided current trade challenges improve in the near future.
More challenges ahead?
As a result of mounting trade tension between the world's two big superpowers, other nations are beginning to toss their hat into the ring, giving China a chance to get the imports they need, including agriculture products, without having to pay the tariffs imposed by the United States.
Most of the competitors who have stepped up to supply farm products to China, which are normally provided by the United States, generally cannot provide the same volume and often the same quality as U.S. farmers. But it hasn't stop them from trying.
For example, the U.S. pecan industry was the largest provider of pecans worldwide until last year. Mexico now wears that crown by a small but growing percentage. In 2018 alone, Mexico's export of pecans to China grew by 3,000 percent. Mexican pecans face a 7 percent tariff from China while U.S. pecans suppliers face a 47 percent tariff. According to cronica.com.mx, nut production in Mexico has increased by 80 percent.
Meanwhile, the state of Chihuahua produces 54 percent of the nearly 110,000 tons of walnuts that Mexico harvests every year, nearly half of which is exported. While that is far less than produced in the U.S., it demonstrates Mexico's intention to become a major global nut competitor in the years ahead.
China promoting world nut trade
China has been actively pushing to expand the global nut market. This year's China International Tree Nuts Conference (Aug. 5 to 7) in Zhengzhou attracted researchers and marketers from over 20 countries to collectively promote the development of the tree nut sector.
In terms of pistachios, China is seeking substitute supplies from other suppliers including Iran, which is currently the second largest pistachio supplier to China. But a sharp production decrease in Iran will likely limit those efforts.
Since most almonds imported by China originate from California, China must look to Australia, which will be unable to fill the demand. Other almond producing nations include Iran, Morocco, Spain and a few others, but none produce enough volume or quality to satisfy China's growing demand.
Not just nuts, but U.S. cash crops are feeling the squeeze
Australia has cashed in on the U.S.-China trade conflict as well. Australian cotton exports to China increased from a few million dollars to over $500 million over a 12-month period ending in April this year. That number has since increased dramatically.
Likewise, Brazil is benefiting from the U.S.-Chinese trade war. Soybean exports from Brazil to China have nearly doubled, from $6 billion to over $11 billion for the 12-month period ending in April 2019. Brazil exported nearly $800 million in cotton to China, up from $160 million for the same period.
U.S. soybean exports to China declined by more than $9 billion for the same period while U.S. cotton exports dropped more than $300 million over the same period.
Canada's export of soybeans also rose as U.S. exports fell by over $8 billion.
Trade analysts say if the U.S. China conflict were to extend well into next year, there is chance global competition could continue to rise as other countries ramp up production in hopes of winning or holding on to trade agreements with China.
The trade war with China has opened wide the door to increased competition that could, in the end, mean fewer export opportunities for U.S. companies, growers and producers in the years ahead.
U.S. farmers, however, are optimistic. Regardless of the challenge, most farmers, including nut producers, believe they can weather any storm, and this storm is no exception.
For more news on tree nuts as reported by growers and farm advisors, subscribe to the Tree Nut Farm Press e-newsletter.
Subscribe to receive top agriculture news
Be informed daily with these free e-newsletters
You May Also Like
---