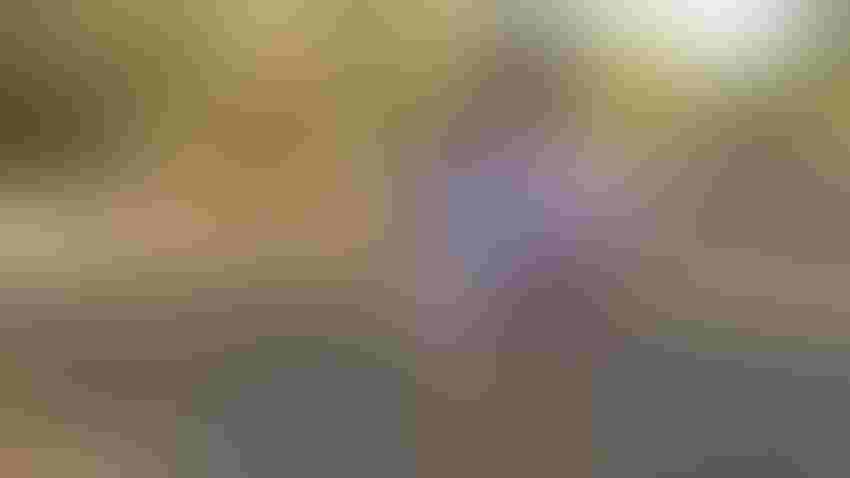 Joseph Gallegos of Umida Agriculture is testing a new enclosed subsurface irrigation system in almond orchards in California. In his test in Hughson, Calif., the grower there applied 10 acre inches of water this season to a portion of his orchard and still achieved a good yield from his trees.
Todd Fitchette
When California almond farmer Donny Hicks said he was using 10 acre inches of water to irrigate his orchard, folks thought he either misspoke or was blowing smoke.
"Inches?" he was asked.
He wasn't blowing smoke, according to Joseph Gallegos of Umida Agriculture, a company specializing in a new method of delivering irrigation water to almonds.
This is significant because it is commonly believed almonds require four acre feet of water annually to produce a good crop. In other areas of his orchards Hicks will use upwards of 48 acre inches of water to achieve maximum yields that can exceed 4,000 pounds per acre.
The Umida system is a new subsurface irrigation system that delivers water in a shaped six-inch pipe. The pipes are buried four feet under every other row of almonds in a test plot at Hicks' orchard in Hughson, Calif. The shaped pipe uses capillary functions to wick water through holes into the orchard rows and to the trees, Gallegos said.
Hicks' test plot uses well water only. He has access to district surface water in other parts of his orchard, which tends to be plentiful for him in Turlock Irrigation District.
So why use a water thrifty bit of technology if he tends to have ample surface water for flood and drip systems?
Hicks said he does this to test the technology for other growers and to be responsible with the water he does have. As an early adopter and a field representative for RPAC Almonds in Los Banos, Hicks regularly works with growers to maximize their efficiency.
How it works
The Umida system moves water through the shaped pipe, wicking the water through small holes in the concave section in the center of the PVC pipe. In Hicks' orchard the pipes are placed every other row, or about 40 feet apart. Water wicks from them towards the trees, up to within a foot of the surface, and 20 feet either side of the pipe, Gallegos said.
Why space the pipes every other row? Two reasons, Gallegos said. One is cost. It's cheaper to run them every other row. The second is they're not needed under every row. The capillary actions of the water moving up and sideways allows the entire orchard to be covered with the 40-foot spacing.
This is the third season for Hicks' cooperative study with Umida. This season's yield comparisons are pending, but it appears that in the test orchard of Independence variety trees on Viking rootstock, Hicks yielded 1,500 pounds per acre this year due in large part to challenging weather at bloom. The first two years of Hicks' study yielded 2,000 pounds and 2,400 pounds, respectively.
In other parts of his orchard where he uses drip and flood, Hicks can apply closer to 48 inches of water annually because he has access to surface water from a district with enviable water rights and availability. In those areas, his well-managed orchards can yield 4,000 pounds per acre on a full complement of water.
Hicks has not yet run the numbers to compare his output costs from irrigating 10 inches of water versus four feet, but he suspects the savings are significant.
The Umida system moves water through gravity, so this system will only be effective on flat ground and won't work in the hillside plantings common to the edges of the Central Valley.
Water is pumped into the system for about an hour at a time, then shut off. Water is allowed to wick through the gravity system. This pulse pumping is done three times a day in Hicks' orchard, Gallegos said.
Throughout the growing season from late February through September, Hicks will run the irrigation pump that feeds the Umida system a total of about 24 hours.
Other cost savings he's seen include herbicide use. Because the PVC lines are buried four feet below the surface, weeds tend not to be a problem. The surface stays dry. This allows him to continue irrigating his crop during harvest. By not cutting water to the trees as is normally done in drip, micro and flood systems, Hicks is not stressing his trees at a time when mites can be problematic.
Treatment costs and mite sprays are reduced as well, Hicks said. In some areas Hicks has not needed pesticide treatments because the mite threshold was not high enough, and beneficial insects were able to control the mite populations.
Gallegos suspects that the Umida system will see its greatest return for farmers in the challenged groundwater regions of the state, where surface supplies are non-existent or rules under the Sustainable Groundwater Management Act will greatly limit how much water a grower can pump from the aquifer.
Gallegos said there are grant opportunities for growers in Arizona to install water thrifty technology like the Umida system. He is currently testing the technology in cotton at Fresno State University, where yields in Pima cotton reached three bales per acre. He is currently exploring other cropping options for the system, including pistachios.
Subscribe to receive top agriculture news
Be informed daily with these free e-newsletters
You May Also Like
---