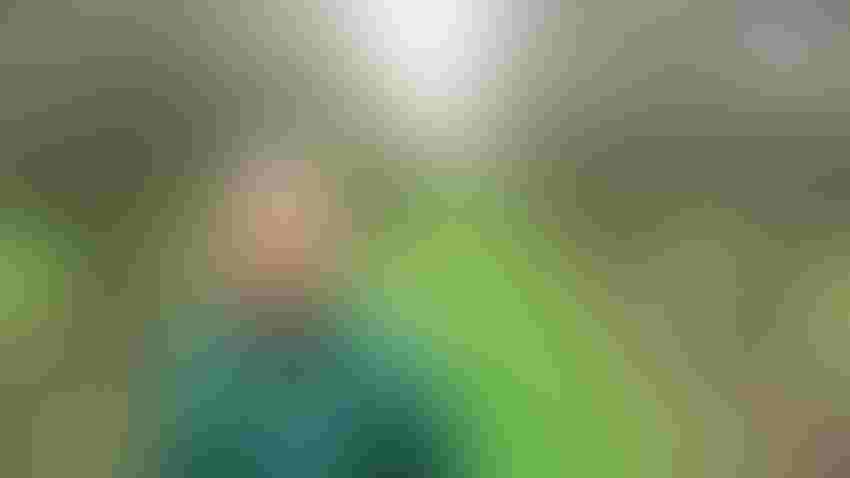 Grower Heith Baughman of Bakersfield operates at Level 3.0 in the Almond Board of California's Almond Irrigation Improvement Continuum.
Almond Board of California
Standing in one of his almond blocks just northwest of Bakersfield, Heith Baughman freely admits he knew "absolutely nothing about almonds" when he purchased 80 acres of trees in 2003.
Fortunately, Baughman was no stranger to farming — he had years of experience under his boots operating HB Ag Inc., a custom harvesting business responsible for managing 25,000 acres of forage crops in the area. He also had one more thing going for him: a drive to learn.
"I found a consultant who walked me through the basics, and I think I drove him crazy because I kept calling him, asking questions," Baughman says. "I wanted to know how I could get bigger yields, cut my costs and thrive at this. When we started, we were shooting for the average, but I wanted to be above the average."
His determination paid off, as his yields exceeded 4,000 pounds from 2005 to 2007.
"On one block, we harvested more than 5,600 pounds and more than 5,000 pounds the following two years," he says.
Following his early success, California entered a historic drought period and discussion around strategic deficit irrigation began to increase. He recalls that most of the talk centered on the practice as a method for conserving water and not so much as a control for disease. "When people started talking about deficit irrigation, I would literally laugh out loud," he chuckles. "Why would I cut back on water? Water equals yield!"
Baughman's view that more water meant higher yields would change over the next several years, shaped by challenges in the orchard, better access to information and, ultimately, waning yields.
DISEASE, DECLINING YIELD
In 2007, Baughman noticed that many of his trees' leaves appeared burnt. After making some phone calls, it was determined that they were suffering from Alternaria leaf spot, a fungus that appears as a large brown spot on leaves. If severe, it can lead to nearly complete defoliation by early summer.
"I didn't know what Alternaria was, but I learned that it can be caused by overwatering," he says. "Then I started to pay attention to deficit irrigation."
Subsequent harvests with lower yields also grabbed his attention, as his numbers declined from expected 4,000-plus pound harvests to 2,500 pounds. He admits that during this period he and his foreman were trying to use their best judgment on when and how much to irrigate. "We didn't want to underwater and damage the trees, losing leaves and fruitwood for the next year," he says. "So, we ended up overwatering, and that caused other issues. We were trying to do the right thing, but it came down to second-guessing ourselves."
Baughman took action to reduce the guesswork in the orchard, using a pressure chamber to help determine plant water stress. "When we used the pressure chamber, we felt that it worked, but we dropped the ball a few times regarding execution," he says, noting that inconsistent samples were collected and irrigation run times were not executed according to plan. Still, he went from having "full-blown hull rot and Alternaria before deficit irrigation" to — thanks to the pressure chamber — eliminating those conditions.
DISEASES CAME BACK
However, he felt that he was getting a handle on irrigation management, so his regular use of the pressure chamber faded away. "When we stopped using it, we thought we knew what we were doing and then the diseases came back," says Baughman, a former University of Southern California offensive tackle who stands at 6 feet, 6 inches. So, he used an apt metaphor to describe the situation: "We'd find ourselves on the 10-yard line, nearing hull split, trying to hold on to the ball and punch it into the end zone — and then we'd fumble."
With the pressure chamber back in the field today, used in combination with soil moisture monitoring, Baughman finds himself in the end zone more often.
"We've cut back water application by about a quarter-acre foot, and it's more about the timing of the application, managing the water when the trees need it," he says. "I estimate that I'm using 10 percent less water and my power bill has dropped significantly with better-timed applications."
Pat Biddy, Baughman's irrigation consultant, says the issues his client faced were mostly centered around efficient timing of water applications. With in-field sensors providing real-time monitoring, data for soil moisture, line pressure, and weather are uploaded to the internet every 15 minutes. This information can be used to help estimate real-time evapotranspiration (ET) rates.
"We also have guys coming through the field with a pressure chamber, as well as probing and hand-checking, using the NRCS guide for the hand-feel method as a baseline," Biddy says. "You need to have the whole picture to make good decisions — soil, plant, weather, irrigation system performance and applied water."
ALMOND BOARD RESOURCE
Biddy notes that he regularly uses another resource: the Almond Board of California's Almond Irrigation Improvement Continuum, a comprehensive manual of best practices related to irrigation management and scheduling practices. The Continuum organizes practices into three management levels: Level 1.0 (fundamental), Level 2.0 (intermediate), and Level 3.0 (advanced).
"We use the Almond Board's Continuum as a guide to see where the industry is going and to stay ahead of the curve," he says. "Heith is operating at Level 3.0."
For growers who don't know where to start, Biddy recommends they ask their irrigation consultants for solutions. Baughman admits that the proper irrigation tools and a trusted consultant are added costs, but they can pay dividends. "If I'm saving 10 percent to 15 percent on my power costs, it's worth it. And the closer we get to SGMA [Sustainable Groundwater Management Act], we're all going to have to tighten our belts. Find your go-to trusted source and look for the results in the orchard."
Growers interested in learning more about the Almond Irrigation Improvement Continuum can contact Spencer Cooper, senior manager of field outreach and education at the Almond Board of California, at [email protected] or (209) 604-3727. For more information and to access a digital copy of the Continuum, visit the Almond Board of California's website at Almonds.com/Irrigation.
Source: Almond Board of California

, 

which is solely responsible for the information provided and is wholly owned by the source. Informa Business Media and all its subsidiaries are not responsible for any of the content contained in this information asset.
Subscribe to receive top agriculture news
Be informed daily with these free e-newsletters
You May Also Like
---