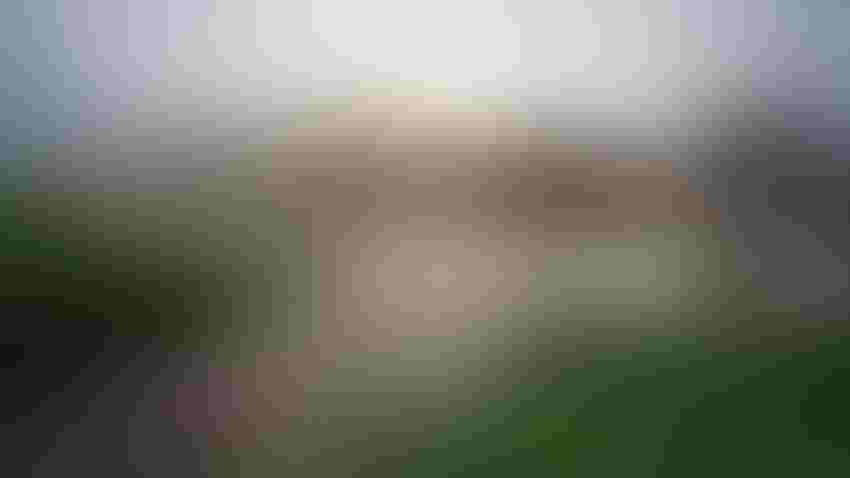 A dormant almond orchard in California is flooded for groundwater recharge.
Christine Gemperle/Almond Board of California
Call it super drainage, deep percolation, or simply groundwater recharge. It's a simple hydrologic process where water at ground level moves downward from surface water to groundwater --- the primary method through which water enters an aquifer.
"Farmers have considered it a sort of side benefit growing crops via flood irrigation with a recharge of the aquifer by not pumping groundwater," said Jesse Roseman, Almond Board of California principal analyst for environmental and regulatory affairs.
"That part of recharging isn't new," Roseman said. "What is more current is the idea of over-applying water for the purpose of recharge in working land where crops are being grown and that has come about out of necessity with the Sustainable Groundwater Management Act limiting pumping."
It is Roseman's contention that, "It's become more critical to do so wherever we can take surface water and overlay is safely in tree nut orchards or recharge basins so that we can comply with SGMA and limit the amount of ground that's going to have to come out of production because of cutbacks on groundwater pumping."
Especially in California agriculture, impacted by its variable climate and a perennial oscillation between drought and flood events with the knowledge that climate change will only exacerbate this variability. "Water managers are eying a way to capitalize on the extremes by harnessing flood waters and redirecting them into parched aquifers --- Flood-Managed Aquifer Recharge or Flood-MAR," according to the California Department of Water Resources.
The department, managers of the state's entire water portfolio for multiple benefit among competing entities, calls the harnessing of flood waters "a promising climate change adaptation strategy" and "the only proactive planning and adaptation strategy that can ensure a sustainable water future for the state. Flood-MAR is an emerging management effort that will significantly improve water resource sustainability throughout California."
Two-day discussion
Concept and reality coincided recently at the 4th biennial Flood-MAR Forum in Sacramento for a two-day discussion on the technical, regulatory, policy, and socioeconomic considerations of using floodwaters for managed aquifer recharge.
"Since our 2021 Forum, we experienced a historically wet winter and saw concept implementation expand in real-time," reported the Association of California Water Agencies group. "This year we shared lessons learned in order to better prepare for the next wet winter to further advance concept implementation."
It was the contention of the forum sponsors that, "Large-scale implementation of Flood-MAR can fundamentally change how flooding and groundwater management are integrated…in anticipation of rainfall or snowmelt for recharge on agricultural lands."
The Almond Board took advantage of the unexpected winter 2023 deluges to over-apply water on dormant orchards to replenish dwindling supplies. They suggest a four-step process that begins with the availability of surface water before ascertaining if the soil type is right for recharge, then deciding on the type of recharge, like flooding the orchard, before implementing an on-farm recharge plan."Water management in California has to be prepared for extremes in order to be resilient," Roseman said. "We need to sock away water when times are good to make sure there are adequate supplies during periods of drought and the winter of 2023 gave us a prime opportunity to practice recharge, the main way to address SGMA and our overdrafted aquifers."
Subscribe to receive top agriculture news
Be informed daily with these free e-newsletters
You May Also Like
---