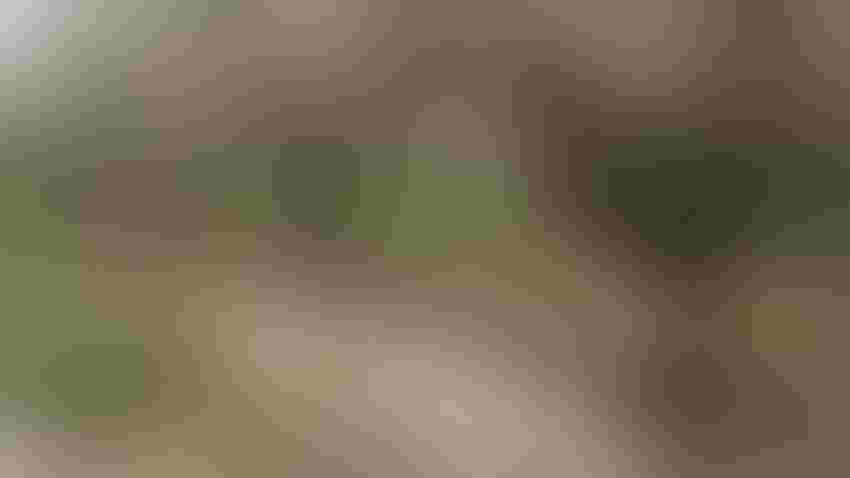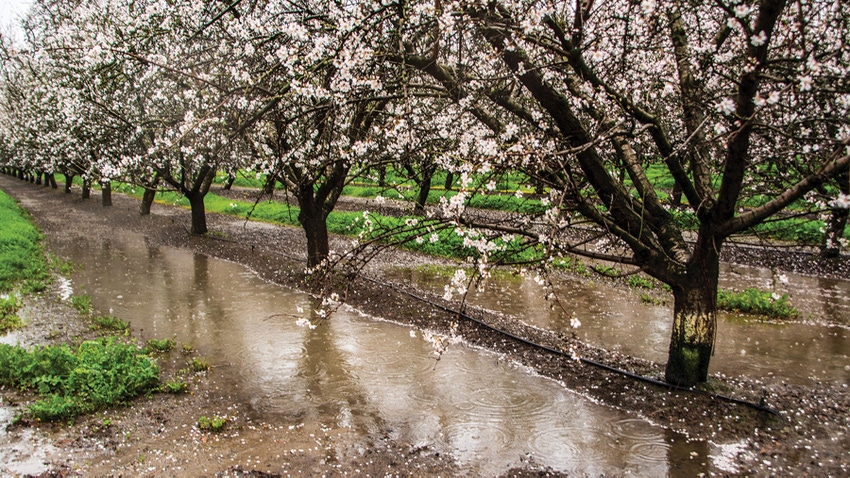 Rain saturates the soil in an almond orchard during bloom.
Todd Fitchette
It may take a year before damage to Central Valley orchards from the winter and spring barrage of atmospheric rivers is fully known, a University of California expert says.
Almond growers are expecting a diminished crop as cold and rain during bloom limited bee activity and hindered spray operations, causing the spread of phytophthora and other maladies, according to researchers.
But since the buds for next year's crop are formed in the current year, the unusually wet and cold spring of 2023 may also influence the crop size in 2024, UC Cooperative Extension farm advisers Elizabeth Fichtner and Mae Culumber wrote in a recent newsletter.
"The unusually wet winter and spring of 2023 has had unprecedented impacts on our local orchard systems," they wrote in the UCCE's Nut, Olive and Prune Programming News. "However, the cumulative impacts of a barrage of atmospheric rivers and persistent standing water in some flooded areas may not be realized for another year."
The scientists noted the bloom period for many other Prunus species besides almonds including peaches, cherries and plums), were also unusually protracted because of the high frequency of rain and cool temperatures.
Saturated soil
In almonds, saturated soil conditions delayed shaking of mummy nuts – a key precaution against the navel orangeworm – although the late rains killed some overwintering NOW, according to integrated pest management adviser Sudan Gyawaly.
The storms also created the right conditions for plant pathogens, UC scientists say. One is phytophthora, which spread in canopies this spring as intense storms pushed infections up trunks. The pathogen can cause gumming and eventually kill the tree.
Pistachio, walnut, and pecan, all wind-pollinated crops, also saw delayed bud break and shoot development, Fichtner and Culumber wrote. Flooded orchards may have had root damage from waterborne plant pathogens, sometimes negating the practice of grafting tree crops onto disease-resistant rootstocks, they wrote.
"The rainfall and flooding have additionally influenced the nutritional status of orchard soils," they observed. "Cool, wet soil conditions slow the chemical and biological reactions that control the availability of nutrients for tree uptake."
The two urged growers to work closely with their private crop consultants and Extension advisers as the season progresses to observe and document orchard changes. Photographs should be taken of anomalies so comparisons can be made to past and future years.
Subscribe to receive top agriculture news
Be informed daily with these free e-newsletters
You May Also Like
---