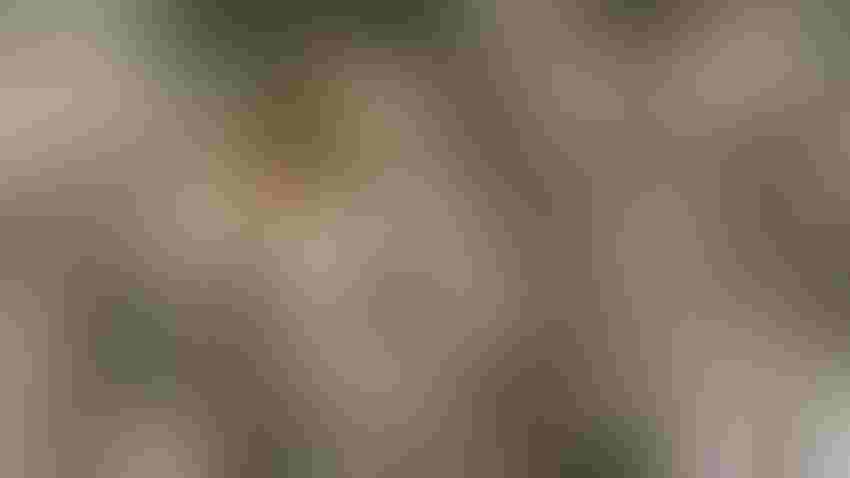 An almond blossom is drenched by rain. Inclement weather can result in bacterial blast, which kills flowers and spurs in almond varieties in susceptible growth stages.
Todd Fitchette
Add bacterial blast to the list of challenges almond growers faced during the cold and wet winter and spring of 2022-23.
University of California Cooperative Extension scientists say many growers, managers and pest control advisers found outbreaks of bacterial blast in their orchards this spring.
Cold, frosty, and wet weather at bloom often results in bacterial blast, Pseudomonas syringae, killing flowers and spurs on varieties in susceptible growth stages, UC farm advisers explain.
Blast is a difficult disease to control because of a limited number of available tools, and symptoms were common this year even in orchards which had received one or more copper sprays during dormancy, UC farm advisers Jaime Ott, Franz Niederholzer and Mohammad Yaghmour write in this summer's almond newsletter.
The blossom-busting bacterium has grown resistant to copper throughout the state, the advisers say. The bactericide Kasumin is available but expensive; it can become cost-prohibitive if wet prolonged wet weather requires repeated applications, they say.
Bud death from blast can leave blank wood with few leaves on some shoots, and significant leaf drop can occur if the blast is severe enough.
The advisers say temperature and frost control in an orchard are growers' least expensive and most effective blast prevention strategy.
Damage toll unknown
UC scientists say it may take a year before damage to Central Valley orchards from the winter and spring barrage of atmospheric rivers is fully known. The weather created the right conditions for plant pathogens, including phythophthora, which typically develops in wounds caused by pruning but this year moved up trunks and into canopies during the intense storms.
Still, the USDA expects growers to harvest 2.6 billion pounds of almonds this season, a 1% increase over last year's total. The objective measurement survey released in July was about 4% higher than the subjective estimate issued in May.
Subscribe to receive top agriculture news
Be informed daily with these free e-newsletters
You May Also Like
---