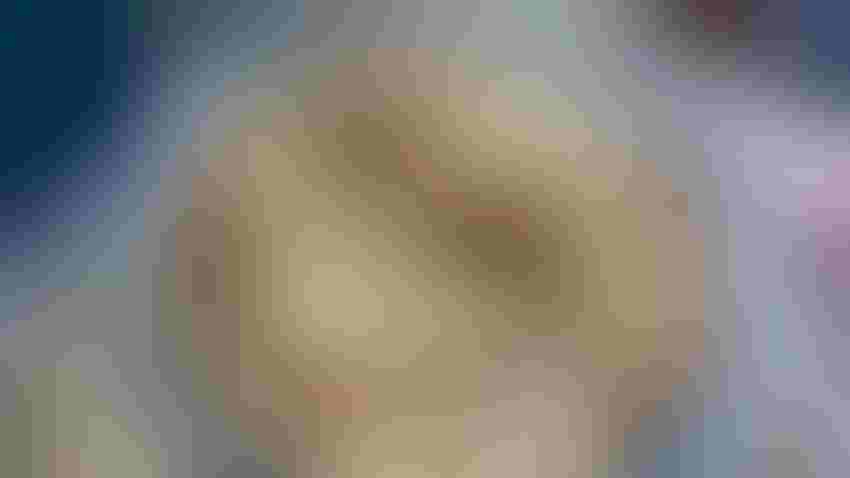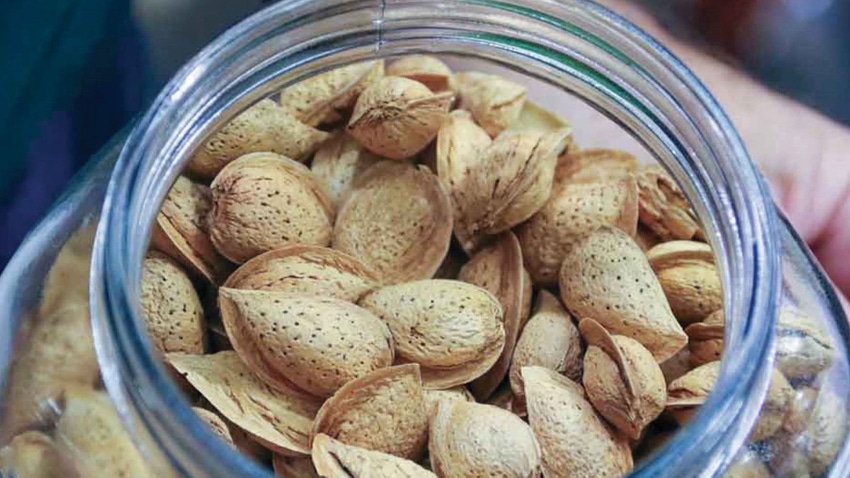 California farmers are projected to harvest 2.6 billion pounds of almonds later this year, according to the USDA. If it holds, this is 1% higher than last year's harvest, but well short of the 3.1 billion pound crop harvested in 2020.
Todd Fitchette
The USDA's almond production forecast may have caught some folks by surprise as an earlier estimate suggested a smaller crop than what survey crews found.
This year's California almond crop could hit 2.6 billion pounds, a 1% increase over last year's total. The objective measurement survey is about 4% higher than the subjective estimate that came out in May.
Nonpareil nuts, which last year did not size up well, seem to be much larger this year.
"The Nonpareils are monsters this year," said Donny Hicks, a field representative with RPAC Almonds in Los Banos.
The larger size of the Nonpareil nuts, which account for almost 40% of the state's crop, and are the go-to for snack-nut products, could mean a smaller yield in terms of total nuts, Hicks said. This could bode well for premium pricing as grower prices continue to languish amidst years of overproduction and a host of economic forces.
The survey shows average nut set per tree is down about 3% from last year's report. The average Nonpareil nut set is 1% higher, according to the report. Kernel weight in the Nonpareils is up 14% from last year's average.
The USDA samples trees by counting nuts along a path within randomly selected trees. Nuts are counted from the trunk to the end of a terminal branch. The USDA sampled 912 orchards this year, an increase from last year's survey count.
Carmel variety leads
The Carmel variety averaged the largest nut count at close to 5,000 nuts per tree, based on 39 orchards surveyed. Independence, Padre, Nonpareil, and Butte varieties each averaged over 4,000 nuts per tree, according to the USDA report.
Average nut loads by county ranged widely, from a low of over 2,900 per tree in Fresno County, to an average of nearly 4,800 nuts per tree across the counties of Butte, Glenn, Kings, Solano, Tehama, and Yolo. Tulare County almond orchards averaged 4,677 nuts per tree, while Merced County trailed slightly at 4,686 nuts per tree.
Nut size by variety showed significant gains across the board over last year. Independence and Monterey varieties had the largest kernel weights in the samples at over 1.8 grams each, with Nonpareils in third at an average of 1.69 grams.
The objective survey is based on production from 1.38 million bearing acres of almonds at an average yield of 1,880 acres, the lowest yield since 2009, according to the Almond Board of California.
Subscribe to receive top agriculture news
Be informed daily with these free e-newsletters
You May Also Like
---