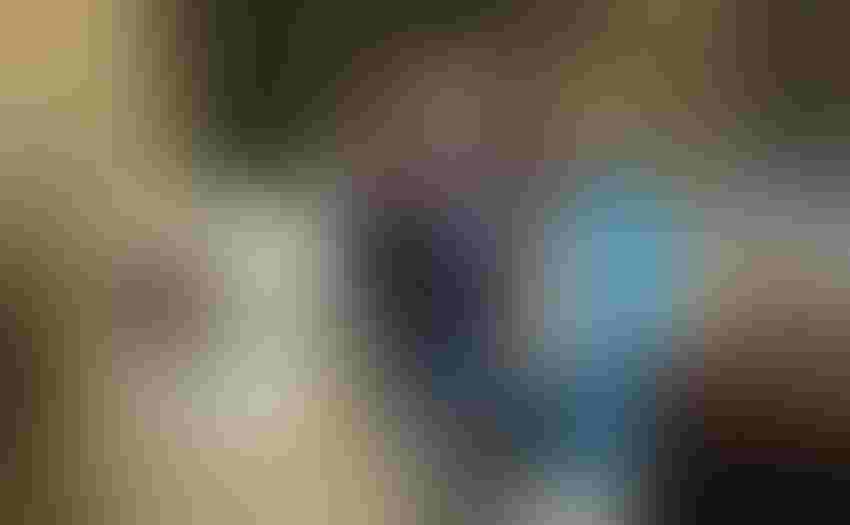 A barn owl box is displayed during a workshop on beneficial birds near Woodland, Calif., in 2019.
Tim Hearden
Attracting beneficial birds to an orchard could result in a significant reduction of codling moth, a key pest in walnuts, according to researchers.
University of California Cooperative Extension farm advisor Rachael Long and UC, Davis researcher Sacha Heath found that adding birds into the pest control system reduced codling moth larval numbers by 46%, they reported in 2019.
Nuttall's woodpeckers and white-breasted nuthatches did much of the work, as they travel up and down the trunks of trees searching for insects, the two scientists observed.
"There's a lot of data out there that show birds are incredible predators of these pests," Long told about 100 growers and others at a March 4 workshop in Woodland, Calif.
As Long explains, codling moth is a major worm-like pest that infects walnuts, apples and pears. The larvae go dormant during winter, living in cocoons in crevices of trees, then adult moths emerge in the spring, lay eggs and infest crops.
First flight
According to the UC's Statewide Integrated Pest Management Program, the first flight of codling moth typically starts sometime from early March to early April, and the flight of the overwintered generation can last several months as the moths lay generations of eggs.
Later generations that emerge by midsummer can cause significant damage, as older larvae leave the nuts and move to tree trunks or debris to spin cocoons and overwinter and occasionally some larvae can be present in harvested nuts.
Feeding damage to the kernel makes the nut unmarketable and can also create a breeding site for the navel orangeworm, according to UC IPM. Left uncontrolled, codling moths can damage up to 40% of the crop.
In a recent study, Long and Heath evaluated bird predation of codling moth using "sentinel prey" and exclosure cages. They glued codling moth cocoons to walnut trunks and covered them with cages, allowing insects and spiders to access the cocoons but not bird predators. This allowed them to count how many larvae were eaten inside and outside of the cages to estimate pest reduction by birds, they explained in a blog post.
They found that natural enemies alone such as parasitic wasps and lacewings reduced codling moth larval numbers by 11%. Adding birds into the mix resulted in a much greater reduction.
"We monitored 10 different species of birds" to see which were the most voracious predators, Long said during the workshop.
Benefits of birds
Scientists and conservationists in recent years have been touting the benefits of encouraging some bird species near farm fields. A growing number of farmers of various commodities are looking to birds as a natural means of controlling pests as state regulators cast an ever more wary eye on the use of chemical pesticides.
Some birds are more beneficial than others, according to Sara Kross, a program director at Columbia University's Department of Ecology, Evolution and Environmental Biology. Songbirds in nest boxes or vegetative habitat are particularly good at insect control, while raptors in artificial perches, nest boxes or habitat help control other birds and rodents, Kross said during a field day in 2019. Herons and egrets attack rodents in flood-irrigated fields, she added.
"California's Central Valley has some of the best farmland in the world, but there's very little natural habitat for birds," Long said during the March 4 workshop. "So a lot of birds are foraging in ag lands.
"As we get a decline in overall natural habitat, bird numbers go down, but they are going up in ag lands," she said.
She pointed to the rice industry as a "success story," attracting ducks and geese in the Pacific Flyway that mash the rice straw and help it decompose. In alfalfa fields, birds feed on the gophers that are flushed out of holes during irrigation, she said. However, "bird diversity is somewhat declining," she said.
The abundance of bird species is much greater in fields and orchards near dedicated habitat, she explained. "Habitat around farms is important for beneficial insects as well as for birds," she said.
"You have to be careful what you select," she added, noting that some bird species are pests to a given crop.
For more news on tree nuts as reported by growers and farm advisors, subscribe to the Tree Nut Farm Press e-newsletter.
Subscribe to receive top agriculture news
Be informed daily with these free e-newsletters
You May Also Like
---