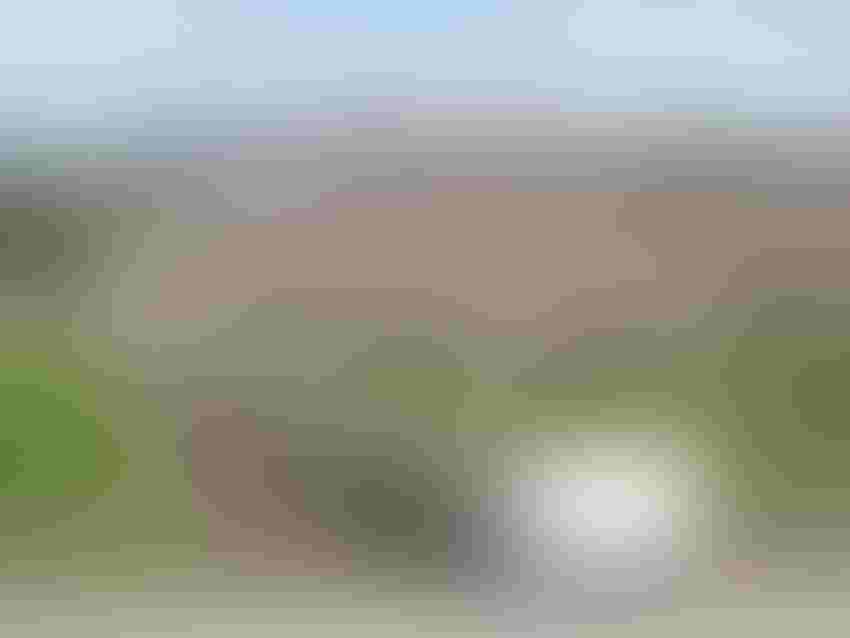 A bee box is placed amid almond blossoms near Yuba City, Calif. Bee activity has been slow because of cold and wet weather.
While some early almond varieties started the bloom process on schedule, many orchards in the Sacramento Valley, especially in northern counties, experienced a slow start at the hands of cold, wet weather, complicating disease control and delaying bee hours in the orchard.
In a drier and slightly warmer San Joaquin Valley, Nonpareil and its California-type pollinizers peaked the last week of February, the exception being Carmel, which has been slow to bloom. In the South San Joaquin Valley, the early-blooming Sonora variety achieved its peak number of open flowers Feb. 21, a contrast to a wider spread delayed bloom in the Sacramento Valley.
The slow start to the season and the amount of delay in the blooming process, of course, depended on location, with some areas experiencing heavier rains and cooler temperatures than others.
Now that March has arrived, conditions are improving in most areas, though there is still some slight concern about nighttime temperatures in the upper Sacramento Valley that could put the crop at risk or complicate the delayed bloom season.
While torrential rains caused extensive problems for many orchards spread across both valleys, some areas benefited from higher winds that helped to dry out orchards enough to allow for some quick fungicide applications, but complicated the pollination process.
APPLICATIONS SLOW
Overall, applications of fungicides have been slow and there is also some concern about adequate bee hours to make a full crop for some growers. In some instances, some orchards managed to wrap up spraying in increments and wind and rain slowed to allow better bee activity, again on a hit-and-miss basis.
There were a few reports of limited aerial applications to avoid taking heavy equipment into wet orchards and to speed the application process.
"This year, almond bloom started around a normal time, with some early varieties showing a few open flowers in the first week of February," reported Franz Niederholzer, UCCE farm advisor for Colusa, Sutter, and Yuba Counties. "For most of the month bloom progressed very slowly,"
By the middle of February, he says, "bloom for Nonpareil was at least two weeks behind, and bee hours were limited until the last week of the month. Last year, between Feb 1-20, we accumulated 130 bee hours of good honey bee flying weather [55 F., no rain, and wind less than 10 mph]. For the same interval this year, we had around 10 hours and only six of those occurred with open flowers in the orchard."
On the positive side of the slow start, Niederholzer says, the colder weather tends to suppress activity of key bloom diseases such as blossom brown rot and anthracnose. "However, cold weather at bloom was conducive to blossom blast (pseudomonas) bacteria, and some growers were considering adding materials to their normal bloom fungicides with bactericide activity."
WATCH FOR ROOT DAMAGE
For those areas hit hardest by winter rains, Niederholzer says growers should be on the watch for yellowing in the canopy. Early season root damage could result in poor root-system performance later in the season.
"The biggest problem could be wet feet, or root health in orchards with low spots, poor drainage, heavy soils, or adjacent rivers where there may be seepage under the levees. Growers with phytophtora-sensitive rootstocks should consult with their PCAs regarding materials to control root diseases. This could be a big deal for walnut growers more than almond growers, as there is generally more walnuts along the rivers than almonds."
Provided warmer and drier weather has arrived by the publish date of this article, Niederholzer says, even those troubled by extended wet weather still have time for spray applications for nutrient treatments and insecticides. "Growers should have 20 percent of their annual nitrogen budget applied by full leaf-out, usually Mar. 15 or so in the Central Valley."
Concerning the wet winter, the National Weather Service is reporting that a few areas across California tree nut country have received a good percentage of their average annual rainfall. In northern California, Redding has received nearly 80 percent of its average annual total and parts of Sacramento nearly 90 percent.
In central California, Modesto has received about 72 percent of its annual rainfall, Merced nearly 63 percent, Fresno 68 percent, and Bakersfield 58 percent.
About the Author(s)
Subscribe to receive top agriculture news
Be informed daily with these free e-newsletters
You May Also Like
---