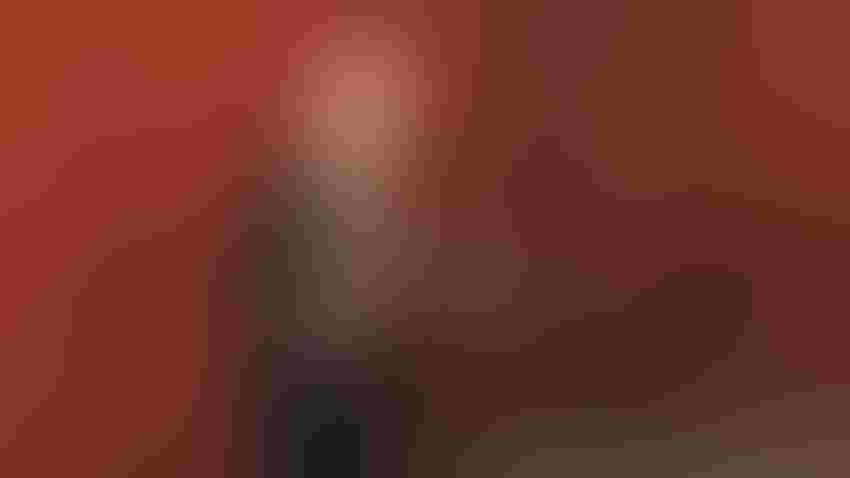 U.S. Rep. Jim Costa, D-Calif., speaks at a press conference April 25 at the U.S. Capitol. The gathering was hosted by North American Agricultural Journalists.
Tim Hearden
A bill headed by U.S. Rep. Jim Costa, D-Calif., would seek to ease a years-long shipping bottleneck at West Coast ports by applying federal antitrust laws to foreign ocean shippers that critics say use unfair trade practices that harm American businesses.
The legislation is a further response to ocean carriers' recent practice of delivering imported goods from China and elsewhere and returning with empty containers, which has caused California tree nut and other growers to lose millions of dollars in overseas sales.
"We've seen a loss of contracts overseas because of the container issue," Costa said during a press conference April 25 at the U.S. Capitol. He said the top 10 shipping firms – all under foreign flags – have made "incredible profits" while hurting U.S. exporters and consumers.
Costa's bill is cosponsored by California Democrats John Garamendi, Jimmy Panetta and Josh Harder and South Dakota's Republican Rep. Dusty Johnson.
The legislators cite a 2022 U.S. Department of Transportation report explaining the 10 largest carriers control more than 80% of the shipping market and work together to control capacity along routes. They say unfair shipping practices have had a significant impact on California agricultural producers, as a University of California analysis of 2021 data showed the share of empty containers leaving the state's ports hit a record 79%.
Shipments of almonds, walnuts and pistachios have all fallen precipitously, said Roger Isom, president and chief executive officer of the Western Agricultural Processors Association and California Cotton Ginners and Growers Association.
"For the past three years, we've been unable to get product out," Isom said during the World Ag Expo earlier this year. While shipments have improved in recent months, some markets will take a long time to recover – if they ever do, he said.
"One of my walnut guys lost $75 million in one month because he couldn't get product out," Isom said. "That market will never recover."
Reforms passed
Congress last year passed the Ocean Shipping Reform Act, which sought to empower the Federal Maritime Commission to better protect American exporters from anticompetitive actions by the carriers. The bill allows the FMC to set minimum contract standards for ocean shipping service contracts and protects domestic shippers from retaliation by carriers if they complain to the FMC.
Isom said the problems have eased since the bill was passed, but authorities still have to write a rule and put it out for public review.
"We're in the phase of adopting rules and regulations," he said. "The question is how they're going to enforce this. There are no U.S. companies."
Costa's Ocean Shipping Antitrust Enforcement Act would apply federal antitrust laws to the shipping companies, enabling authorities to fight such practices as unjustified container rate increases, exorbitant detention and demurrage fees, unexplained changes in shipping schedules, and ships leaving ports with empty containers, the lawmakers contend.It also provides employer immunity for collective bargaining within the maritime industry and authorizes the FMC to formally comment on mergers and acquisitions under review by the U.S. Department of Justice's Antitrust Division, according to a release.
Subscribe to receive top agriculture news
Be informed daily with these free e-newsletters
You May Also Like
---