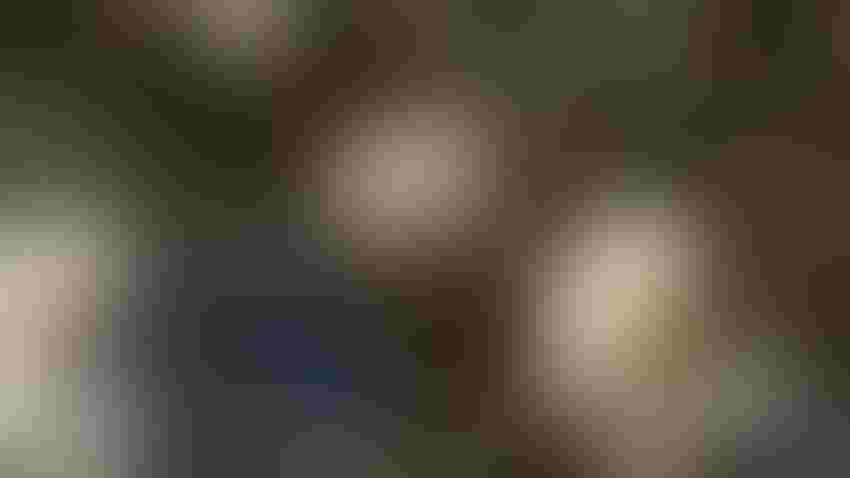 A bee is on an almond flower.
Todd Fitchette
No bad puns this year about "things are really buzzing" or "Polly Nation Time," just a solid look at 2023 almond pollination in advance of the American Beekeeping Federation's National Pollinator Week celebration.
Looking at the U.S. bee industry as a whole, almond pollination is now the No. 1 source of revenue for beekeepers who have adapted hive management to align with the needs of almond growers as poor honey yields have caused beekeepers to become more reliant on their pollination income.
Therefore, any problems within that sector of the tree nut world now become problems to also be dealt with in the honeybee community.
"These agricultural money makers produce six hive products — honey, pollen, royal jelly, beeswax, propolis and venom," according to the U.S. Food and Drug Administration. "But the greatest importance of honeybees to agriculture isn't a product of the hives, it's the work of bees as crop pollinators. Bee pollination accounts for some $15 billion in added crop value making honeybees look like flying dollar bills buzzing over croplands."
Looking back in order to more properly look forward, Wyatt Wells, chief operating officer of The Bee Corp. writes an Almond Pollination Price Blog, the latest of which recaps the 2022 almond season, that year's bee pollination activity, and a cautious prediction of this year's almond pollination pricing.
"Almond growers continued to fight an uphill battle as they struggled to overcome lingering challenges like pricing that got pummeled by supply chain issues and prices can't rebound if buyers don't receive product," he wrote.
"Economic issues were only the tip of the iceberg," noted, further citing dryer climate conditions and the rising cost and declining availability of water. "Almond growers, unlike growers of rice and other annually-planted crops, don't have the luxury of fallowing fields as their trees with their 25-year lifespans are a long-term investment requiring constant upkeep to remain productive and profitable."
Drought and bees
Wells references the effects of California's record-breaking drought on beekeepers nationwide who rely on pollination income. "Total almond acreage, for the first time in 25 years, decreased with more than 60,000 acres removed. At the standard two hives per acre, demand was reduced by more than 120,000 hives or about $24 million in pollination fees."
Survey results of the market-at-large give a glimpse of 2023 almond pollination pricing at a high of $225 per hive, a low of $185 per hive, and an average per-hive price of $202, roughly consistent with that of the past couple of years.
"I find it interesting that the high and low prices moved closer to the mean, a reflection of the financial strain beekeepers and growers are dealing with.
"Beekeepers offering low-strength hives at reduced prices are getting squeezed out by higher fuel and labor costs which eat into their razor-thin margins while growers who dished out higher costs for premium hives last season are trimming expenses and shifting to a more conservative approach to pollination."
Wells says the latest numbers show more commotion in the almond and bee industries than he can recall over the recent past. "With climate and economic threats looming over both sides of the pollination market, it's difficult to imagine how the new year will play out. One bet I feel safe about is that there will be even more drama to come in 2023."
Subscribe to receive top agriculture news
Be informed daily with these free e-newsletters
You May Also Like
---