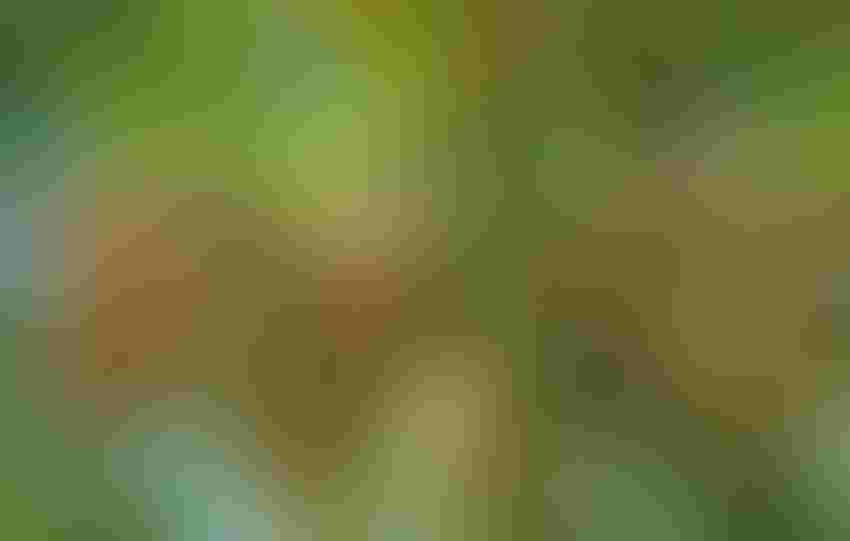 June 20 marked the start of this year's hull split in PCA Alan Butterfield's almond orchards in the southern San Joaquin Valley. He saw the first splits on the outside and upper areas of Nonpareil trees – about a week earlier than usual.
Based in McFarland, Calif., his company, ID Services, LLC, works with growers in eastern Tulare County and in Kern County.
Four days after hull split began, his growers started treating to control this season's second generation of navel orangeworm (NOW). This nut-feeding pest could pose a greater threat this year than normal, says Butterfield. Not only was the overwintering NOW population higher than usual, but the duration of this season's first NOW generation, from March through May, was longer than normal.
"There's concern that the prolonged first generation means the second generation has the potential to be really bad," Butterfield says.
Some NOW biotypes go through a complete generation in 700 degree-days. Others may require 1,200 degree-days, he notes. This larger window is complicating efforts to control the insect.
"We can't time our NOW sprays to just one life cycle like we once did," he says. "Control requires perfection in spraying from hull split to as late as possible. Instead of one hull split spray, growers now are going in about two weeks after the start of hull split with a second insecticide application."
Third generation NOW treatments for an August egg hatch are typically not that effective, and he advises growers to keep a close eye on accumulated degree days and to have Nonpareil nuts on the ground before the second generation moths begin egg laying.
Growers are also adding fungicides in hull split sprays to ward off Alternaria and rust. This follows the first fungicide treatment in May.
"Ideally, that May spray holds the diseases down until hull split," Butterfield says. "However, in a few places, growers have had to treat their orchard before then with the second spray."
Butterfield expects his growers to begin the Nonpareil harvest in the second week of August.  Some in his area, where high winds in early May caused extensive nut loss, may be disappointed by the yields. However, most growers are likely to be smiling, he adds.
"I think this is going to be a pretty good crop, and it will surprise people," Butterfield says. "There aren't a lot of nuts on the individual branches. But, the trees are full of nuts clear to the top. Growers are getting very good at growing almonds, and I think that will show this year."
This report is from Tree Nut Farm Press, a twice-monthly electronic newsletter published by Western Farm Press during the growing season. If would like to receive Tree Nut Farm Press go to the Western Farm Press home page (westernfarmpress.com) and sign up for it and other Farm Press electronic newsletters.
More from Western Farm Press
Marijuana farming's crushing environmental impact in California
DIY biotech a glowing minefield for USDA
Growing fish in the Arizona desert?
Oregon GMO mystery wheat is a whodunit
Meteorite find a golden harvest for farmer
What a grocery store without honey bees looks like
Subscribe to receive top agriculture news
Be informed daily with these free e-newsletters
You May Also Like
---