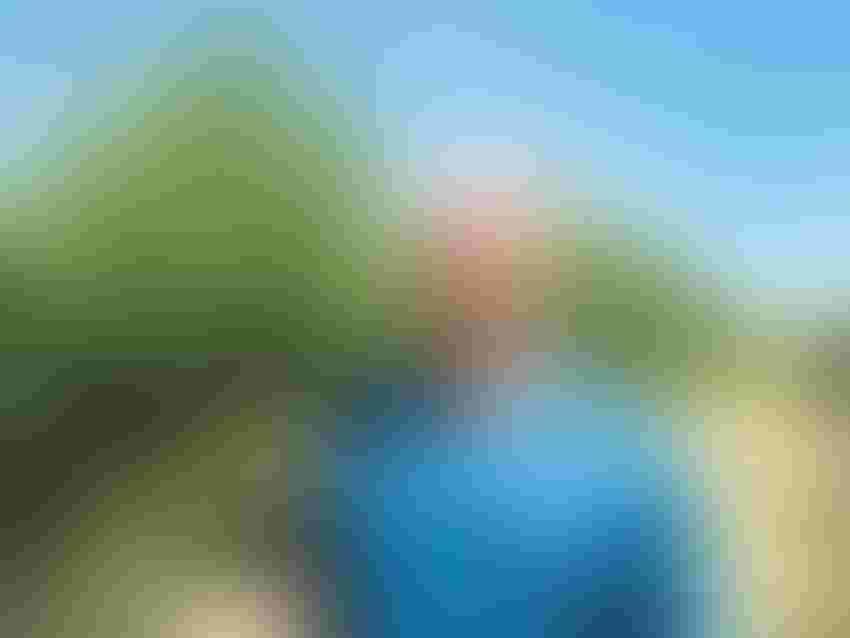 Alex Bergwerff, general manager of Winters Farming Co., says the company's almond orchard near Oakdale, Calif., turned out OK despite a February freeze.
Farm Press
Smoke from numerous wildfires in California has caused headaches for almond growers, as delays in harvest activities have increased pest pressures in nuts.
Shakers and sweepers have been collecting early varieties since mid-August, but growers in some areas were unable to pick up nuts as quickly as usual after shaking because of unhealthy air conditions and morning dew, says Dani Lightle, University of California Cooperative Extension orchard systems advisor.
The delay has left nuts vulnerable to squirrels and other rodents as well as damage from ants, she says, and trees are also more susceptible to water stress.
"The longer nuts are on the ground, the longer the trees have to go without irrigation," she says. "Most of the growers I talk to say every year has a challenge of some kind, and this year smoke is the particular one they're facing."
Conditions have improved greatly in the last week, as clear skies and cooler-than-normal temperatures have enabled work to proceed apace in Central Valley orchards. Most Nonpareil pickups came into full swing in the week of Aug. 20, Lightle says, adding that the harvest will likely continue through September.
Smoke was only the latest issue to flummox growers in a season that began with a February freeze that caused considerable damage in some orchards. Two reports of temperatures as low as 19 degrees — one in eastern Stanislaus County, the other east of Madera — suggested the possibility of complete damage to some orchards.
The frost particularly took a toll on earlier varieties, causing some trees to drop their nuts, although Nonpareils seemed to escape much of the damage, UC experts say.
Alex Bergwerff, general manager of Winters Farming Co., said earlier this summer that he expected the company's young almond orchard near Oakdale, Calif., to yield between 900 pounds and 1,000 pounds an acre.
"That's very good, especially considering that we had a frost," he said. "Some other ranches look OK, and some have zero crop because of the frost. But the averages look pretty good."
Lightle says most growers she has talked to anticipated their crop would be off between 10 percent and 15 percent because of the frost.
Meanwhile, growers this summer expected navel orangeworm pressure to be similar to last year, when damage in almonds hit an all-time high and left growers with costly reject levels. This led farm advisors and organizations such as Blue Diamond Growers to urge farms to take steps to control the pest.
However, the National Agricultural Statistics Service is predicting growers will shake a record 2.45 billion pounds of almonds from trees this year, an increase of 7.9 percent from last year's yields, and 150 million pounds more than growers predicted earlier in the year in their subjective forecast.
The agency based this year's survey on 1.07 million bearing acres of trees.
The estimate took some industry leaders by surprise, although Blue Diamond Growers Vice President of Sales William Cohen says cool temperatures after the freeze allowed for a prolonged bloom and contributed to the more optimistic crop estimate.
Subscribe to receive top agriculture news
Be informed daily with these free e-newsletters
You May Also Like
---