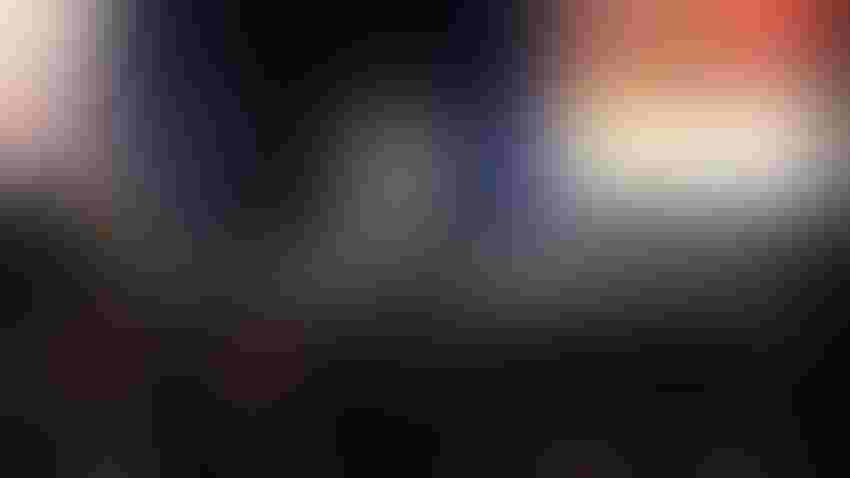 Almond Board of California President and Chief Executive Officer Richard Waycott and Chairwoman Holly King discuss the organization's sustainability goals, including development of coproducts, during the annual Almond Conference in Sacramento in December.
Logan Hawkes
While almonds are a healthy choice for consumers — whether eaten as a snack or incorporated into recipes and served on tables across the world — marketing the coproducts and byproducts of almond production is a growing industry. 
The development of non-traditional revenue for almond producers, who are facing stiff challenges in global marketing because of trade developments in recent months, is encouraging at a time when uncertainties have arisen in the global marketplace.
The future of almond farming may seem a little brighter, in fact, following the Almond Board of California's recent annual conference. New goals were announced that offer producers a reason to look beyond current challenges to new areas that could provide revenue relief in the months and years ahead.
With the hope for industry growth comes the need for increased industry planning, and that was the underlying message of an announcement by the Almond Board that it will actively pursue 75 intense and independent research projects to ensure the uninterrupted success of the industry, along with the growing demand for a healthy and sustainable food source for generations to come.
NEW HOPE TO GROWERS
With the intent to commit nearly $7 million into research that is expected to result in improving production practices designed to advance responsible almond farming, including issues like water sustainability and pollinator health — just two of the priorities the industry has earmarked as critical for advancing orchard practices in the 21st century — the ABC says coproducts and byproducts development will provide new hope to growers.
To ensure a successful future, the ABC is looking deeper into what will make the nut orchard more profitable for producers, while increasing almond value as a food and nutrition source. One of the ideas being put forward is to develop layers of marketing opportunities for growers by focusing on the development of almond byproducts and coproducts that will open doors to a more complete offering across multiple industries.
Growers are already familiar with producing nuts for almond milk, for example, and most have heard about and are taking advantage of using crushed almond hulls as animal bedding and utilizing the sweet, soft hull used in the emerging insect farming industry to produce black soldier fly larvae, a key component in developing high protein animal feed.
SHELLS VALUE RISING
But innovation for almond byproducts doesn't stop there. Through USDA research at Berkeley, almonds shells are being turned into black powder and added to bio-based plastics to make them stronger. The market value of hulls and shells has been rising in recent months as science and innovation clear the way for the use of almonds and their byproducts in a host of new ways.   
An average of 2 billion pounds of almond kernels produces over 4.2 billion pounds of hulls, and using these coproducts can add considerable revenue to nut production operations, especially as more diversified use of nut byproducts expands and prices rise.
Researchers say shells and hulls can be used to produce electricity and in the production of methane. Other energy uses might include crushed and compressed byproducts to produce something similar to coal, and already work is being done to utilize nut coproducts to produce ethanol and other biofuels.
As if that weren't enough, studies indicate acetone extract from almond hulls provides protection against oxidative damage and membrane protein degradation. Other byproduct uses involve extracting sugars for the production of beer, tea, hard cider, or as a feed for honey bees.
Some of the latest research includes almond hulls as a type of peat moss to nurture nursery plants and the use of shells as a coloring agent in the production of tires. Research is also ongoing to produce coproducts utilized by the cosmetic and pharmaceutical industries. Through a sustained system of investment, the possibilities seem almost endless.
$80 MILLION INVESTMENT
ABC's commitment in developing byproduct and coproduct usage through new research serves as the backbone of the industry's zero-based approach to almond farming. While the initiative is anything but new, ABC says additional research funds can help speed the process to develop new and exciting uses for byproducts that will benefit almond producers in the U.S. and around the world.
To date, ABC has invested $80 million in almond research into improving farming practices, including minimizing environmental impacts and operating sustainably. Through additional comprehensive research, the industry has been able to establish a positive relationship with the environment by developing methods to minimize impact and conserve resources, strengthening the ties between almond growers and their commitment to advance sustainable farming.
"Driven by family farmers, the almond community is committed to continuous improvement, ensuring a better environment and future for our children and grandchildren, neighbors and employees," Richard Waycott, president and CEO of ABC, told membership at the annual meeting.
Of the 75 research projects earmarked for future development, he says, many involve support and partnership with the University of California, a long-time supporter of the industry.
In the years ahead, growing almonds may well be the ultimate example of how to increase value, improve environmental awareness through advanced farming methods, and a textbook look at how to focus on a no-waste approach to sustainable agriculture. But developing new revenue streams through coproduct development may be an area of greatest growth of non-traditional revenue.
About the Author(s)
Subscribe to receive top agriculture news
Be informed daily with these free e-newsletters
You May Also Like
---