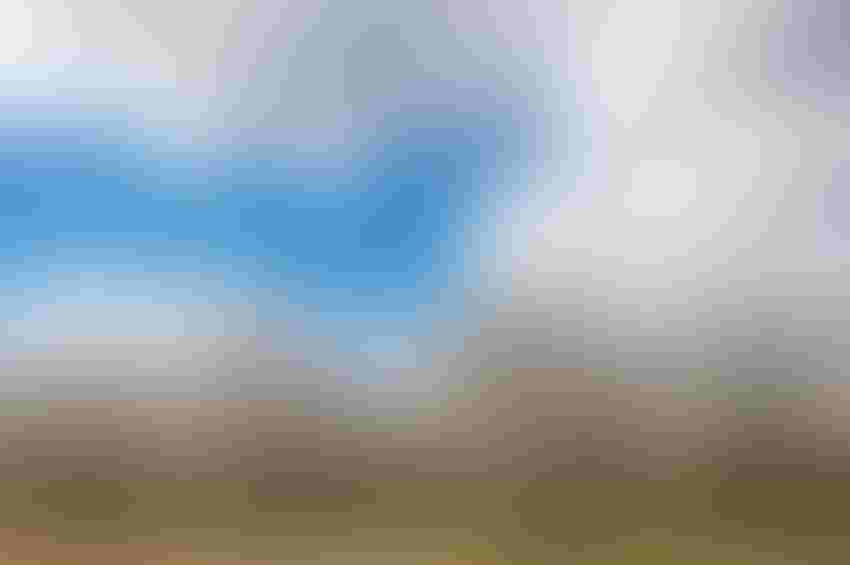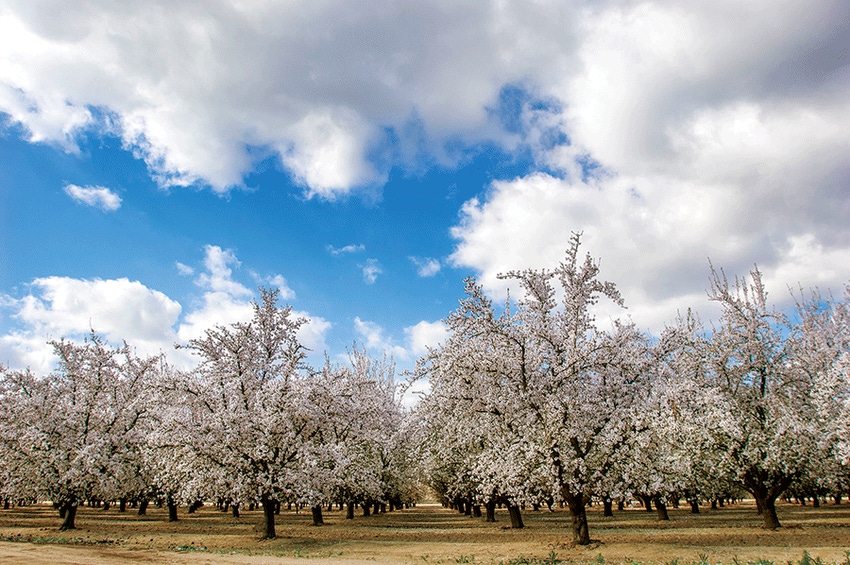 While disease pressure in almonds can come in many forms, almond bloom and subsequent leaf-out, when combined with high leaf moisture, become problematic for brown rot, anthracnose, bacterial spot, and even jacket rot during periods of cool, wet conditions.
Gomez David/iStock/Getty Images
With the arrival of almond bloom and the frequency of winter and spring rains, risks run high for a number of diseases that can, and often do, settle in the orchard. Protecting trees from spore germination and infection becomes a priority.
Reviewing your plans for required fungicide applications is critical in establishing good disease protocols, keeping in mind that bloom and leaf drop are just the beginning of a risky time for diseases in the orchard.
Last summer, David Doll, formerly University of California Cooperative Extension nut crop pomology farm advisor for Merced County and also author of the Almond Doctor newsletter, was interviewed by Luke Milliron, UCCE orchard systems advisor, who along with Phoebe Gordon, also a UCCE orchard systems advisor, host and co-manage the popular and informative "Growing the Valley" podcast.
During that podcast, Doll addressed problems caused by fungi during wet seasons as it relates to four specific diseases. While disease pressure in almonds can come in many forms, he notes, almond bloom and subsequent leaf-out, when combined with high leaf moisture, become problematic for brown rot, anthracnose, bacterial spot, and even jacket rot during periods of cool, wet conditions.
According to Doll, two methods of protection against brown rot are available. The application of an appropriate fungicide — a preventive measure — is by far the most effective and trusted system, provided the application is applied in a timely manner.
"Determining when to spray to provide protection depends on when the rain event begins and how long it lasts," Doll says. "That's what it comes down to. If you're into flowering and it's a multi-day rain event, you're going to need a protective spray."
WHEN TO SPRAY
When to spray is more problematic than determining if you need to spray, he says. If you don't have rain or considerable dew, there is not a great risk for brown rot at flowering in an almond orchard. But when the chances for leaf moisture run high — as in periods of heavy rains or frequent lighter rains, or even during times of excessive dew — timing of fungicides is important to minimize the number of applications that may need to take place.
Doll says the risk of rain also varies greatly, depending on where the orchard is located. In southern reaches of the Central Valley, like Bakersfield, 5 inches of rain is normal. But in northern areas of the Central Valley, rainfall amounts can be considerably greater, which makes the risk of infection from spores more likely.
A passing shower followed by sun and wind doesn't necessarily mean a protective spray is needed, Doll says. However, in situations where a shower is followed a few days later by another shower or showers, it is a good indication a spray will be required to provide proper protection.
"It comes down to how much leaf moisture there is on the tree."
SPRAYING BEFORE RAIN
Concerning the application of fungicides, Doll says, unless humidity is high, spraying an orchard prior to the rain event is good up until a half hour or so before the rain begins to fall. It is always good to apply the fungicide before the rain event, because once a spore settles on a leaf and begins to germinate, the fungicide can be more effective in killing it.
"Fungicides are not curative, meaning they need to be applied before spores settle on the leaves. There are some curative sprays available, but applying fungicides prior to infection is how it has been done for many years and it is the most effective way to avoid infection."
As far as applying a curative spray following a rain event, Doll says, there are some products available that can be marginally effective if applied within a day or two following leaf moisture. This may be required in a large orchard when it is impossible to apply fungicides across the entire orchard before rain begins to fall. Watching forecast conditions is important during and throughout the spring season.
During exceptionally rainy seasons, fungicide applications can protect trees for up to a couple of weeks, or around 10 days if rainfall is heavy. Beyond that, additional sprays will be required to ensure protection.
Once flowering has continued to leaf drop stage, brown rot becomes less of a problem, but other diseases remain a concern. Shot hole, anthracnose, and eventually jacket rot and bacterial spot, among other diseases, can be a concern, especially if rain continues beyond bloom. Keep in mind that there are strict restrictions regarding the use of spray chemicals, such as insecticides, during pollination times when bees are present in the orchard.
Listen to the Growing the Valley podcast featuring Doll and host Luke Milliron. For a complete guide on the management of disease and pests by type, refer to the UC Extension IPM manual for Almonds. Below is UCANR information on the three more common fungus-related diseases for bloom to leaf drop taken from the manual.
BROWN ROT BLOSSOM BLIGHT
Young blossom spurs and associated leaves collapse to form shoot blight. Gum may exude at the base of infected flowers. Cankers on blighted twigs have tan centers with dark margins. At high humidity, gray to tan spore masses form on diseased flower parts and twig cankers.
Flowers may become infected from pink bud to petal fall and are most susceptible when fully open. In almonds, stigma, anthers, and petals are all very susceptible to infection.
Infection is favored by rainy weather with temperatures in the mid-70s during bloom. It can also occur in dry years with high humidity. MORE
ANTHRACNOSE
Symptoms of anthracnose on almond include blossom blight and fruit infections, often with spur and limb dieback. Infected flowers look similar to brown rot strikes. Leaves on infected spurs develop marginal necrosis, beginning with water-soaked areas that fade in color; leaves die but remain attached to branches. MORE
BACTERIAL SPOT
Fruit infections begin as small water-soaked, circular spots. Infections may enlarge slightly and become necrotic and continue to develop into the mesocarp, endocarp, and endosperm. Infection sites on the fruit often profusely exude amber-colored gum. Multiple lesions may develop on a fruit and cause the fruit to drop. Persistent lesions containing the pathogen are found on mummified fruit. MORE 
Other Disease Concerns
About the Author(s)
Subscribe to receive top agriculture news
Be informed daily with these free e-newsletters
You May Also Like
---