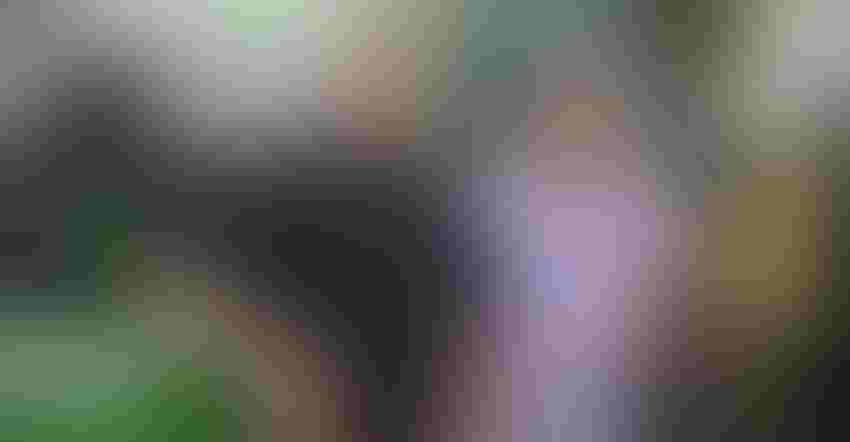 Taylor Fleming, left, and Andrew Belvedresi stand in front of a tractor owned by Bowen Flowers, Omega Farms, just outside of Clarksdale, Miss., that never required a driver during this year's soybean harvest.
Brad Robb
I love the Mississippi Delta. When I was a youngster, my father coached football and track for a while at Marks High School in Marks, Miss., and a few years later at Coahoma County High School, in Clarksdale, Miss. Clarksdale was a great little town to grow up in back then. I would ride my bike from one end of it to the other.
All I cared about was playing sports and making grades good enough to keep me from being grounded. Sometimes I was successful. Sometimes not so much.
What I was totally unaware of and cared nothing about at the time was the business of agriculture, despite farms and farmers being all around me. Each fall, the field behind our house was covered with golden soybeans or open cotton. I remember that distinctly because I hid out in that field once after running away from a much-deserved whipping.
The Delta has an incredibly rich history of farming and agricultural technology innovation.
If you have never been to Hopson Plantation, between Clarksdale and Tutwiler, it is definitely worth seeing. The Hopson family built the structure as a farming headquarters in 1924. They worked with International Harvester engineers from Germany for 17 years to bring the first mechanical cotton picker to the Delta. Today, James Butler runs the facility as a music venue and museum. I could spend hours there just looking around. Archie Manning's rotary telephone from his home in Drew, Miss., is just one item to see.
 Ellington Massey, who farms north of Clarksdale, told me workers used to complain about his planter "pulling" and getting off-row. When guidance systems came to the Delta, they complained no more.
I recently traveled to Clarksdale and visited Omega Farms, operated by Bowen Flowers. He was allowing Delta Precision Systems to beta test a revolutionary piece of technology — a system that allows a tractor to operate autonomously. It is currently being used to pull a grain cart back and forth between the combine and the grain truck, but the company that created the technology, SmartAg, is already planning on expanding the system to planters, sprayers, and harvesters.
I rode in the combine with operator Andrew Belvedresi who used an iPad to control the autonomous tractor into position. I had to shake my head as the driverless tractor drove past us after the dump. I have to believe that the laborers at Hopson Plantation had to be exhibiting the same disbelief when that one-row cotton picker started rocking down the rows of cotton and picking as much cotton in one day as 50 men could.
I also remember the old radial engine Stearman biplane flying over my head as I squatted out in that field of cotton contemplating going back into my house to take that whipping so I could eat my supper.
Subscribe to receive top agriculture news
Be informed daily with these free e-newsletters
You May Also Like
---