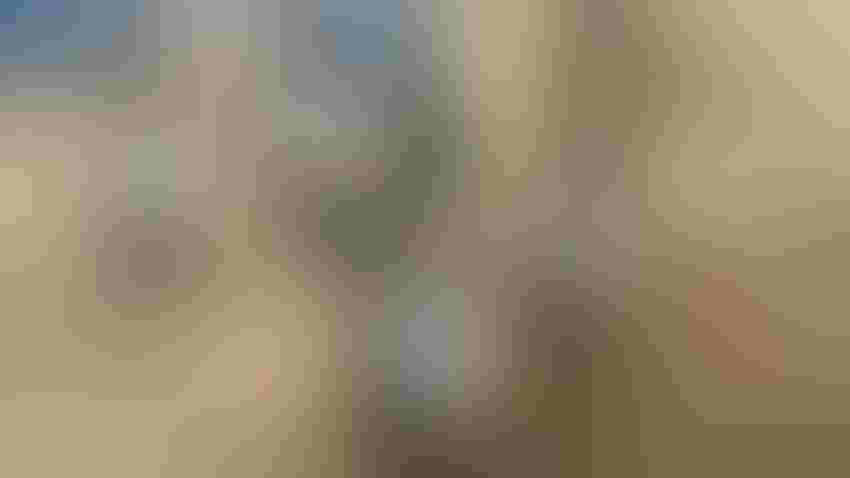 Sensors and cameras on robots and autonomous implements like this Farm-ng machine may revolutionize artificial intelligence by adding scale to image collection.
Todd Fitchette
The momentum in ag technology in specialty crops was perhaps no more evident earlier this year than at the FIRA USA event in Salinas. The event, now in its second year in the United States, doubled in size from last year's inaugural showcase in Fresno, California.
Western Growers Association, one of the event's major sponsors, is heavily involved in this and other events that showcase and further the cause of ag technology in specialty crops. A chief reason, according to Walt Duflock, senior vice president of innovation for Western Growers Association, is the tightening of the labor market and availability of humans to pick and pack perishable crops.
Duflock said event organizers and sponsors were pleasantly surprised at last year's attendance, which organizers expected to hit 300.
"We were happy to be wrong with that estimate," he said.
Fresno's event drew about 1,000 tech geeks and venture capitalists to indoor seminars and outdoor demonstrations in the heart of the California's Central Valley agricultural region. This year's event in America's salad bowl – the Salinas Valley – drew nearly double that number and included college students and university researchers.
Of the estimated 60 companies with a variety of on-farm implements and available services, many of them were centered on mechanical weeding technology. It is becoming increasingly more costly and difficult to find the human labor necessary to control weeds in produce fields, Duflock said.
"We're seeing a lot of improvement in weeding technology," he said. "I feel like the weeding robots are making progress, whether it's the laser weeders like Carbon Robotics, or the mechanical weeders like Stout, FarmWise, and others."
Model changing
The business model for these mechanical weeding companies is changing as the technology improves. What started for many of them as a service-based business model has evolved to a sales approach. FarmWise, Stout, and Carbon Robotics now sell machines to growers. For those who cannot afford the capital expense, Pacific Ag Rentals is adding a variety of ag tech options to their rental fleet. No longer are growers limited to tractors of various colors for their rental needs, PAR offers some of the names demonstrated at FIRA USA, including robotic weeders and Burro, an autonomous platform gaining traction in nurseries and vineyard operations.
Duflock does not see the service-based model disappearing altogether. Companies like Naio continue to offer their robotic implements as a service. Others may step in to offer these services for farmers who cannot afford the capital outlay of million-dollar machines.
Companies are learning through the trial of time, and from the efforts of Western Growers and various ag colleges, how to improve their machines. As the industry grows, larger companies are paying attention, he said.
For instance, New Holland recently signed on to sell and maintain the Stout machines, leaving Stout free to build their mechanical weeders without adding costly show rooms or service centers. Two years ago, John Deere acquired Bear Flag Robotics, an ag tech startup based in the Silicon Valley that developed autonomous technology compatible with existing machines.
Other companies like Burro and Farm ng are providing platform opportunities for growers at much lower price points, Duflock said. He is most interested in how these smaller platforms, capable of gathering terabytes of data from attached cameras and sensors, may drive artificial intelligence by providing images at scale.
"Those are going to be the data-capture machines of the future," he said. "So when we look at what's going to drive artificial intelligence, it'll actually be the Burro's and the Farm ng's because they're going to have images at scale before the other guys do."
Western Growers is currently working on that image library by vetting images in open source platforms. These images will be tagged by crop type and other key factors to improve AI in the new machines.
Specialty crop automation
Western Growers is so focused on specialty crop automation that it wrote a lengthy and detailed report on the subject. Because labor remains a critical challenge for farming at all levels, particularly in specialty crops which have typically required numerous human hands to plant, grow, harvest, and process, the association is focused through its innovation center in Salinas on helping bridge the gap between growers and the tech companies.
Also addressed in the report is the H-2A program, which Duflock says has brought on a host of new challenges raising the cost of labor.
These costs are causing U.S. agriculture to lose acreage to Central and South America. The examples from Europe are similar, he said. As Europe's regulatory frameworks tighten, crops are being moved into Spain and Italy. They're seeing similar and even worse labor challenges there as Duflock was recently told that the H-2A equivalent in Spain and Italy were importing labor from South Africa, housing them, moving them around, then returning them at the end of the season.
Organic Grower Summit
Duflock is set to discuss the role of technology on organic farms during the sixth annual Organic Grower Summit Nov. 29-30 in Monterey, Calif. The summit is sponsored by Western Growers and the Organic Produce Network.
On one panel at OGS, titled Meet the Ag Sharks, three startups that got to pitch on stage at the Western Growers Annual Meeting will present at OGS as well, Duflock has said.
"I think it's worthwhile for people to attend for a couple of reasons," he recently told Farm Press. "For growers, it gives them a chance to get two days of content that is focused on organic growing practices and innovations.
"For startups, it gives them a chance to get in front of growers and have a conversation about how their solution can help improve the grower's operation," he said. "They are happy to talk to media and investors, but the main target audience is usually growers that grow organic and conventional product."
Registration for OGS is open; cost is $495 for general attendees, $395 for Western Growers and California Certified Organic Farmers members, or $295 for Nov. 30 only. Visit www.organicgrowersummit.com.
Subscribe to receive top agriculture news
Be informed daily with these free e-newsletters
You May Also Like
---