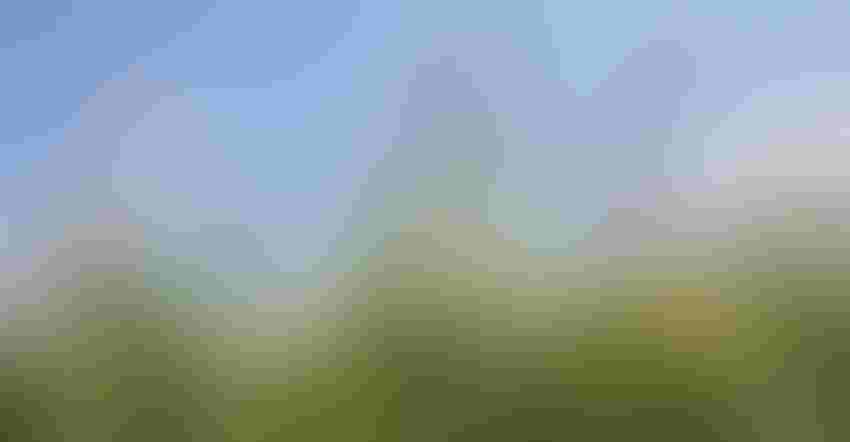 You are scouting your fields in June, and the corn leaves have yellow streaks — tell-tale signs of distress, but what's going on? The plants are at V6, and it could be boron deficiency. But there was a recent rain that may have robbed the field of the nitrogen the plants depend on. What's the fix? You needed the answer an hour ago.
For farmers who are working with Nutrien Ag Solutions crop consultants, the answer may be moments away, says Gregg Schmitz, Marketing Manager for Nutrien Ag Solutions — West Iowa, Eastern Nebraska and Southeastern South Dakota division.
"One of the biggest advantages we bring to our customers is the speed with which we can help them make an adjustment," advises Schmitz. "The information available today is the key component to our approach. Today, with the modeling, precision technology and the layering of all this information, we can develop a consistent recommendation — with a high level of confidence that what we recommend is going to deliver the outcome the customer wants and needs. With this data, we can adjust to things so much more quickly now than we could years ago. It's a huge opportunity to maximize productivity."
Bringing it all together
The Nutrien Ag Solutions can pull all the pieces together for a farm operation. The tools available to consultants on the team include field level information about soils, topography, crop history, nutrient, pest and disease management. Combine that with Nutrien Ag Solutions products and programs and farmers can reduce crop risk and environmental risk throughout the season. 
"Plant nutrition starts very early in the game, meaning August or September. That's when we start reviewing results, as the harvest is coming in, to begin to layer information such as yield maps. We use current soil test levels and removal rates, based upon the yields of a given field," says Schmitz. "Using that information, we create a baseline of the soil nutrition that exists in the individual field. That sets the stage for putting together a sound nutrient management program. That's the start."
One of the keys to making it all work is Nutrien Ag Solutions Echelon® precision management tool. Yields, all the historical soil test data and everything that's been recorded about the operation are all integrated here.
"For example, that we have a dry area where the yields are not up to par," Schmitz sketches an example of the power of using Echelon. "We understand what the removal rates are based on the yields. We can adjust accordingly going into the next year, and put out the best prescription that takes into account carryover fertility."
Echelon captures both the yield impact and the environmental considerations of nitrogen rate. Field by field, it utilizes tools including infrared imagery, tissue sampling and early in-season soil tests — all to reach the 4Rs principles the right source, rate, time and placement of nutrients. Many Nutrien Ag Solutions customers pursue a spoon-feeding approach, splitting their nitrogen applications into two or three feeding periods throughout the season. Nutrien Ag Solutions can design that program.
Learning from tissue samples
Nutrien Ag Solutions tissue sampling program, Nutriscription, offers the capacity to make in-season adjustments based on what is happening now.
"We talk a lot about NPK and liming and even sulfur needs, but Nutriscription has really opened our eyes to the role that micronutrients can play in the equation," Schmitz says." When it first started in the Mid-90's, we went out and tissue-sampled corn for three years in a row. The trend we really identified was that boron was one of the most limiting nutrients we had, from about V2 thru V10. More than 80% of the time, those tissue samples would be low or deficient. We've also seen nutrients such as zinc and manganese showing up low a high percent of the time. When we started doing follow-up soil testing, we validated the same observation."
When they discovered how to fine-tune micronutrient applications, Nutrien Ag Solutions created its line of NUTRISYNC® products, designed for foliar application, where nutrients including micronutrients can be applied through the course of the plant's development. There's a yield impact through in-season applications based on the right nutrient at the right time.
"All of this information goes into our database, continually improving our ability to help our customers feed their plants better and experience a lot less variability in yield," Schmitz reports. "At the end of the day, we are getting to the point where we can predict an outcome, with a high level of confidence. Using all the tools in the toolbox and tying in all the other facets of the recommendation process—we know real close to what a crop should yield, if we have a normal weather year."
Nutrien Ag Solutions understands, even when the nutrients are in the right place, soil chemistry and biology may work against productivity. Loveland Products designed an "enhanced efficiency" line, to help release more nutrients in a plant-available form. Titan XC is one of these products impregnated on dry phosphorous and potassium blends, Extract with liquid programs and Accomplish® LM with starter programs. These products help recycle nutrients which ends up in the grain at harvest. We also know based on studies there is less exposure to the environment.
And what productivity expectations does the typical Nutrien Ag Solutions customer have?
"In the past, growers would go out and plant the crop and pray for rain at the right times and would like to have 200 bushels of corn, and it might turn out to only be 150 bushels," Schmitz says. "For today's customer a lot of them are shooting for that 250-bushel range. With these programs and products, we are able to get a lot closer to that customer's goal today, and more consistently than ever before."
©2020 Nutrien Ag Solutions, Inc. All rights reserved.
Subscribe to receive top agriculture news
Be informed daily with these free e-newsletters
You May Also Like
---