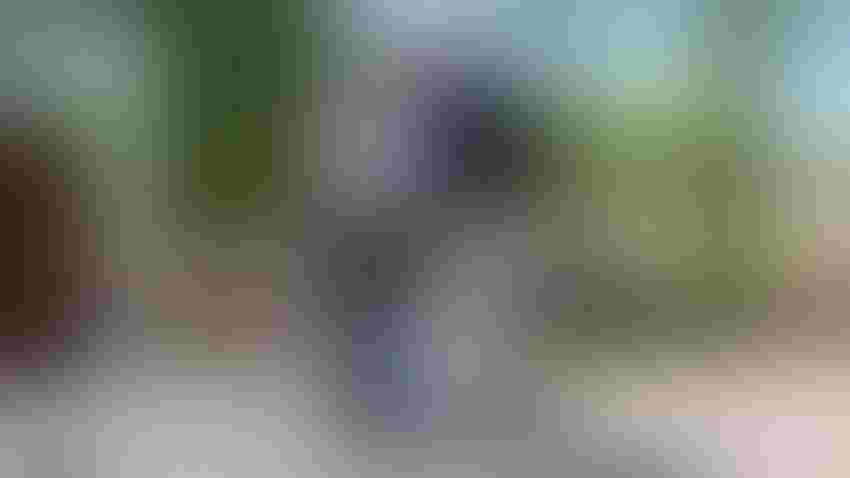 For over a decade, Nathan Holmes has worked to perfect the Pump Trakr app to improve irrigation efficiency. He and his daughter, Linden, stand in front of a well equipped with the cloud-based technology that irrigates a crawfish pond on their family farm.
Whitney Haigwood
At a Glance
Missouri farmer developed the technology based on the need for effective, real-time communication across the farm.

In addition to the app subscription, Pump Trakr now provides additional hardware to monitor and control irrigation remotely.
A few years back, Missouri farmer Nathan Holmes was on a mission to improve irrigation efficiency on his family farm. Lack of organized communication, however, was holding back the progress. After many strategic attempts, Holmes decided there had to be a better way and he set out to develop an on-farm communication tool to manage irrigation. From there, the Pump Trakr app was born. 
The core of the technology is communication, with a subscription service that monitors real-time irrigation activities on the farm and logs historical irrigation records. Through years of advancements and integrations, Pump Trakr now provides hardware that allows farmers to automate irrigation timing, control pumps remotely, monitor water levels, and track pivot location and activity in the field.  
Holmes acknowledged that the hardware components came after the app development, which seems backwards compared to most irrigation management systems.  
"We were the first irrigation management app with no hardware. That forced us to really focus on the communication piece of the app. We wanted a phone app that could tell a compelling story and help a farmer understand what was going on across his farm – quickly and seamlessly – during the hottest, busiest time of the year," he said. 
History of Pump Trakr 
In 2012, Holmes stepped into a bigger management role on the farm, and he was determined to improve their irrigation strategies. That happened to also be a drought year with a fair share of frustrations in addition to replants and new employees who were unfamiliar with farming. 
"It was a lot to handle. I wanted to know how long each irrigation set needed to run based off our faucet and Pipe Planner designs. I was running all over the place. It was bad." 
His first attempt at data organization was paper lists, but this method proved unsuccessful. Holmes recalled compiling information from the lists, calling employees to check the accuracy of records, and dealing with missing data. 
Holmes knew they needed a shared set of notes in real time, so the farm moved to a shared Excel spreadsheet. The idea worked; however, the data was easily entered on the wrong line, some workers did not know how to operate a spreadsheet, or entries were not posted in real-time. 
"Every year we were iterating and trying to make the process better. Finally, I realized that I had to make the program myself. When I built the first app, we used it that summer and it made a huge difference for all of us," he recalled. 
That version was built with Microsoft Power Apps. It worked, but Holmes saw room for improvement. Plus, the platform limited his opportunity to mass produce or sell the product commercially. This is when Codefi came into the picture. 
From Iteration to Startup 
Codefi is a company based in Cape Girardeau, Mo. Their goal is to identify and train individuals with a talent for coding. Holmes noted that some people are born with the mental capacity to code, and Codefi works to find these untapped resources in the mid-American flyover states.  
The company provides a youth coding league for kids to discover their interest in coding.  Furthermore, Codefi also provides adults with a free one-year crash course on how to write code, and the best and brightest are offered an opportunity to work for the company.  
Holmes approached the founders of Codefi with his app concept, and they loved it. As luck would have it, the timing was perfect. Codefi was just getting started and in need of a flagship project. They were offering a funding initiative to startup companies, and Holmes's Pump Trakr app was selected for the initiative.  
Codefi connected him with a talented developer who happened to have a background in agriculture. Every penny of the startup funding was spent to write code, keeping the farmer in mind as the end user. Holmes specifically relied on his father to test the app, pointing out that the technology is built for the older generation.  
"My dad is in his 70s. We would make a rendition of the app, and I would have him check it out. He was quick to tell us if there were too many button-clicks or if he could not understand the steps. We worked until it was '70-year-old man proof,' and that is important." 
Communication is Key 
The Pump Trakr system can be tailored to fit any farm's needs. The subscription plan provides access to the app's communication component. Hardware can then be purchased separately to control pumps remotely, monitor water levels, and check pivot activity. 
"I have farmers out there who still do not want any hardware," Holmes said. "They just want it for the communication." 
The app allows farmers to add or remove users in the system with a phone number and a two-factor authentication code. No password is needed. Once the app is set up, information can be communicated to anyone's phone with access to the farm subscription plan. 
Using modems, Pump Trakr makes note of when pumps turn on or off, and that information is communicated in real-time to everyone with the app. Maintenance issues can also be flagged. If a part is needed for a pump or servicing is required, workers can flag the location with the details, and everyone on the farm gets notification of the issue. 
Holmes detailed the seamless use of the technology. "My dad starts his day at 4 a.m. He checks a few wells before coming back in for coffee at 6:30 a.m. That is when the rest of the crew shows up. We can all see what he did and where he left off without even talking to him.  
"If he noticed a problem, he could mark the maintenance concern. Later we can roll right up to where he left off and continue irrigating and fix what is broken. By 8 a.m. the pumps are running, and we can switch gears to something else on the farm." 
Improving Efficiency  
With hardware installed, farmers can remotely work pumps and set the cloud-based timers for automatic shutoff. This saves on the time and the fuel it takes to make another trip around the farm to check and turn off pumps. With less trips, there is more time during that first round to scout the field and make a good decision on irrigation needs. It also frees up employees to continue with other timely farm tasks throughout the day.  
Holmes's longtime friend and neighbor Eric Siler shared his experience with Pump Trakr in flood and pivot irrigation.  
"From the start I thought it was a great idea. We are spread out on a 40-mile circle. It saves us so much time. I don't think you realize how much it helps until you have it. Once you have Pump Trakr, you feel like you can't do without it," Siler said. 
Besides saving on inputs and improving water use efficiency, additional hardware protects against nutrient loss. The Water Depth Float is an in-house development to monitor whether water levels are adequate, above the float, or below the float and helps farmers make decisions to prevent runoff. 
For more precise data, a Water Depth Sonic Sensor can give a gradient of how deep the water is by up to 1/16 of an inch in accuracy over a 4-foot band. Holmes said this product is ideal for reservoirs, and pumps can be set based on the replenish rate.  
And for those with center pivot irrigation, modems provide data on the pivot's location in the field, the last direction it was moving, and states when the pivot is running. 
For more information and product details, visit the Pump Trakr website at PumpTrakr.com. Also, be on the lookout this winter when Holmes anticipates introducing additional integrations and product releases during trade show season.
Subscribe to receive top agriculture news
Be informed daily with these free e-newsletters
You May Also Like
---