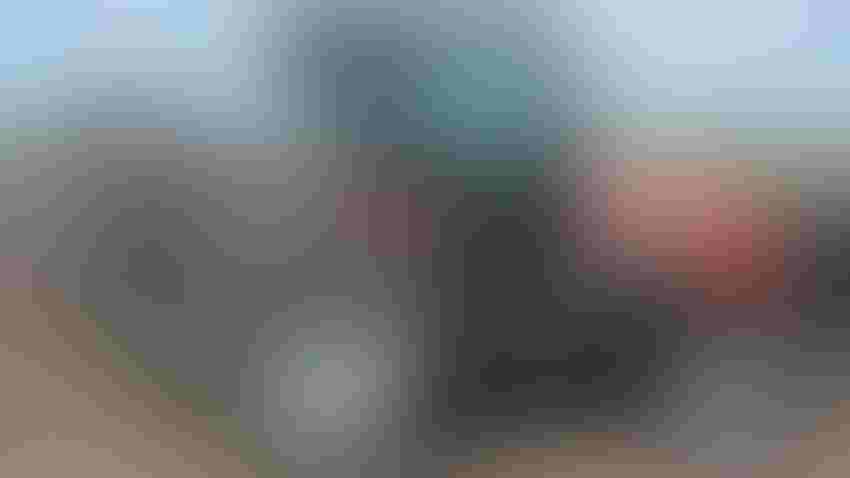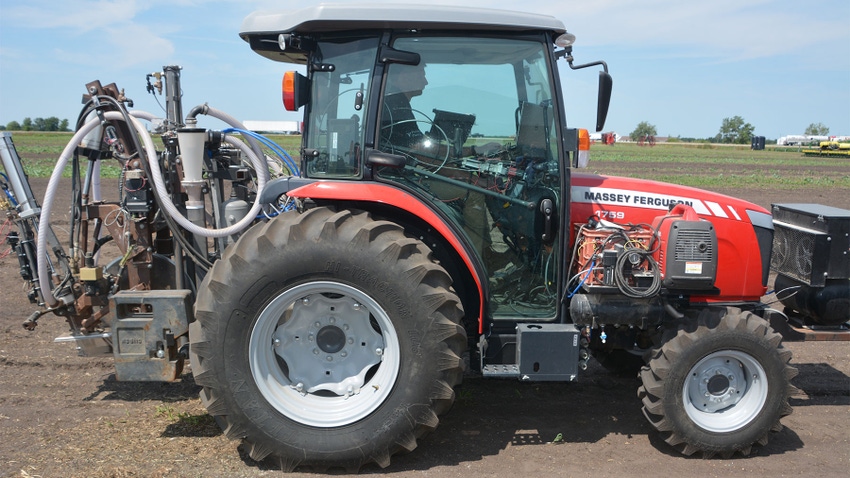 PROTOTYPE SOIL SAMPLER: Precision Planting, developers of the Radicle Lab, showed this machine in static form a year ago. This time, farmers and consultants saw it in action.
Photos by Tom J. Bechman
It's not every day you watch a prototype machine work in the field. It's even rarer when the people building and testing the prototype ask for input related to its future. Should this technology be developed for commercial use or not?
This is exactly what happened when Precision Planting held its second annual Agronomy Conference at the company's Precision Technology Institute Farm near Pontiac, Ill. Primarily highlighting the Radicle Lab, a revolutionary new concept in soil sampling and testing, the event also unveiled a prototype on-the-go soil sampling machine pulling soil samples in demonstrations in the field.
"We want farmers and soil consultants who work with farmers to look at it and tell us what they think," said Dale Koch, product manager at Precision Planting. He added that right now, the prototype machine has an unfinished look to it. Before reaching the commercial release stage, it would be refined and retooled.
The question Koch and his staff are trying to answer is if the concept is worth pursuing toward a final product. They've proved that it works and can collect soil samples on the go, rather than requiring a person to collect them with a probe. The question is if it will be sound technology.
"Right now, you need a decent-size utility tractor to operate it, and that adds cost," Koch said. Counting the sampler and the tractor, the total unit could run around $100,000.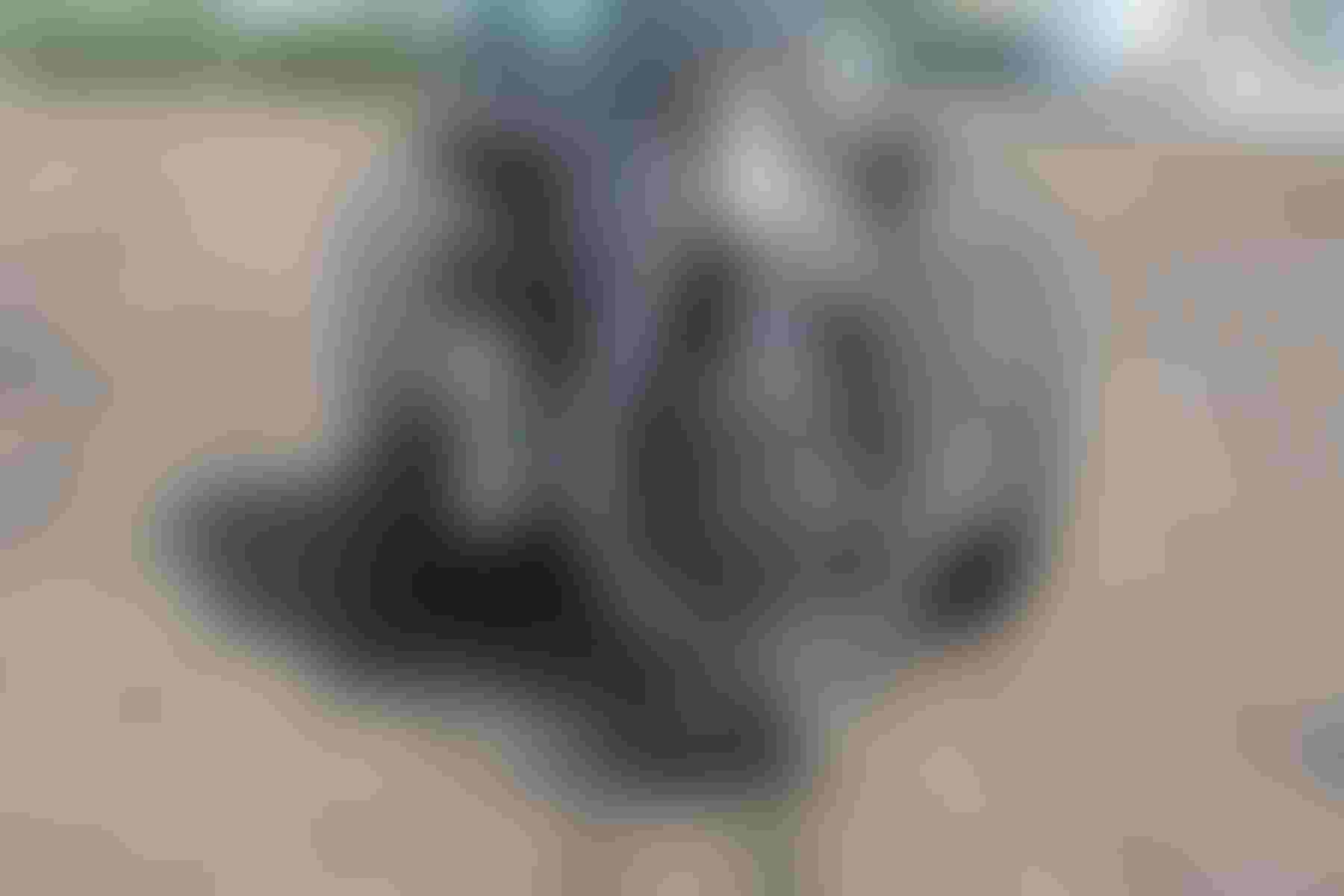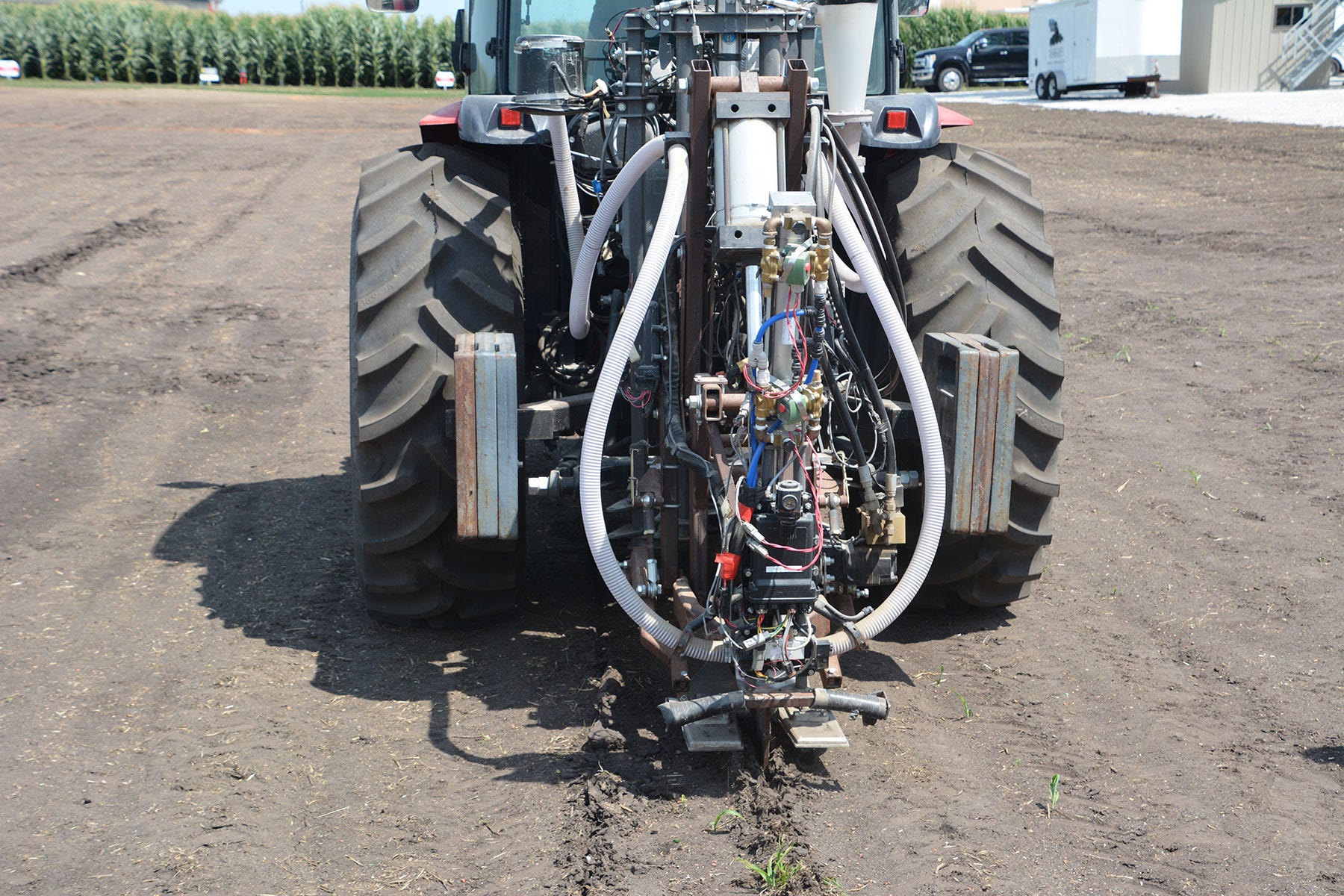 SAMPLING ON THE GO: The knife goes into the soil, and a small amount of soil is collected when the machine is triggered by software to collect it.
Soils consultants and farmers who watched the live demonstration seemed to reach two conclusions. First, yes, it appears that the technology works. You could collect samples on the go and most likely pull samples from a larger area than is practical today.
Second, however, concern about whether the technology would be affordable and practical is valid and worth debating. One consultant noted that hauling a tractor and unit from farm to farm instead of hauling a much smaller ATV or UTV would require a much bigger trailer and have other unintended consequences. For example, soil samplers often stay on the road at night, and securing the tractor and unit vs. securing current equipment overnight would be much more difficult.
Another soils consultant agreed that the much larger investment needed for a tractor and perhaps a larger truck to pull it could be a serious drawback. Even if the technology offers advantages, in the end, it still must be practical and profitable for the customer — in this case, often a soils consultant — to use.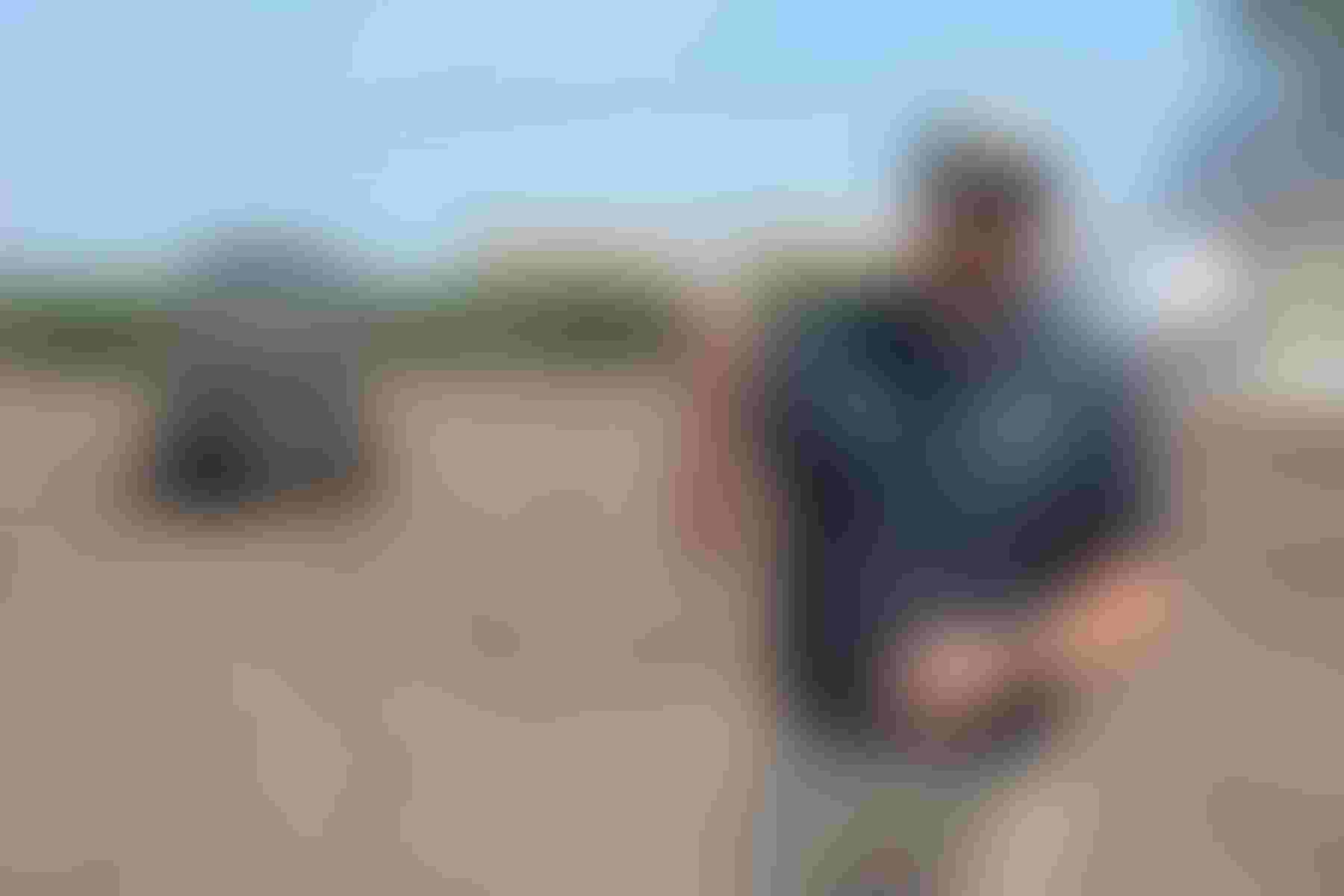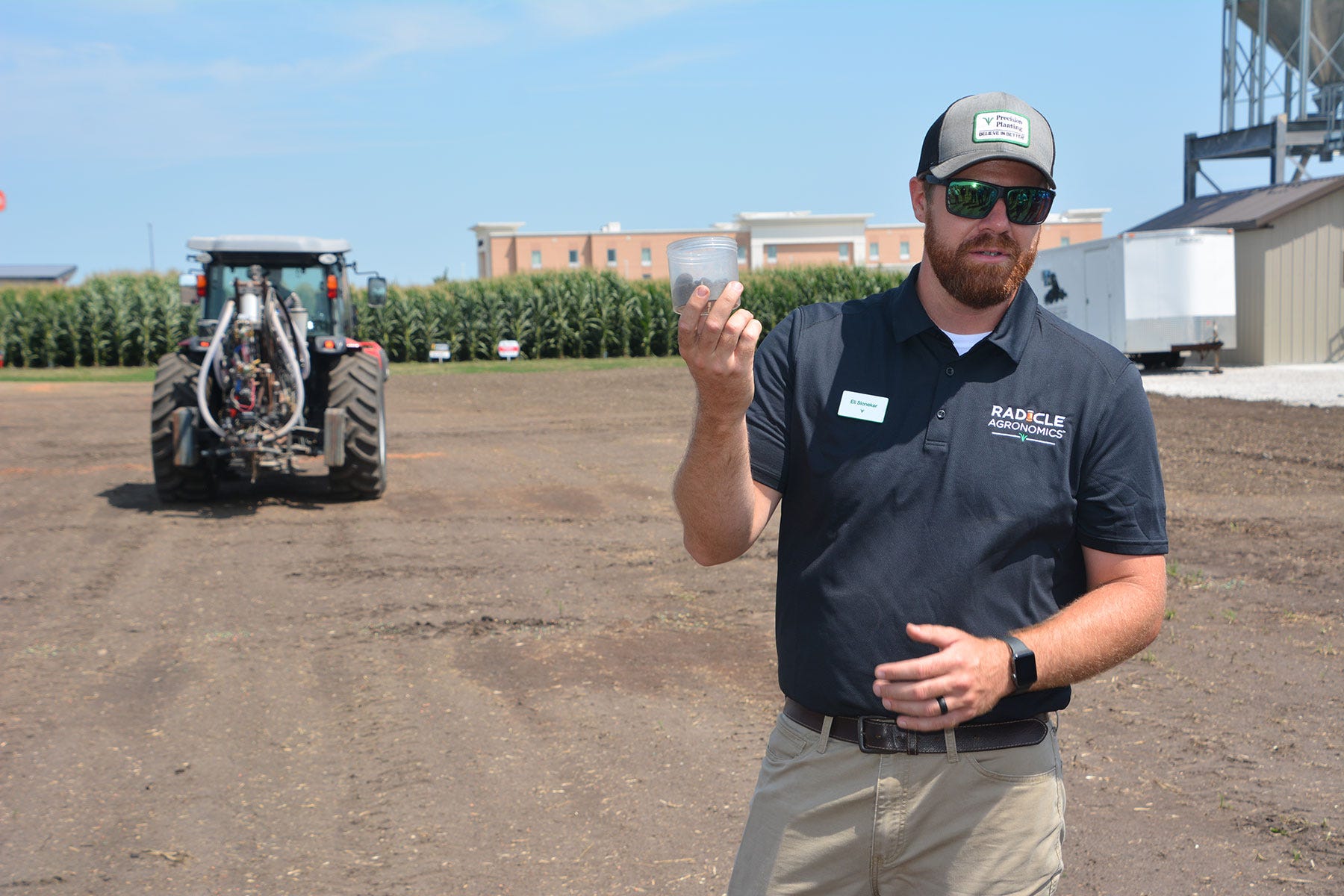 CANDID DISCUSSION: Precision Planting's Eli Sloneker, holding a sample collected by the prototype soil sampler, fielded questions about whether the machine has practical applications
On the plus side, some observers saw promise with the new technology. One soils consultant noted that with more emphasis on testing for how well nutrients are distributed in no-till, it might be possible to design an on-the-go sampler to sample at different depths, looking for nutrient stratification.
Will this technology go forward? Precision Planting specialists were listening. For now, wait and see!
Subscribe to receive top agriculture news
Be informed daily with these free e-newsletters
You May Also Like
---