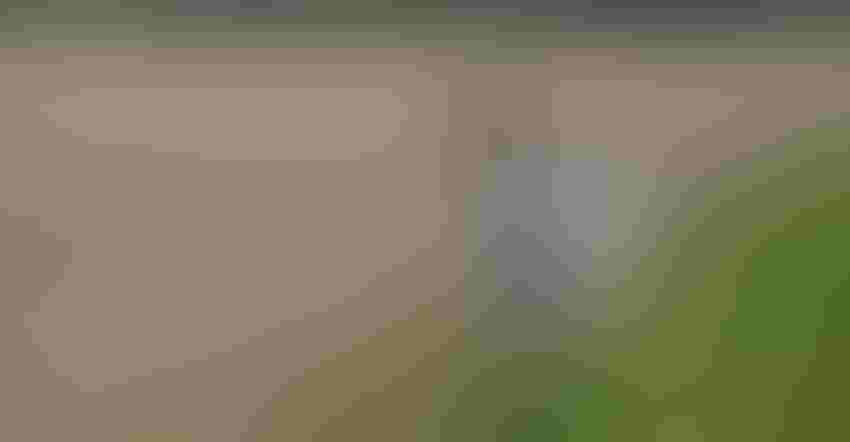 QUANTIFYING THE WEATHER: This weather station, complete with a soil moisture sensor, produces data and easy-to-read graphs that can help answer basic management questions.
Tom J. Bechman
How many times has this happened in your neighborhood? Someone says, "That field is almost ready to plant. I will run the vertical-till tool over it today to let it dry out." Or how about: "It's just a bit tacky, but I'm going to plant today anyway." Are these people basing their judgments on data, or just best guesses?
Odds are they're just looking at the soil, and perhaps feeling it. Mike Thurow, president of Spectrum Technologies, believes there is a better way today. His company offers streamlined weather stations that quantify soil moisture. You're no longer guessing whether it is dry enough or still too wet to work with farm equipment, Thurow says. With wireless technology, you can get readouts from these stations for different variables, including soil moisture, right on your phone.
"If you put a soil moisture sensor connected to a station at 6 inches below the surface, you get a reading on volumetric water content, or VWC," he explains. "Ideally, we want soils to have 50% pore space for oxygen and the other 50% left to store water.
"Soil types vary in their water-holding capacity. If a soil is holding all the water it can, say after a rain, it's at field capacity. Soil experts advise that if you drive over soils at field capacity, you risk forming soil compaction.
"At the other end of the scale is the permanent wilting point. Once soil moisture drops to this level, corn rolls up and plants begin hurting for moisture."
On a silt loam soil, field capacity is around 35% VWC. On a darker, prairie soil, it may be around 40%. Wilting points might be around 15% and 20%, respectively. The goal is to maintain soil moisture between those two extremes, Thurow says.
Decision aids
Suppose you have a weather station on a silt loam soil with a soil moisture sensor at 6 inches deep. It rained 0.5 inch last night at your house, but only 0.3 at that field, 3 miles away, according to the phone app. Can you apply fungicide on corn with a high-clearance machine this afternoon?
"The app can map out soil moisture and rainfall by the hour," Thurow explains. "Maybe there was a six-hour period right after the rain when soil moisture was 40%. Soil compaction would be a risk. But by 10 a.m., maybe it's down to 26%. Water has moved through the profile. You know you should be safe to make the application without ever visiting the field."
Suppose you have some fields with irrigation available. "People find soil moisture percentages helpful to know when to start irrigating," he says. "You don't want it to get to the wilting point, because by then you're already risking yield loss due to stress."
What about if you practice no-till but your neighbor tills? Will you have more moisture available for plants in a dry August, as proponents claim? Thurow is supplying the equipment for a demonstration to answer that question this summer. Stay tuned!
Subscribe to receive top agriculture news
Be informed daily with these free e-newsletters
You May Also Like
---