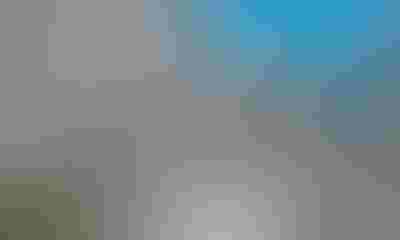 If there was anything hotter in ag technology right now than UAVs, it would be on fire! The technology is moving so fast that anything you read or hear about is on its way to being old news or out of date before you even get to it. However, some of the new products and services displayed at recent farm shows will still remain state of the art for the time being.
The field was hot before. When the Federal Aviation Administration went live with rule Part 107, which allows anyone to obtain an operator's certificate and use drones for commercial  purposes without getting an actual pilot's license, the needle moved to the red-hot category in terms of interest. If you go through the process to get your certificate, there is no longer any question about whether or not you can legally fly and scout your own fields or fields for someone else, and do it legally. It's legal, and companies are responding by making sure there is user-friendly technology ready for anyone who is ready to go to the next level in crop scouting via use of UAVs.
The second part of the equation is once you have the drone, what kind of technology do you need to get better images, and how do you go about turning all the camera shots from a flight into one image of your field? Companies are responding with new technologies in these areas as well. Some allow such things as thermal imaging or a zoom lens for cameras that accompany the UAV on the flight.
Other technologies relate to what to do with the images once you have them. There are services that stitch the individual images into one image of the field. And there is also software that would allow you to do this on your own. Both options are out there, ready for users to decide which one fits them the best.
Take a good look at this new technology. Use the contact information with each product to learn more about the ones you are most interested in. 
UAV sprayer arrives
The new Agras MG-1 is an octocopter UAV sprayer from DJI. It can carry about 22 pounds of product and spray 1 to 2 acres in 10 minutes. It will track the terrain, staying at an exact height above the surface or the top of the crop. It remembers where it ran out of product and will automatically return to the spot and resume spraying after it is refilled. For more information, see dji.com/mg-1.
UAV imaging services
SkyViewHD offers UAV aerial imaging services. Rather than buying a drone, flying it yourself and processing the photos, SkyViewHD does it all on a contract basis and will work with a single farm, groups of farms, co-ops or other entities. For more information, contact SkyViewHD at 407-430-2271 or see skyviewhd.com.
Another player in UAV market
The X-Star Premium is a new UAV offered by Autel Robotics, a relatively new player in the U.S. UAV market. The X-Star Premium is a quad-copter with a rated flight time of 25 minutes. Note that the entire mission must be completed in 25 minutes. It features a 4K camera with 12 megapixel definition. The company is based in Seattle. At farm shows Natalie Cheng of Autel demonstrates that this new UAV is easy to fly. Contact Autel Robotics at 844-692-8835 or visit autelrobotics.com.
Mini Ma delivers NDVA imagery
The Mini Ma from Crop Copter is definitely worth a look if you're in the market for a UAV that can deliver NDVI imagery and do it year after year. This new model features 30-minute flight time, a return-to-home failsafe, 10-channel radio controller, 1 mil of range and many other features. It lists for $5,150. Adding the camera and software brings the price to about $8,000. Contact Crop Copter, Gibson City, Ill., at 844-FLY-FARM or visit cropcopter.co.
Turn flights into images
One-step image processing to get a picture you can use from a UAV flight is possible with EZHealth software by Crop Copter. New in the software are rectangle and area polygon tools with statistics, customizable color map schemes, a 60-degree field-of-view sensor that lets you work with up to 160 acres per mission with Max flight, and a host of other features. You can make ground-truthing easy by determining exactly where you need to go to check the crop. Contact Crop Copter, Gibson City, Ill., at 844-FLY-FARM or cropcopter.co.
Division offers entry-level drones
Agri-Vision is a spin-off division of Crop Copter that offers entry-level drones capable of obtaining good images from three UAV manufacturers. The UAV pictured is a DJI Phantom modified by Agri-Vision to accomplish crop scouting tasks that most farmers want to accomplish with a UAV. This model is equipped with an upgraded camera to produce usable NDVI images. Contact Crop Copter, Gibson City, Ill., at 844-FLY-FARM or cropcopter.co.
Subscribe to receive top agriculture news
Be informed daily with these free e-newsletters
You May Also Like
---