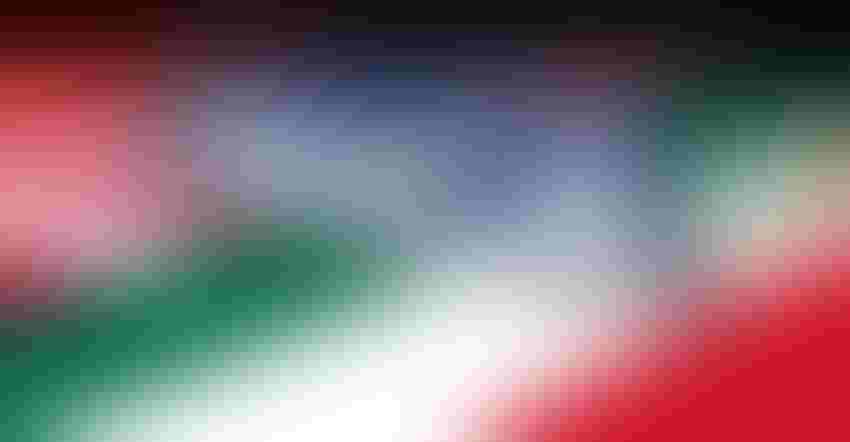 MEXICO FALLS SHORT ON USMCA: Mexico's move away from agricultural biotechnology does not meet standards set in USMCA trade agreement.
wildpixel/iStock/GettyImagesPlus
After celebrating a year in force of the U.S.-Mexico-Canada Agreement, it is no secret that relations between the U.S., Mexico and Canada continue to experience turmoil in dealing with trade tensions. Mexico's ban on genetically modified crops is a major point of concern and continues to be discussed by trade and ag leaders.
U.S. Trade Representative Ambassador Katherine Tai met with Mexico's Secretary of Economy Tatiana Clouthier on Thursday, July 22. Although the readout did not mention anything specifically about the two's discussion on ag biotechnology, American Farm Bureau Federation President Zippy Duvall met with Clouthier and Esteban Moctezuma Barragón, Mexico's Ambassador to the U.S., on July 21 and discussed concerns of Mexico's government's decisions on technology.
"I expressed the deep disappointment of America's farmers and ranchers in Mexico's decision to limit use of technologies – and food produced using such technology – that increase agriculture's sustainability and ability to meet the growing demand for food. I urged Mexico to return to a science-based approach to corn produced for both human consumption and animal feed," Duvall says.
Related: USMCA celebrates one-year anniversary
The Senate Finance Committee plans to hold a hearing Tuesday morning featuring testimony from the Biotechnology Innovation Organization to highlight some of the agricultural industry's top concerns including Mexico's acceptance of biotechnology.
In a preview of testimony to be offered by Michelle McMurry-Heath, BIO president and CEO, she notes with over 90% of corn, soybean and cotton in the U.S. produced with biotechnology crops, Mexico's actions on biotechnology acceptance directly impacts U.S. farmers as Mexico is the United States largest international market for corn, representing nearly 30% of U.S. corn exports in 2020.
"If Mexico does not approve a new corn biotechnology product, U.S. corn farmers are reluctant to plant the product for fear of disrupting trade to Mexico. This means, in effect, that Mexico determines which technology U.S. farmers can use," McMurry-Heath plans to share.
USMCA is the first agreement to address agricultural biotechnology specifically. All three parties confirmed the importance of encouraging agricultural innovation and facilitating trade in products of agricultural biotechnology. "Unfortunately, the Government of Mexico's treatment of agricultural biotechnology is a stark example of how it has strayed in a matter of three years and how trade barriers actively restrict the development of new technologies," she adds. For agricultural biotechnology specifically, Mexico has not granted a single approval since May 2018; meanwhile, the backlog of pending approvals has grown to 23.
The Government of Mexico published a decree on December 31, 2020, announcing the intention to phase-out the use of important agricultural technologies, including use of biotech corn for human consumption by 2024. In 2020, the U.S. exported $2.7 billion of corn to Mexico. "As a result, this decree could have a major impact on the U.S. agriculture industry and producers across the country. It is another unfortunate example of Mexico's waning adherence to our trade agreements," McMurry-Heath says.
"With little indication from Mexico that it will adhere to its USMCA commitments, BIO strongly urges USTR to begin taking enforcement action on Mexico's treatment of agriculture biotechnology," McMurry-Heath shares. "An enforcement case would at a minimum provide a framework and timeline to resolve the COFEPRIS-related delays in biotechnology approvals and the December 31, 2020, decree. Without a process, BIO and its members fear the Government of Mexico will continue the status quo, and possibly broaden the scope of the decree to additional agricultural products, which would compound the impact on U.S. trade and future innovation."
COOL concerns
The U.S. government has recently announced plans to reevaluate its Product of USA label for meat products, which has drummed up concerns from Canada and Mexico regarding whether it will rival the mandatory country-of-origin labeling found illegal under World Trade Organization rules in the last decade.
Related: USDA promises fix for 'Product of USA' meat labeling
In Duvall's meeting with Clouthier, he says she conveyed concerns rising in her country related to increased U.S. interest in country of origin labeling of meat. "She urged an approach that honors our WTO commitments," Duvall says.
U.S. ambassador to Mexico
A coalition of 33 U.S. food and agriculture industry members called for the prompt confirmation of the Honorable Kenneth Salazar to serve as U.S. Ambassador to Mexico. In a letter sent to the U.S. Senate Foreign Relations Committee, the groups site Salazar's proven statesmanship and keen insights into the long, rich and complex relationship between the United States and Mexico.
The letter acknowledges the many significant challenges regarding labor, migration, and trade, and notes that Senator Salazar's skills will strengthen the two countries' important bilateral relationship.
 "NAFTA has yielded strong benefits to both countries and the U.S.-Mexico-Canada Agreement promises to build upon those gains," the letter notes. "However, issues regarding labor, migration and trade related policies face significant challenges."
Signing onto the letter includes the American Farm Bureau Federation, National Pork Producers Council, National Council of Farmer Cooperatives, National Grain and Feed Association, National Association of State Departments of Agriculture, CropLife America, Biotechnology Innovation Organization, National Corn Growers Association, American Soybean Association and others.
Subscribe to receive top agriculture news
Be informed daily with these free e-newsletters
You May Also Like
---