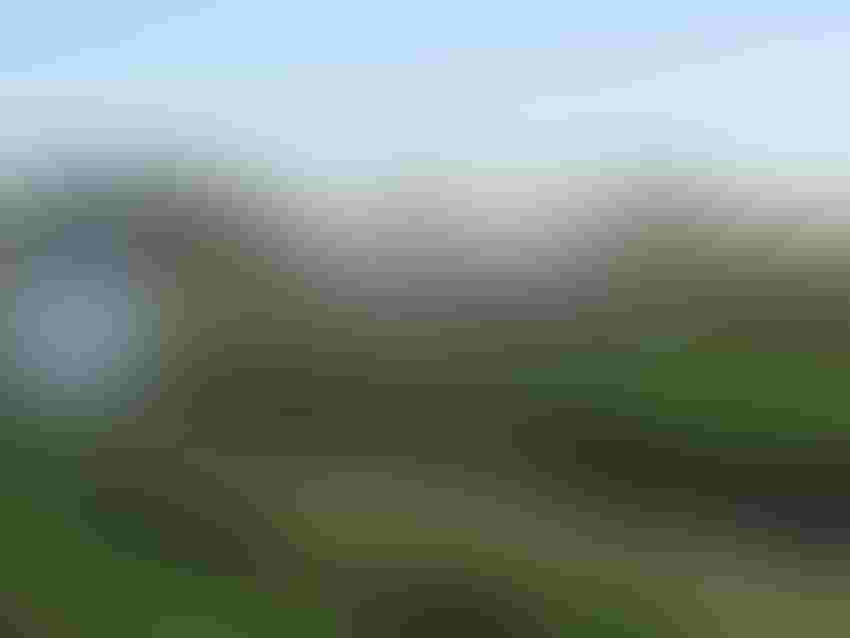 Attendees at a field day at Bayer's Woodland, Calif., vegetable seed research facility learn about the different varieties of processing tomatoes being developed.
Tim Hearden
Amid challenging controversies over glyphosate and genetically modified foods, Bayer's Crop Science Division is putting its innovative foot forward with an eye toward sustainability.
In the company's latest public-relations push since acquiring Monsanto, about 130 growers and other agricultural professionals were recently invited to a tour of Bayer's vegetable seed breeding and research facility in Woodland, Calif.
The first-ever Agriculture and Innovation Showcase on Aug. 13 included a field tour, a vendors' tent, a luncheon and afternoon breakout sessions as Bayer highlighted its partnerships with companies including Netafim, an Israeli firm specializing in irrigation technology, and the San Francisco-based Climate Corp., a digital data provider.
"We saw this as an opportunity to change the way this field day is held," said Jenna Oesch, global marketing and customer experience leader for Bayer Vegetable Seeds.
SHARING IDEAS
Rather than simply holding field discussions on issues related to crop production as the research facility has done in past years, the company wanted to have a variety of agricultural innovators on hand to meet growers and share ideas, she said.
"It's integrated and combined solutions that will make the industry grow and propel into the future," she told Western Farm Press.
Acquired in the Monsanto sale, Bayer's 200-acre facility in Woodland produces seeds for over 2,000 varieties of more than 20 crops, says Jacqueline Applegate, the crop science division's president of global vegetable seeds and environmental science. None of the seeds are genetically modified; the lab accelerates the natural breeding process by simulating conditions in greenhouses and on numerous trial plots worldwide.
Agriculture is "no longer just about growing a crop," Applegate told the gathering in opening remarks. "It's about water management and integrated solutions. It's about soil management."
Applegate points to the World Health Organization's recommendation that people eat five servings of fruit or vegetables a day – advice that only one in 10 Americans follow, she adds.
"Internationally, one in three have nutrition issues," she says. "It's very important. We all have a responsibility to contribute."
UNIQUE FACILITY
The Woodland facility grows multiple varieties of tomatoes, peppers, carrots, leafy greens and other vegetables. What's unique about it is that its work points to the experience of the end user, whereas other Bayer offerings, such as crop protection, are geared to the grower.
For instance, processing tomatoes are bred within the fruit to have different qualities for different uses, such as soup versus ketchup, Bayer's Chad Kramer told the guests. In watermelons, a reduction in ethylene caused the company to breed for new varieties that will hold in the field longer, show yellow skin to indicate ripeness and provide an aroma that entices consumers.
The center is also breeding for disease resistance, partly in response to the phaseout of methyl bromide. For example, with peppers, the company came up with hybrids that offer powdery mildew and nematode resistance, pepper breeder Bill McCarthy says.
"From an overall perspective, every innovation we do is a commitment to sustainable development," says Applegate, adding the company's goal is a 30 percent reduction in agriculture's chemical load by 2030. "It's about innovating differently and it's about collaboration."
Many of the stations during the field tour highlighted partnerships. At one, Netafim and Sentek demonstrated a lighter drip tape that will last for three seasons and save on labor. At another, discussions of digital analytics and in-field innovations included a demonstration of PlantTape, a biodegradable tape used commercially to plant lettuces, broccoli, cauliflower, celery, onions, tomatoes, cabbage and other crops, according to the product's website.
VENDOR BOOTHS
The nearly 30 vendors with booths in an air-conditioned tent at the field day included Fieldin, a Fresno-based smart-farming platform that helps growers optimize and manage pesticide applications and other tasks, and Western Growers' Salinas, Calif.-based Center for Innovation and Technology.
"Bayer has been a strong supporter of the center," says Dennis Donohue, the center's consulting director. "Their point today is to focus on innovation, and we share that in common.
"We're very focused around innovation in production ag," he says. "Collaboration is key to innovation."
The luncheon keynote speaker was Chavanne Hanson, Google's food choice architect and nutrition manager. She discussed the company's effort to feed its employees fresh, quality food to boost brain power.
"The next moon shot will be achieved with food," she said.
Google's vision is to contribute to sustainable food production, she said.
"We recognize we're part of a very large ecosystem," Hanson said. "Rather than stay in our own little silo we're taking this on."
CAPTURING INTEREST
The field day was a hit with Elisabeth Watkins, a Linden, Calif., student who writes a blog called Farm Girl Chef. The FFA member plans to attend the University of Nevada in Reno with a goal of entering ag communications, she says.
"This is great," she said during the outing. "I didn't know what to expect but I'm having a great time.
"Talking with the Bayer breeders, I realized there was science behind the studies but I didn't realize the timeline," she says. "Starting a new plant to getting it to the marketplace can take eight years."
Subscribe to receive top agriculture news
Be informed daily with these free e-newsletters
You May Also Like
---