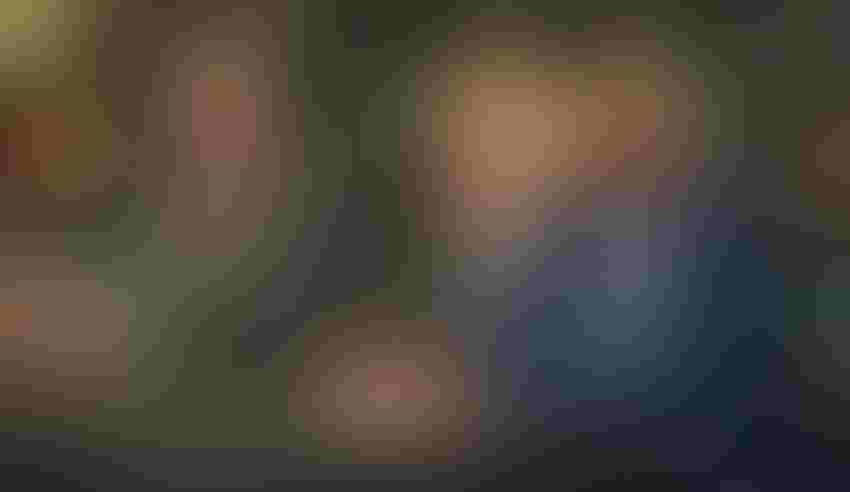 Former Fresno mayor Ashley Swearengen, center, and other proponents of the Fresno DRIVE initiative speak during a California Board of Food and Agriculture meeting Feb. 11 at the World Ag Expo in Tulare, Calif.
Tim Hearden
A former Fresno mayor and some area educators and businesspeople have big plans for the San Joaquin Valley, and they include agriculture.
Ashley Swearengen, who wielded the gavel for the valley's largest city from 2008-16, said a local foundation's goal is to see as much as $4 billion in public and private money invested in economic development in the valley over the next decade.
But instead of diversifying the area's economy away from ag, the Central Valley Community Foundation's goal is to "look for ways to take advantage" of the region's dominant industry, she said.
"This is a region that needs smart, impactful investment," Swearengen told the California Board of Food and Agriculture, which met Feb. 11 at the World Ag Expo in Tulare.
FRESNO DRIVE
The initiative is called Fresno DRIVE, which stands for Developing the Region's Inclusive and Vibrant Economy. Rolled out late last year, the initiative is guided by a more than 150-member steering committee that Swearengen says is "more like a congress" and is supported by a consulting and research team that includes McKinney and Co., the Central Valley Health Policy Initiative at California State University, Fresno, the Brookings Institution, Jobs for the Future, and the Urban Institute, according to the initiative's website.
In the past four months, Fresno DRIVE organizers have been holding focus groups with residents on how to transform the valley's economy and have put together an investment plan, Swearengen said.
The initiative received a boost in January when Gov. Gavin Newsom included $33 million for a so-called "food corridor" in the valley in his preliminary budget proposal. Swearengen said the group anticipates a total of $233 million in one-time state funds over the next decade, with other money coming from government grants, local ballot initiatives and private investment.
"I see it as seed corn so people will say, 'Oh, that's what you're doing,'" state Food and Agriculture Secretary Karen Ross said of the $33 million allocation.
19 INITIATIVES
DRIVE organizers started by examining 125 existing neighborhood and economic development initiatives to gauge their momentum, community buy-in, impact, feasibility and diversity of impact. They settled on 25 major investment themes, which were ultimately developed into 19 community investment initiatives, according to the project's website.
Among the proposals is the Fresno-Merced Food Innovation Corridor, for which the University of California, Merced, Fresno State and private enterprise would team to make the planned high-speed rail route the "precision food systems" corridor of California, the organization explains.
The project comes as much of the valley remains in an economic funk as its main industry, agriculture, faces such unprecedented challenges as heavy new restrictions on groundwater pumping and the tightening of rules surrounding pesticides.
Pumping restrictions are expected to force the fallowing of as many as 500,000 acres of irrigated cropland in the San Joaquin Valley, the Public Policy Institute of California predicted last year.
A RIPPLE EFFECT
Such a large reduction could have a ripple effect on disadvantaged communities in the valley, affecting not only jobs but also transportation, food availability and public services, Tricia Stever Blattler of the Tulare County Farm Bureau told the food and ag board.
"Everything is affected," she said. "It has a year after year after year impact in the billions of dollars … Keeping these lands active is going to be really important."
The valley is younger and more ethnically diverse than most regions, with 59 percent of Fresno residents under 35, Swearengen noted. It's also the state's poorest region, as its eight counties are all well above the state averages in poverty and unemployment, according to state and federal statistics.
But if the valley could boost its economy by becoming a food and technology hub, it could serve as an example to other regions, said Glenda Humiston, vice president of the UC's Division of Agriculture and Natural Resources. UCANR contributes $24 million to the region's economy through Cooperative Extension, she said.
"If this region puts its mind to it," she said, "we're going to learn new ways to do economic development in other regions."
Subscribe to receive top agriculture news
Be informed daily with these free e-newsletters
You May Also Like
---