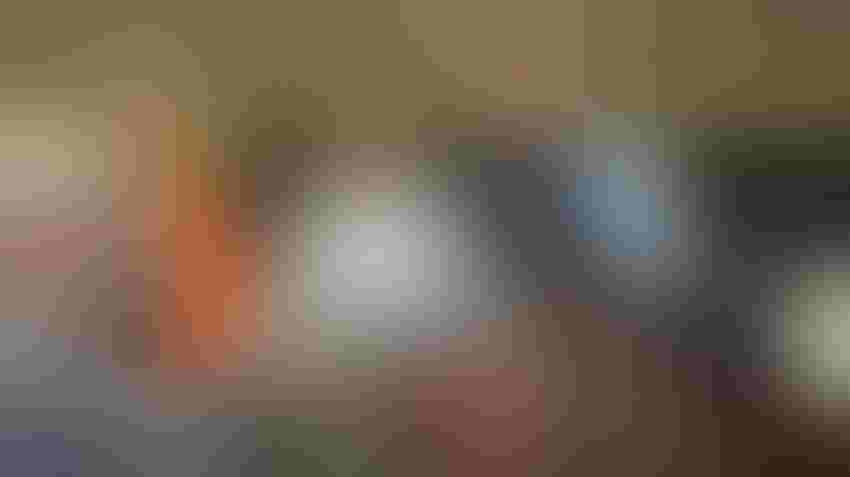 American Farm Bureau Federation president Zippy Duvall talks to attendees of the 2020 World Ag Expo after speaking at the opening ceremonies.
Tim Hearden
American Farm Bureau Federation president Zippy Duvall jump-started the World Ag Expo this morning with words of encouragement for Western farmers and ranchers.
"We hear a lot about sustainability, but nobody can have that word because farmers own it," Duvall said during opening ceremonies at the International Agri-Center in Tulare, Calif., "This is the most exciting industry in the world."
Duvall said growers are using innovation and technology to feed a growing world population even as the percentage of people who farm continues to decrease.
"There's fewer of us to feed the world," he said. "To feed the world. We are the most important business in the world … It's important to every living being on this earth."
New products, scholarships
Duvall's remarks came as organizers opened their 53rd annual gathering with scholarship presentations and a Top 10 New Products awards ceremony.
The opening presentations in the Heritage Complex Banquet Hall kicked off three days of seminars, vendor displays and special promotional events within the grounds' 2.6 million square feet of exhibit space.
The farm show – the biggest in the West – this year has more than 1,450 exhibitors displaying the latest in farm equipment, chemicals, communications and technology. Last year's farm show drew 102,878 people, according to organizers.
The show features the 80,000-square-foot Farm Credit Dairy Center and the 60,000-square-foot Corteva Agriscience Center, both of which highlight the latest in equipment, technology and service.
"We're so excited to start this farm show," event chairman Jim Parsley said during a Visalia Breakfast Lions Club meeting on Feb. 7. He said his excitement was shared by the more than 1,200 volunteers and 25 employees who plan and execute the event each year.
Meetings and talks
The expo's first day was to include a State Board of Food and Agriculture meeting, at which officials planned to discuss issues facing San Joaquin Valley growers as well as a farm-to-school initiative and other topics.
Other attractions were to include an opportunity to see hemp from an international perspective with hemp veteran and company CEO Hanka Gabrielova, who is accredited by the Czech Ministry of Agriculture as an advisor in organic farming.
Classes and workshops were to kick off at 9:30 a.m. today at the Seminar Center on the southeast end of the grounds, with series of sessions on dairy, water, trade, hemp and other aspects of farming.
The show also places a significant emphasis on women in agriculture, with a World Ag Women tent featuring such special events as a live cooking demonstration this afternoon by celebrity chef Shaun O'Neale.
On Wednesday, the WAE Pitch Competition hosted by the WET Center at California State University, Fresno offers what organizers say will be a fun and engaging way to introduce potential customers and World Ag Expo attendees to new and emerging technologies and innovations.
A 2020 Toyota Tundra giveaway will benefit the Guilds of Valley Children's Healthcare. Tickets are $5 and will be available for purchase at Gate 2 and the Toyota exhibit space. The drawing will be held at 3 p.m. Thursday in the Toyota exhibit space.
Last year's drawing raised $88,800 for the hospital, which has gained over $300,000 from the fundraiser over the past five years.
Farming and freedom
In his opening remarks, Duvall recognized first responders and military members in the banquet hall and became emotional when talking about his son's tour of duty in Iraq. He said farmers, too, keep people free by keeping them fed.
He recognized California Farm Bureau Federation president Jamie Johansson and encouraged farmers to become involved in the organization and be active in politics.
"There are people in this room who are setting policy," Duvall said. "The only way they're going to make good decisions is for us to inform them how their policy is going to affect us.
"It is our job to make them understand" how they can fix problems that confront agriculture, he said. He also encouraged growers to be active on social media.
"We need to tell our story," he said. "There's some unbelievable things that are happening on farms, and people out there want to see it."
Duvall's remarks inspired Jim Gilroy, who directs the indoor exhibits at the farm show.
"The correlation he made between the American farmer and a public servant like his son was absolutely brilliant," Gilroy told Farm Press. "He just did a fantastic job. I enjoyed every second of his talk."
Sunny skies
Forecasts call for sunny skies and afternoon temperatures in the high 60s or low 70s during the three-day festival.
Attendees can get the latest news, information, and updates about the show by downloading the new 2020 mobile app. The free app provides mobile access to the schedule of events, an exhibitor directory, map of the show grounds, and other visitor resources. The app is available for download by visiting your app store and searching for "2020 World Ag Expo."
For a full schedule of events, more information about the show or to purchase tickets for 2020 World Ag Expo, visit www.WorldAgExpo.org.
Subscribe to receive top agriculture news
Be informed daily with these free e-newsletters
You May Also Like
---