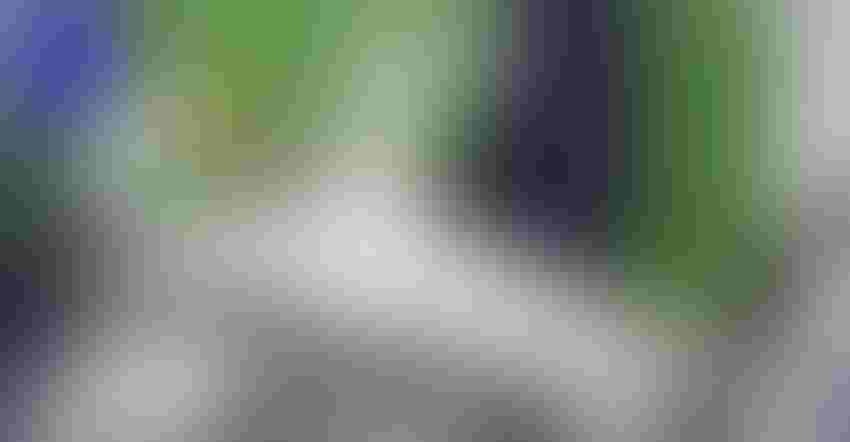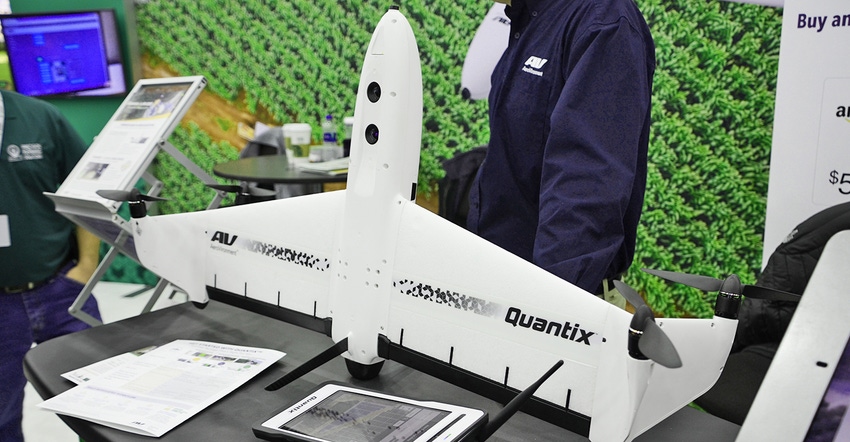 UPGRADED AIRSHIP: AeroVironment has launched new software for its Quantix airship and modified its pricing to better meet specific market needs.
The use of unmanned aerial vehicles to improve on-farm data access continues. The business of collecting information using these remote-controlled airships is growing, and AeroVironment is moving to meet the market. A guiding approach for the company is to make using the machine and its data easier.
AeroVironment makes the Quantix drone, which is a vertical take-off, fixed-wing, flying data-gathering machine that can capture imagery in both the visual spectrum and with near infrared for Normalized Differentiation Vegetative Index maps. Those NDVI maps can help farmers spot trouble in fields far earlier with standard pictures.
Known for its simple setup and flight plan software, AeroVironment is upping the ante with a range of updates to the system that boost connectivity for users. In addition, the company has changed pricing for the product and support software "We're offering new, flexible pricing based on feedback we've gotten from farmers and other users," said Matt Eisenberger, customer success manager, AeroVironment.
Push, pull
He explained that with the latest software update, it'll be possible to pull information from such services as the John Deere Operation Center for analysis, and then be able to "push" the data back into the system. That will speed access to variable-rate maps and information for farmer use in the field.
That "pull" means users can now import field boundaries from the operation center system into their Quantix airships and get flying faster.
The system also now includes a "quick-resolution" layer that helps growers get information they can use, even if they have a poor internet connection. This can give the user faster access to imagery in the field and cuts upload and processing time by 50%, while still providing the AeroVironment Decision Support System analytics capabilities.
The company teased more information, noting that it has a Plant Count Beta in the works to fly fields and check stand counts. The trial is coming onstream as a test in time for 2019 planting. Currently the airship flies at 400 feet. For the beta, Eisenberger explained it will be working to fly at 150 feet. "At that level, we can count emerged plants and provide a report," he said. "You'll be able to tell very early how healthy your stand is, and if you'll have to replant."
With that information, it's possible to do some better yield predictions ahead of harvest, he added.
A new pricing model
Drones are used in a number of ways. By farmers, by field scouts. Eisenberger said the pricing has been modified based on user input. Prices for using the system range from $5,500 to $16,500, depending on how you deploy the machine in the field.
Top of the list is the Quantix and AV DSS bundle for $16,500, which provides the entire hardware and software ecosystem for the vehicle. That includes a three-year subscription to the AV DSS online data analytics platform and unlimited data storage.
AeroVironment processes images in the cloud for increased accuracy, and the subscription to the AV DSS platform makes that possible. With this price level, there is no per-acre fee for images.
The second price tier is the Enterprise Bundle. Designed for larger-scale farms, it provides a pay-as-you fly flexibility with a 50-cent-per-acre image processing fee, unlimited data storage and no monthly AV DSS subscription fee.
The lowest tier is the Professional Package for $5,500, which is designed for scouts and service providers. This price provides a kind of "franchise-in-a-box" concept that gives users all they need to start scouting fields and expanding their businesses. The package includes a $150-per-month subscription to AV DSS that provides access to exclusive client management and publishing tools, and a 30-cent-per-acre image processing fee.
The client management system allows others to get access to the date that is recorded, which is controlled by the user. "This gives someone creating a scouting business a starting point, and they can price their services as they see fit," Eisenberger said.
The AeroVironment airship can capture images from 400 acres in 45 minutes with its fixed-wing approach to flying. The sensor can capture True Color, NDVI, Green NDVI, canopy coverage, anomaly detection and more. All three packages include the drone for image work. Learn more at aerovironment.com.
About the Author(s)
Subscribe to receive top agriculture news
Be informed daily with these free e-newsletters
You May Also Like
---