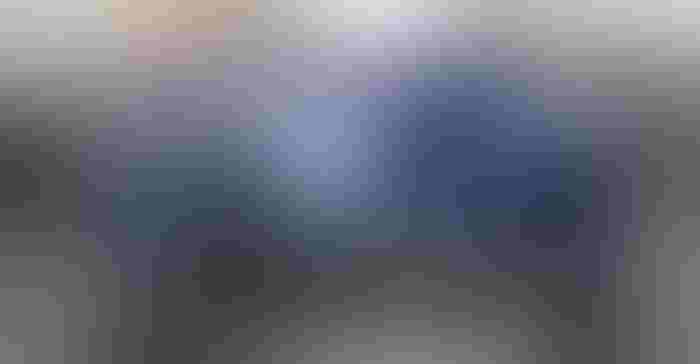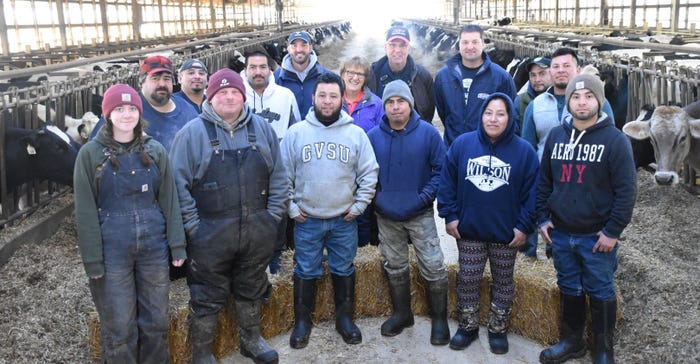 With a stethoscope and thermometer in hand, Brent Wilson makes his rounds through the barns twice a day, morning and night. "I think I know when a cow is sick before she does," he says.
His diligence is a key component to producing high-quality milk, which recently was recognized at the national level. Wilson Centennial Farm earned the top platinum award, presented in January as part of the National Dairy Quality Awards presented by the National Mastitis Council.
"It's all about Brent; he's very detail-oriented when it comes to the cows," chimes in Nancy, his wife of 45 years.
Brent is a fifth-generation dairyman, milking 900-plus dairy cows in Carson City, Mich. "There's been cows on this farm for better than 120 years," says Brent, who came back to the farm full time in 1990 after earning a degree in dairy production (equivalent to animal science) from Michigan State University and working off the farm for the Michigan Milk Producers Association (MMPA) and then MSU Extension.
Brent and Nancy, who was a special education teacher and is now active in Sunday school and other church-related activities, now live in the house he grew up in. The farm has grown from 140 acres and less than 50 cows to 4,600 acres of corn, soy, sugarbeets, alfalfa and wheat — and what will be their capacity of 1,000 cows later this year.
They farm in four counties — Gratiot, Ionia, Montcalm and Clinton — with their sons Tyler, 42, and Ben, 40, who, through a transition plan, each own 25% of Wilson Centennial Farm LCC. "My percentage of the farm decreases every year while their shares go up," Brent says.
Jobs at the farm are divided to maximize given talents and interests.
Tyler, who has a degree from MSU in agribusiness management, is a "dairyman at heart," Brent says. "He always wanted to farm." Out of college, Tyler worked as a dairy nutritionist. Today, in addition to working on the farm, he also contract-feeds heifers on his own farm, just north of the dairy operation.
Ben has a business management degree from Colorado Christian and has worked for Harvey Ag and then Syngenta as a crop protection specialist, before taking a half-time job with Helena and joining the family farm.
At Wilson Centennial Farm, Tyler and Ben have been running the day-to-day management for the past eight years. Ben is in charge of cropping, while Tyler heads dairy nutrition and the feeding of cows.
Brent says quality milk starts with nutrition. "Tyler knows how to feed cows for high components," he says.
One goal the farm has consistently met is 7 pounds of solids, both protein and butterfat added together, to receive premiums in those areas.
"He feeds some special amino acids and fats to achieve high protein and butterfat at the same time," Brent says. "He looks at getting value added and works with Ben to select corn silage varieties and alfalfa to meet those goals."
A commodity building houses beet pulp, fine-ground corn and other feed components. "We select genetically for butterfat and protein," Brent says. "And we found you can get a couple more pounds a day with earlage. We use a chopper that has a corn processor on it and use an adapter, and put the corn head from the combine on our chopper to make earlage to bag. Having a cob with the ear in the ration gives us higher components."
Rations are recorded and balanced every day based on conditions. "The cow is getting exactly what she wants and needs," Brent says. "If we change something, we want to know what a difference it makes."
Great attention is focused on keeping the standard plate count or total number of aerobic bacteria in the milk below 12,000 per milliliter. The regulatory limit for SPC is 100,000 bacteria per milliliter.
The farm also strives for a somatic cell count less than 80,000 per milliliter. According to USDA data, the American milk supply averages 224,000 somatic cells per milliliter.
Wilson Centennial Farm's milk quality numbers (June 1, 2018, to May 31, 2019) for the competition averaged 67,000 per milliliter for SCC and 2,000 per milliliter for SPC. This high-quality milk is shipped to MMPA's plant in Ovid, Mich., and then to Canton, Ohio, to Superior Dairy.
A Dairy Herd Improvement Association (DHIA) tester is out every month. The farm also vaccinates against coliform mastitis and uses a teat dip.
Attention to detail, not only by Brent but also his employees, has helped keep count numbers low.
In between each of the three milking shifts, employees talk to one another and record any abnormalities that may indicate a cow problem, including bad feet, loose manure or off feed.
"Every day I get on my phone or iPad and see what my SCC is, as reported by MMPA," Brent says. "I can tell you immediately what it was two days ago. If it goes up any, I go looking for the problem."
DHIA samples every cow, every month for production, SCC and components. "Invariably, they will find a cow that has an elevated SCC that I did not know about," Brent says. "I take my red bands out, find her and segregate her — her milk is not shipped."
Milk from the segregated group is pasteurized and fed to calves, instead of milk replacer.
Every Monday morning, Sterner Vet Clinic is on-site for a pregnancy check and to take care of any herd health issues.
Cow comfort and care are equally important to high-quality milk, helping the farm to be a two-time recipient of the platinum award. Cows are kept cool with misters and fans. Rubber has been installed in the holding pens and parlor to prevent injury, and walkways are sanded to help prevent falls.
Cow comfort, cow nutrition and diligence in spotting cow problems have served Wilson Centennial Farms well in producing quality milk. "But I don't really need recognition, that's not why we're doing this," Brent says.
Subscribe to receive top agriculture news
Be informed daily with these free e-newsletters
You May Also Like
---