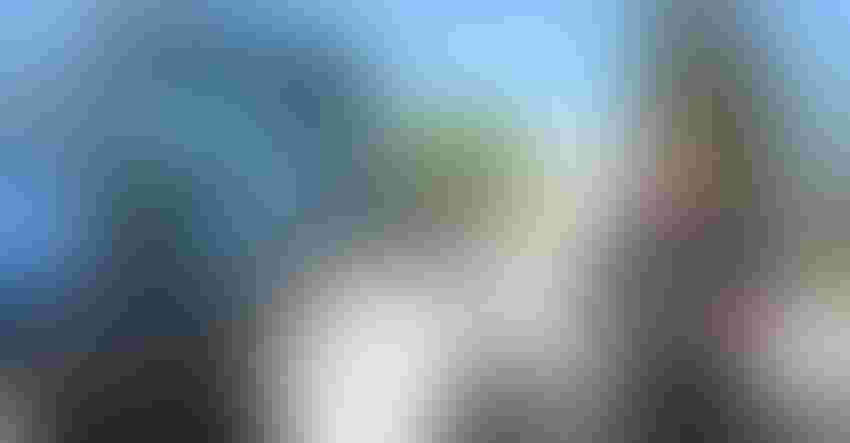 "Farmers are facing an existential crisis now between labor availability and labor costs," says Curtis Garner, COO at Verdant Robotics. The company's autonomous precision weeding machine promises to cut herbicide and water costs by 95%.
Mike Wilson
French and U.S. ag groups held a press conference last week to announce an upcoming conference dedicated to ag robotic solutions for specialty crops.
The conference, called FIRA USA 2022, will be held Oct. 18-20 in Fresno. It will bring together specialty crop growers, robot manufacturers, academics, technologists, startups, and investors to discuss how robotics technology can solve ag's big challenges – namely labor. It is jointly organized by the French association GOFAR (Global Organization for Agricultural Robotics), University of California Ag and Natural Resources, Western Growers Association, and the Fresno-Merced Future of Food Initiative.
"Ag robotics are here right now, saving water, reducing chemicals, and solving labor problems," says Gabe Youtsey, Chief Innovation Officer at University of California Agriculture and Natural Resources. "It's here, but there's a lot to be done still." Some autonomous robotic machines are already working in fields to do weeding and thinning; other tools, for things like harvest and citrus, are "still a ways out," he adds.  
The press conference concluded with live demonstrations from three companies already working in California fields: Naio Technologies, Verdant Robotics, and Blue White Robotics.
Solutions to real problems
Ag tech startups often fail because products or services didn't actually solve real world farm problems. That's why the October conference will include a day of field demonstrations where participants can watch dozens of robots working in real world conditions. The conference will also feature numerous growers in panel discussions, breakouts, and roundtables.
Walt Duflock, Western Growers vice president of innovation, expressed the need to get more conversations started between farmers and startups, "so we get the right problems solved, and second, work to get innovations to scale."
Duflock says most ag tech startups are a long ways from an IPO. Western Growers' first annual automation report notes that 75% of ag startups are "pre A" funding.
"That is basically bootstrap, friends and family capital, very early stage," he says. The 0ther 25% in that space are series A and B funding.
Related: Robotics solving water, fertilizer, labor challenges
"If you think about capital, series A round is a basic product -- getting ready to put it in the market; B is larger, and series C, they are ready to scale. So, all of these companies are still very early with a lot to do -- that's why the grower conversations have to happen."
The upcoming robotics conference is taking place in Fresno thanks in part to its strategic location in California's San Joaquin Valley, producing two-thirds of the total fruits and nuts crops in the United States.
FIRA co-director Gwendoline Legrand says FIRA has primarily hosted this event in France, but decided to join forces with local players in California to launch the first U.S.-based event.
"We wanted to go to California for this fall meeting because we see it as a place where it can spark adoption elsewhere," says Legrand. "France ag is very old fashioned. If we see it adopted here (in Fresno) they will see that it works and make it easier to adopt it in their home countries."
Labor gap
A lack of immigration reform has aggravated the growing labor shortage for agriculture, particularly in specialty crops where hand labor is in high demand. Yet, even with labor shortages, some fear the autonomous technology will cause unemployment. That's not going to be the case, says Duflock.
"All of the work we're going to be doing with robots doesn't take away a single job," he says. "The robots are closing the gap between the labor we need and the labor we have." Fresno area community colleges will train or retrain over 8,000 people to join the new agtech workforce.
"People who may lose a job will be first in line to get the upskill training to manage the technology," adds Duflock.
Service or sale?
The three machines in the field demonstrations illustrated the different approaches these companies are taking to tackle ag's problems. Israel-based Blue White Robotic's hardware kit simply transforms any existing vehicle into a fully autonomous unit that can be switched back and forth -- driver or driverless. Geraldine Hirschy, with French-based Naio Technologies, showed off the company's 'Orio,' a multi-task robot, which can "weed, cultivate, seed, collect data and more," she says. It is already on the market either as a service or for sale. The company also makes "Ted," a vineyard weeding robot, "Dino," a large scale vegetable weeding robot, and "Oz," which can do smaller single row autonomous tasks.
Curtis Garner, co-founder and COO at California-based Verdant Robotics, showed off the company's 'Robotics-as-a-service' model. It's a combination autonomous tractor with smart sprayer that uses a lighting and camera system to index plants on-the-go. Verdant implements can apply chemicals for crop protection and fertility or deploy lasers for weed suppression, slashing herbicide usage by up to 95%. Its first multi-action commercial machine for orchards is expected next year. Approximately 40% of the carrot market is already under exclusive contract for the next five years.
"Farmers are facing an existential crisis now between labor availability and labor costs," says Garner. "Labor costs are rising 14% year over year, and it's not slowing down. We're here to help farmers arrest that cost, provide them savings, and help them with labor availability.
"The robot does a perfect job every time," he concludes. "It never gets tired and it never sleeps."
Subscribe to receive top agriculture news
Be informed daily with these free e-newsletters
You May Also Like
---