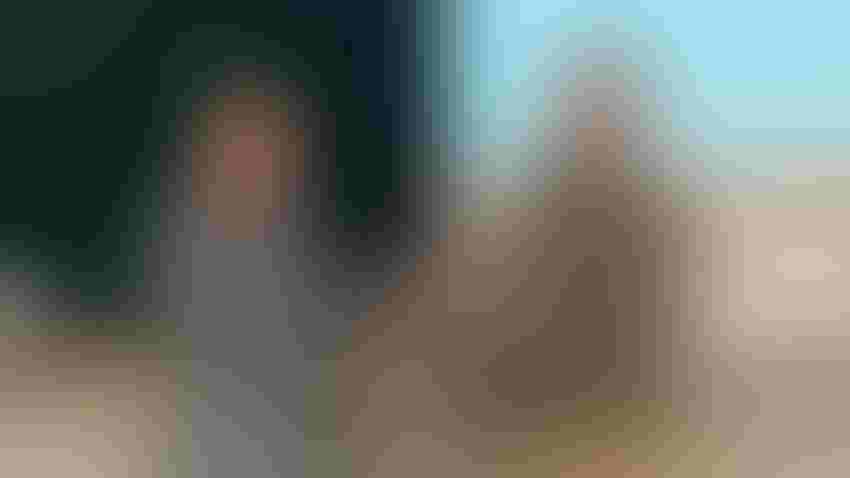 Derek Helms (left) presents Taylor Burdett (right) with an award plaque for his top soybean yield in the Central and Grand Prairie region of Arkansas. Of all the contestants in the regional categories, Burdett produced the highest yield at 99.752 bushels per acre.
Arkansas Soybean Promotion Board
At a Glance
Contest winners announced Jan. 25 at the 59th meeting of the Arkansas Soybean Association

Of the 71 contestants entered in 2022, only 33 harvest reports were submitted.

Champion winner, Matt Miles breaks 100-bushel barrier for the eighth time in the challenge.
Soybean producers in Arkansas were rewarded for their winning results on Jan. 25 at the 59th meeting of the Arkansas Soybean Association. Top producing contestants in the Go for the Green (GFTG) Soybean Challenge and the Race for 100 Soybean Yield Contest walked away with award plaques and prize money.  
The program also provides agronomic information from these winning fields as contestants share practices and methods used to attain their high yielding crop.  
"I continue to be genuinely impressed by the incredibly high-achieving performance that our soybean producers manage to accomplish year after year. This year is no exception," said Derek Helms, a farmer from Clark County and ASA president. 
"This contest not only helps our mission to improve the agronomic practices of producers in Arkansas, it also serves as a platform to showcase the innovation and industry leadership consistently demonstrated by our producers across the state."  
Of the 71 contestants entered this past year, only 33 harvest reports were submitted. Jeremy Ross, Extension soybean agronomist at the University of Arkansas System Division of Agriculture, noted that 2022 was the lowest participation since the start of the program.  
"That did not surprise me with the drought conditions during June and July. The soybeans struggled during that time. Yields were off for a lot of producers, even for those who busted 100 bushels previous times. I am still really impressed with the yields we had from the division winners and the champions," Ross said. 
He reported only 18% of the GFTG contestants yielded 90 bushels or greater, a number substantially lower than the 50 to 60% who reach or exceed 90 bushels in a typical year. In the champion division, three previous winners broke 100 bushels, and Ross added that it was the first year in several that no new contestants were promoted to the 100-bushel club. 
Regional Division Winners 
The GFTG challenge is divided into seven geographical divisions throughout Arkansas. An eighth division serves as a conventional category for the production of non-GMO soybeans. 
Division six, representing the southeast Delta counties, was the only region with no reported harvest data. Top yielding soybean crops historically come from this region, but it took the hardest hit with extreme weather conditions during the 2022 production season. 
Ross announced the award winners, and Helms presented the plaques and prizes. 
Division One (Northeast Delta) 
99.480 bushels per acre, Roger Reddick, Greene County
88.127 bushels per acre, Jeff Wells, Greene County
79.661 bushels per acre, Allen Griffin, Greene County
Division Two (Northeast) 
90.665 bushels per acre, Zack Brown, Clay County
83.963 bushels per acre, Karl Garner, Cross County
76.289 bushels per acre, Judd Cunningham, Poinsett County
Division Three (White River Basin) 
88.011 bushels per acre, Richard Walker, Jackson County
84.482 bushels per acre, Greg King, John Walker, and Rob Walker, Jackson County
74.053 bushels per acre, Jerry Fuller, Monroe County
Division Four (Central and Grand Prairie) 
99.752 bushels per acre, Taylor Burdett, Arkansas County
89.927 bushels per acre, David Strohl, Prairie County
Division Five (East Central Delta) 
97.081 bushels per acre, Blake Culp, Phillips County
93.843 bushels per acre, Leonard Rohrscheib, Phillips County
91.759 bushels per acre, Leonard Rohrscheib, Jr., Phillips County
Division Six (Southeast Delta) 
No results submitted
Division Seven (Western) 
82.440 bushels per acre, Blake Mans, Yell County
73.846 bushels per acre, Ronnie Cross, Yell County
65.033 bushels per acre, James Gregory, Conway County
Division Eight (Conventional) 
84.519 bushels per acre, Riley Stephens, Cross County
84.298 bushels per acre, Jake Hunter Stephens, Cross County
82.312 bushels per acre, John R. Stephens, Cross County
Champion of Champions 
For 15 years, soybean producers in Arkansas have been chasing the 100-bushel record in the Race for the 100 Soybean Yield Contest. Winners who achieve this level of production are entered into the Champion of Champions category of the competition. 
This year's champion winner was Matt Miles at 122.884 bushels per acre, marking his eighth time to break the 100-bushel barrier in the challenge.  
The second-place winner of the division was Layne Miles, at 122.301 bushels per acre with his fifth time to break the record, and third place went to Sherrie Miles at 109.572 bushels per acre and her fourth time to break 100. 
While Matt Miles and his family are known for testing new products on high yield fields, they aim for sustainable methods with a positive return on investment.
"Our goal is to push yields to the max, but if a method is not sustainable, it is worthless to a farmer. In the end, we have to be able to pay the bills."
Top Producing Practices 
The GFTG contestants share production practices used to achieve their winning results. This agronomic information is published on the Arkansas Soybean Promotion Board website, found at TheMiracleBean.com. 
Winning fields are grouped by geographical region and include a diverse snapshot of soil profiles and environmental conditions. According to the publication, many GFTG participants follow common practices such as selecting intermediate maturity group four varieties, planting in April, and ensuring fungicide applications and timely irrigation events.  
More specific details include herbicide rates and timings, seeding rates, fertilizer applications, and harvest aids. 
"We are getting a lot of good information out of this program, and we look forward to continue to glean more in the future," Ross said. 
He extended thanks to the Arkansas Soybean Promotion Board for their funding through the soybean grower checkoff, and he thanked the Arkansas Soybean Association for the administration of the program.  
Ross specifically expressed gratitude to Dawn Howe, executive director of the Arkansas Soybean Association, for her commitment to the success of the program. He also acknowledged the many boots on the ground who make it possible. 
"We really could not do this without the cooperation of all our county Extension agents. To do it right, the time commitment to harvest each plot takes about a half a day. They take time during the busy harvest season to go out and certify these yields, and some have multiple entries to verify. I would like to show my appreciation to them," he said.  
Subscribe to receive top agriculture news
Be informed daily with these free e-newsletters
You May Also Like
---