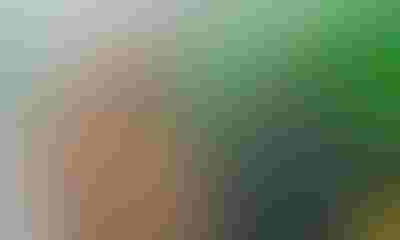 In the 2011 film "Moneyball," Brad Pitt plays Oakland A's general manager Billy Beane, who in 2002, assembles a winning baseball team by paying attention to a then-unorthodox set of metrics. Based on a true story, this approach bypassed traditional measures of performance — batting average, home runs and RBIs. Instead, Beane turned to data-driven models of statistical analysis that measure what a player's performance actually contributes toward runs produced and team victories.
This system became widely accepted in major league baseball. With opening day just around the corner, we began to wonder: Why not try the Moneyball approach in farming?

"Anybody looking at a transition to the next generation needs to get that generation involved in [financial ratios]," says Mark Kies, 61, of Michigan, with son Patrick. (Photo: Chris McGuire Photography)
Michigan farmer Mark Kies has learned that paying attention to the right metrics — financial ratios — can help him easily and regularly monitor his operation's financial health. They can also help him manage his risk and be ready to move quickly on good opportunities as they become available.
"From tracking our financial ratios, I'm pretty certain we can survive this current downturn without too much problem," he says. "But they can also help us answer questions like, 'What if the markets trend this way for four or five years?' or 'How's our working capital position?' or 'What kind of expansion can we do if land becomes available?' "
Kies, who raises corn, soybeans and beef cattle near Allen in south-central Michigan, was introduced to financial ratios in the late 1990s. A lifelong Farm Credit customer, he attended a seminar where they first presented the concept. At the time he and wife Sheryl were looking ahead toward transitioning their farm into a limited liability company, and they quickly embraced ratios as a way to gain a deeper understanding of their farm's finances.
The big 5
In a nutshell, financial ratios are simply tools to measure the relative health of your farm's "big five" financial categories — liquidity, solvency, profitability, repayment capacity and financial efficiency. The Farm Financial Standards Council lists 21 key measures (not all ratios), but in most cases one of these measures for each financial category is sufficient. Measures Kies tracks include working capital, debt-to-asset ratio, operating expense ratio, rate of return on assets and asset turnover ratio.
A couple of examples for illustration follow.
As a measure of liquidity, working capital equals total current farm assets minus total current farm liabilities. This shows the operating capital available in the short term from within the farm operation, and is a good indicator of a farm's ability to withstand negative margins.
Asset-turnover ratio, which equals value of farm production divided by average farm assets, is a good measure of financial efficiency. Generating a high level of production with a low level of capital investment will give a high asset-turnover ratio. This helps producers know if they are using available assets to their fullest potential.
One of the main ways Kies uses financial ratios is tracking year-to-year and multiyear trends, then using that information to project and plan for the future. He says having done so during the recent good years has better positioned him for lean times.
"We used those times as an opportunity to upgrade our field and grain drying equipment," he says. "Consequently, we only have limited debt left to service on those, which makes us a low-cost producer and in a good position to weather the current situation."
At least annually, Kies does a "stress test" on his financials, running his numbers with different sets of commodity and input prices.
"We've got to do the what-if scenarios, to see where we'd wind up with different scenarios and outcomes," he says. "Then we discuss them with our lender, who's doing the same thing."
Kies, 61, is looking ahead to retirement, and is planning how to smoothly transition his operation to son Patrick and daughter-in-law Rachel.
"Anybody looking at a transition to the next generation needs to get that generation involved in this process," he says. "It's important that they know what the trends are going into the transition. Some of our property has been in our family for 150 years. We've worked hard to try to strengthen our financial position, and I don't ever want to see that ground come up for auction."
Boone writes from Wabash, Ind.
Subscribe to receive top agriculture news
Be informed daily with these free e-newsletters
You May Also Like
---