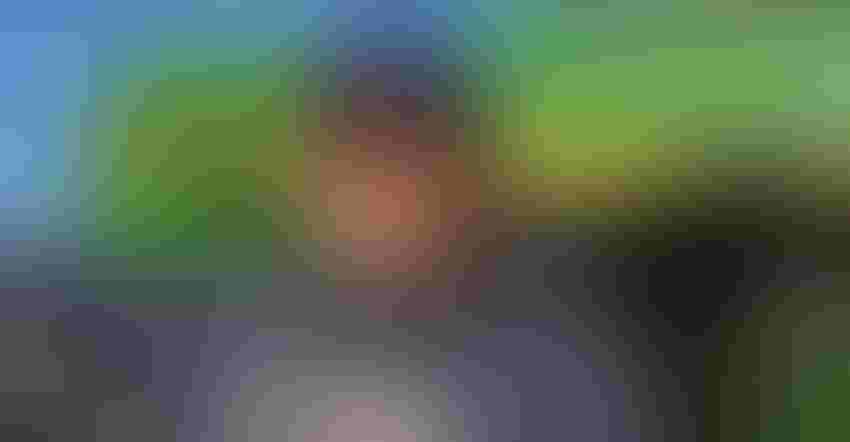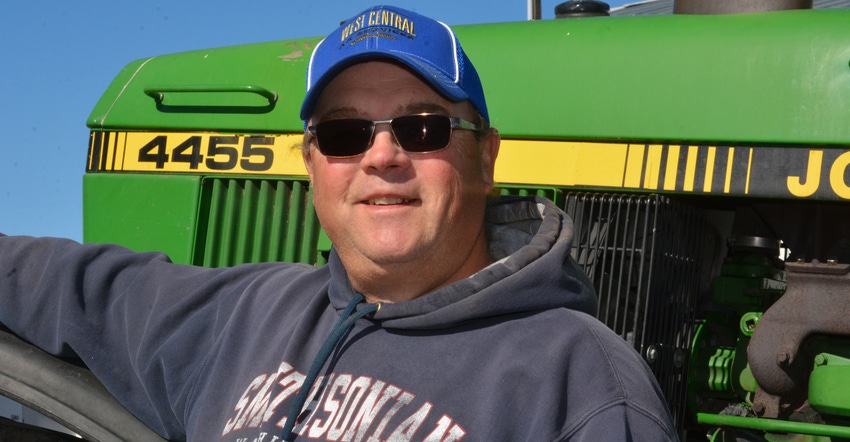 PERSISTENCE PAYS: Crop and livestock farmer Corey Hanson of Gary, Minn., continued to question why his soybeans looked thin. He eventually learned the field was infested with soybean cyst nematode.
Paula Mohr
What looked like herbicide burn every three years during his soybean rotation turned out to be soybean cyst nematode for Corey Hanson.
The Gary, Minn., crop and livestock farmer had been applying Treflan with a harrow and doubling back on the headlands. He thought the extra chemical was affecting the beans. A few agronomists told him the same thing — it was overspray.
Then he asked a University of Minnesota Extension specialist to look at his field one year and was told it had a mineral deficiency. However, other crops he grew in rotation — wheat, corn, alfalfa — didn't show any signs of mineral deficiencies.
Frustrated, he called seed reps for help, eventually giving one an ultimatum: Come and look at my field or I'm not buying seed from you.
"Next time, the company agronomist came, and I showed him my worst field," Hanson says. "He looked at it and told me he had good news and bad news. The good news was that he figured out the problem. The bad news was that the field had soybean cyst nematode."
Hanson had no idea what that was.
Soybean cyst nematodes are microscopic roundworms that infect soybean roots. You can't always tell aboveground what is impacting the plant, even when yield loss is up to 30%, according to U-MN Extension. SCN can live in a field for years before it is identified. When you finally see symptoms, they can look like symptoms from other pathogens or stressors.
"I had to get on the internet — it was dial-up then — and started looking it up," Hanson recalls. A regional Extension specialist based in Crookston, Minn., visited the farm and told him she couldn't believe SCN were that far north and in such huge numbers.
"We had counts over 100,000 [eggs per 100 cc of soil]," he says.
Egg counts down to 300 eggs per 100 cc of soil have limited or no damage to beans.
According to U-MN Extension, SCN has been found in most soybean-producing areas in the world. The pest was first found in 1954 in North Carolina and has spread to more than 30 soybean-producing states. In Minnesota, SCN was first detected in 1978 in Faribault County. Soybean fields in more than 65 counties in Minnesota have been confirmed to have SCN.
SCN management
Looking back, Hanson, who farms 900 acres with his dad, brother and nephew, believes SCN was introduced to the field's headlands from road construction equipment that was parked there during road construction several years prior.
"It must be moved with tillage or wildlife," he says.
It was fall that year when he learned about SCN, and the local sugarbeet harvest was in full swing. Hanson cautioned his friends to be aware of SCN. Equipment, trucks and soil clumps could all help distribute the pest among farm fields.
To manage SCN on his farm, Hanson worked the infested field last and power-washed equipment before it went to another field. He also didn't seed soybeans there for four to five years and went with a corn-corn rotation. He participated in a seed treatment trial with one seed company that slightly reduced populations. He also planted SCN-resistant varieties — a practice he continues today. He also selects varieties that have resistance to iron deficiency chlorosis and white mold, too.
"I've learned that [SCN] resistance varies from variety to variety," Hanson adds. "Participating in on-farm university trials taught me that."
To learn more about SCN and how to manage it, visit extension.umn.edu/soybean-pest-management.
About the Author(s) Paula Mohr has been editor of The Farmer since 2004. She enjoys covering a wide range of topics that are of interest to Minnesota producers.
Subscribe to receive top agriculture news
Be informed daily with these free e-newsletters
You May Also Like
---