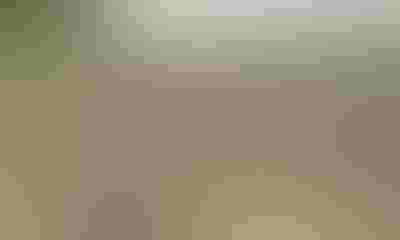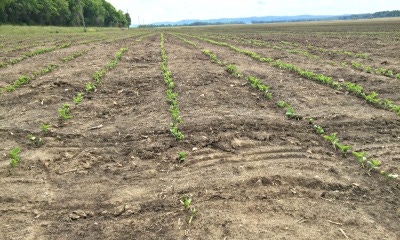 In a 65-mile stretch of Highway 94 along the Missouri River bottoms, there is quite a bit of variability in crop progress and conditions. There are fields too wet and yet to be planted and fields green with corn and soybeans.
Stopping roughly every 10 miles to photograph crop conditions, it is apparent that certain areas saw timely planting.
Corn chronicle
Some corn fields are already at the V5 stage, while others are just reaching V1. And there are some acres so wet that farmers are switching acres from corn to soybeans. Still, on average, the state's corn crop is progressing well ahead of last year.

According to the most recent USDA Crop Progress Report, 93% of Missouri's corn crop has emerged, well ahead of the just 74% last year and 22 points ahead of the 5-year average. The report notes that 75% of the acres are reported to be in good to excellent condition.
Soybean story
Farmers are still struggling to get their soybean acres planted in parts of the south and central regions of the state as wet weather tracked over those regions last week. There were just 2.9 days suitable for fieldwork last week, according to the USDA report.
Statewide rainfall averaged 1.44 inches, almost three-quarters of an inch above normal precipitation levels. However, some southern Missouri counties saw as much as 4 inches last week. Those counties across the midsection of the state reported anywhere from 1 to 2.5 inches of rainfall. The wet conditions are making it tough for farmers in these areas to put a dent soybean planting. As of last week, they were just one-third of the way through soybean planting.
Statewide, soybean planting progressed to 46% complete. A stark contrast to this same time last year, when farmers only had 19% of their soybean acres planted.
After 2015, the green leaves emerging on 25% of Missouri soybean acres right now are a welcome sight.
Check out the photos of crop conditions along one stretch of a Missouri highway on Missouri Ruralist Facebook page. Then like us on Facebook for growing season photo updates and interviews.
About the Author(s) Editor, Missouri Ruralist
Mindy resides on a small farm just outside of Holstein, Mo, about 80 miles southwest of St. Louis.
After graduating from the University of Missouri-Columbia with a bachelor's degree in agricultural journalism, she worked briefly at a public relations firm in Kansas City. Her husband's career led the couple north to Minnesota.
There, she reported on large-scale production of corn, soybeans, sugar beets, and dairy, as well as, biofuels for The Land. After 10 years, the couple returned to Missouri and she began covering agriculture in the Show-Me State.
"In all my 15 years of writing about agriculture, I have found some of the most progressive thinkers are farmers," she says. "They are constantly searching for ways to do more with less, improve their land and leave their legacy to the next generation."
Mindy and her husband, Stacy, together with their daughters, Elisa and Cassidy, operate Showtime Farms in southern Warren County. The family spends a great deal of time caring for and showing Dorset, Oxford and crossbred sheep.
Subscribe to receive top agriculture news
Be informed daily with these free e-newsletters
You May Also Like
---