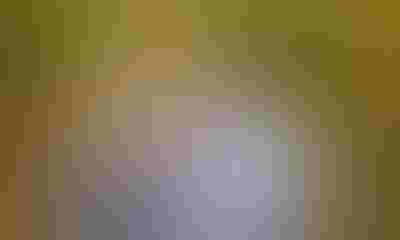 Kendra
It's time for a confession. Here goes!
I was actually looking forward to hopping on the tractor and helping John plant corn and soybeans this spring. For the very first time I wasn't gripped with fear, imagining I would do something stupid that would either: one, slow us down; two, cost us money; or three, a combination of both and the worst case scenario! I had a little more confidence because I now had the experience of three planting seasons.
John and Kendra Smiley farm near East Lynn.
But…I must admit that I feel compelled to stop here and explain something to any man who might be reading this column. When you begin with a positive statement or a compliment like: "I really like your hair" or "I was actually looking forward to hopping on the tractor," and follow that with the word "but," you have just completely negated your previous statement. Gentlemen, you can thank me later for that helpful insight. Now I'll continue…
But soon after planting began I found myself becoming very frustrated. I'd work like crazy one day and then have to sit around until noon the next day, waiting for the weather to do something or waiting because it had done something the night before. And if the wait was only until noon, that was a good day. Too often I waited 3 or 4 days or more! I had cleared my calendar so we could plant and now I was basically doing nothing productive. Once I got started on the job, I wanted to finish it.
John
The problem is that Kendra is a planner. She makes lists and schedules her days. She's pretty flexible, but if at all possible she wants to have a good idea of what she'll be doing and when she'll be doing it. (Oops! I just said "but," didn't I?)
Because of the way she's wired she loves her lists and crossing things off of them. I've even known her to write something down which she has already accomplished just so she can cross that item off too.
Farming doesn't work that way. There are many factors beyond our control. Will the land be dry enough following the last rain? Will the fertilizer plant be able to spray by noon? Will the forecast for tomorrow's weather be accurate? Will the machinery cooperate? It can be tough to plan too far ahead.
Kendra
And that's what makes me a little crazy. But…I'm learning the fine art of being more flexible, which is bound to pay off in other areas of my life, too. I'm searching for some flexible tasks to fit into my flexible farming schedule. And, most importantly, I really do look forward to hopping on the tractor and helping John plant corn and soybeans in the spring and harvest them in the fall.
Read more from Kendra and John in the Prairie Life section of Prairie Farmer. You may contact them via email: [email protected] or visit ParentingLikeAPro.com.
Subscribe to receive top agriculture news
Be informed daily with these free e-newsletters
You May Also Like
---