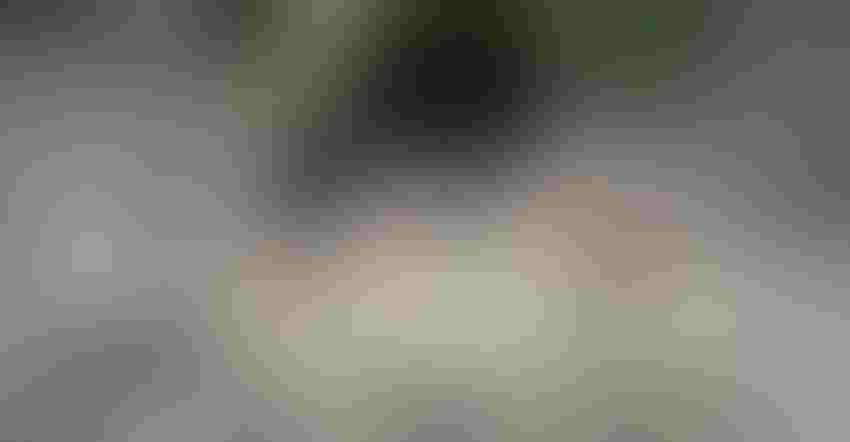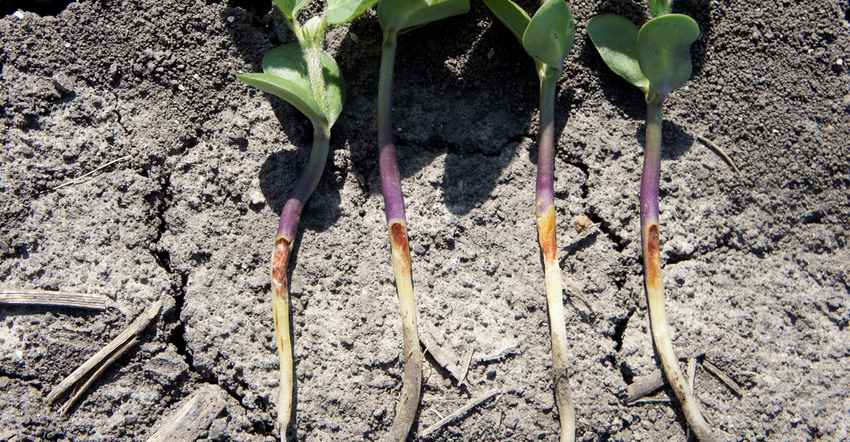 RHIZOCTONIA BLIGHT: The risk of seedling diseases such as rhizoctonia increases with cool, wet planting conditions. Seed treatments can prevent fungal diseases.
In lots of years, treating soybean seed to prevent seedling diseases is not a high priority in Kansas. Weather conditions this spring indicate that this a year when producers might need to give it more thought.
The risk of seedling diseases — most of which are fungal or caused by fungal-like organisms — is higher when the soil is cool and wet or when soil is compacted or poorly drained.
Deb Bilyeu, district sales manager for Acceleron Seed Treatments in Olathe, Kan., says the cool, wet conditions of the spring and the forecast for more of the same into planting season, make diseases such as pythium seedling blight, phytophthora, rhizoctonia seedling blight and fusarium root rot more likely.
"The long, wet fall last year meant that a lot of producers didn't get their fall crops harvested in time to plant wheat," she says. "We're watching to see what crops get planted on those vacant acres, but right now what we're hearing most is beans."
Diseases to watch for
Pythium is a common early seedling disease caused by organisms called oomycetes. It can kill a seedling before or after emergence and causes mushy seeds or seedling with roots that develop poorly. High soil moisture increases the severity of the disease and can be widespread in a field that has been flooded.
Rhizoctonia is a seedling blight caused by a fungus. It causes reddish-brown lesions on the lower stem of the seeding, usually at soil level. It can occur over a wide range of soil conditions and may show up in patches rather than across a whole field. Stressed seedlings are more vulnerable to infection and disease, so it can be a problem in a variety of field conditions.
Phytophthora root rot is caused by an oomycete. It can appear in patches or be scattered on plants across a field. It causes chocolate brown stem lesions and can mimic the look of other diseases. Phytophthora-infected seedling stems are soft and water-soaked. It is most common in warm, wet conditions.
Fusarium root rot is caused by any one of a variety of Fusarium species that reside in the soil. Infected plants may be stunted and spindly and roots may have brown or black discoloration. Plants will have poorly developed root systems and it is not uncommon for seedlings to die before emerging. It can occur across a number of environmental conditions, but stressed plants are more vulnerable.
Planting with seed treatment
Bilyeu said that seed treatments can help get plants up and growing with a strong root system that helps it get the nutrients and water that it needs for top performance.
Seed treatments such as NemaStrike Technology can also help protect soybeans from soybean cyst nematodes, a pest that feeds on the roots of the plants and is believed to help introduce a pathway for the pathogen that causes soybean sudden death syndrome, she said.
"I've talked to farmers in areas where sudden death has been a problem and they say, 'I will never plant beans without seed treatment,' and then they hit a time when they are short of money and they make decisions to forego treatment because of the prices," Bilyeu says. "But it's really something that shouldn't get cut. You have to follow a system and stay with a plan."
In addition to fungicide and insecticide seed treatments, farmers can also choose to use an inoculant to help with nodulation and germination, she said.
"This year, a lot of farmers are going to be planting into fields that have had super saturation and have a lot of silt deposited from flooding," Bilyeu says. "That silt can seal the field and make it had for the seedlings to emerge.
Dan Bigham, who farms with his father near Topeka, said the arrival of April without being able to get into the fields and get prep work one, is frustrating.
"We have some river bottom ground that is kind of sandy and we might be able to get in there soon if we don't get a lot more rain," he says. "Everything else we have is going to be way to wet for a while."
Bigham agrees with Bilyeu that this is a good year for making sure you are planning treated soybean seed.
"We use Acceleron products on 100% of our soybean acres," he says. "A chunk of our ground is in the Kaw Valley and that's heavy sudden death syndrome territory."
He says he's concerned about the compaction of the corn and soybean planting seasons as it continues too wet to get corn in the ground.
"We do a lot of strip till on corn and we have to wait for the strips to settle down before we can plant," Bigham says. "This year, we'll probably do a split application of nitrogen, putting down some with the planter and then going back in to side-dress. That gives us an option to save some on nitrogen if it turns hot and dry and looks like the crop is going to burn up."
Bigham majored in bio-ag engineering and worked for a local company fulltime for a while before coming back to the farm full-time in 2012.
He says he did some NemaStrike Terchnology trials for Acceleron last year when planting conditions were the opposite of this year — warm and dry. He says he could see a visual difference in the health of the treated strips versus the untreated.
"I think 2019 is a year when seed treatments are really going to shine," Bigham says. "It costs enough to plant that seed the first time. Nobody wants to have to do a replant."
Subscribe to receive top agriculture news
Be informed daily with these free e-newsletters
You May Also Like
---