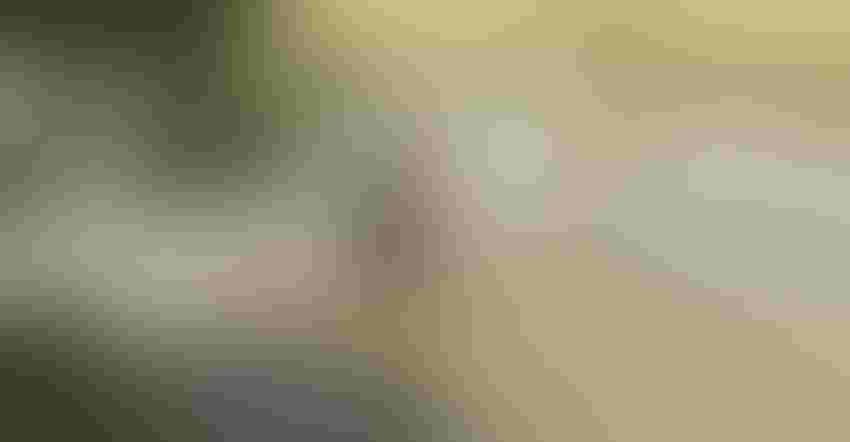 South Dakota soybean farmer Dawn Scheier feeds fish during her trip to Cambodia.
American Soybean Association
With the ongoing trade war impacting sales to the largest buyer of U.S. soybeans, it's urgent for soybean farmers to develop new markets.
"It's so important because we don't have China right now," said Dawn Scheier, a fourth generation farmer who serves on the American Soy Association's World Initiative for Soy in Human Health Program Committee. "And, developing new markets doesn't happen overnight."
Scheier wanted to get involved in promoting the soybeans she and her family grow in South Dakota, so she jumped at a chance to participate in a WISHH trip to potential long-term markets. Scheier also serves on the U.S. Soybean Export Council board, which seeks to build a preference for U.S. soybeans and soybean products worldwide by building and maintaining relationships through trade and technical services.
Last January, Scheier and other U.S. soybean growers took a WISHH trip to Cambodia and Myanmar as part of an effort to develop new markets in those countries.
Sustainable fish farming
"The main thing we went to Cambodia for was to launch commercialization of the aquaculture market," Scheier said. "WISHH's whole goal is to connect trade and development. Our long-term goal is basically to sell more soybeans."
Cambodia's government, universities, feed millers and other supply chain members participate in WISHH's Commercialization of Aquaculture for Sustainable Trade, or CAST, a five-year project funded by USDA.
"It's a good project because fish is Cambodia's number one source of protein," Scheier said.
But most fish in the market comes from wild sources, especially the Mekong River basin, which is fisheries in reservations up in the mountains, an unsustainable practice for a steadily growing population, Scheier said. The Cambodian government wants future growth to come from fish farming to provide a steady and sustainable supply of fish.
'Mutually beneficial'
The WISHH group also met with fish farmers.
"When we got there, the Cambodian farmers asked us what was in it for us," Scheier recalled. "I said, 'We want to sell our soybeans, so if you successfully develop your fish farms, that gives us a new market.' We told them this would be mutually beneficial."
But the trip wasn't about simply marketing quality soy. Upon arriving, Scheier and the rest of the WISHH contingent quickly saw that Cambodia's fish farms operate at basic levels and have some key infrastructural needs.
"It surprised me that there's a real lack of cold storage there," Scheier said. "They don't have much in the way of refrigeration. The buyer comes out to the farm to buy the fish. They have the fish hanging up alongside the road. So, that's one of the things they'll start working on, and WISHH works with them to help them with that."
Logistically, transportation will be another need for the Cambodians. Scheier noted how farmers would buy animal feed and take four or five bags on motorcycles rather than buying it in bulk.
"They're also in the process of building a processing plant for the aquafeed, so that's going to be another important bit," Scheier said.
Not one-and-done
The Cambodian market will not develop overnight, but the result will be worth it, Scheier said.
"We don't want it to be a one-and-done market. We want to develop it, help it to grow into a market over the long term," she said. "The whole goal for WISHH is to turn this into a basic market for U.S. growers so we can pass it along to USSEC," she said. "That's what WISHH did with Pakistan. They weren't buying any soybeans from us at first."
Pakistan started out as basic market developed through WISHH, but it now is an established market being further developed through USSEC. In 2018, Pakistan bought 1.72 million metric tons of soy from U.S. growers, nearly triple the amount the country bought in 2017. Now the Pakistani market is part of the USSEC program as an established and growing market for U.S. soy.
Most of the WISHH trip was focused on Cambodia, but the group also visited Myanmar.
The Myanmar market is working to develop tofu, and Scheier noted Myanmar farmers do grow soy.
"We were surprised by the poor quality of soybeans there," Scheier said. "So, we talked about how higher quality soy would help give them a more balanced diet."
The WISHH group also answered farmers' questions about poultry and swine production, and much of the discussion centered on fundamental animal husbandry questions.
"It was similar to the fish market; it was really basic," Scheier said. "It reminds me of how we were raising hogs and poultry back in the early 1900s. They feed them leftover scraps. We talked to them about how a good, balanced diet will help with their production."
Those discussions with other growers may have been the most useful part of the trip in the long run.
"It's nice when the farmers there get to see us as farmers," Scheier said. "You build relationships, and they're going to trust you, and they know you will have a good, quality soybean that's going to go there – and if there's a problem, they'll feel more comfortable reaching out to you and asking questions."
Source: American Soybean Association, which is solely responsible for the information provided and is wholly owned by the source. Informa Business Media and all its subsidiaries are not responsible for any of the content contained in this information asset. 
Subscribe to receive top agriculture news
Be informed daily with these free e-newsletters
You May Also Like
---