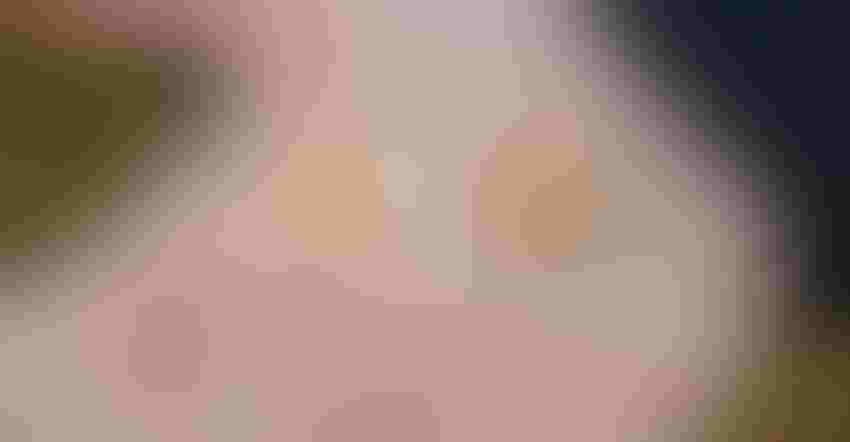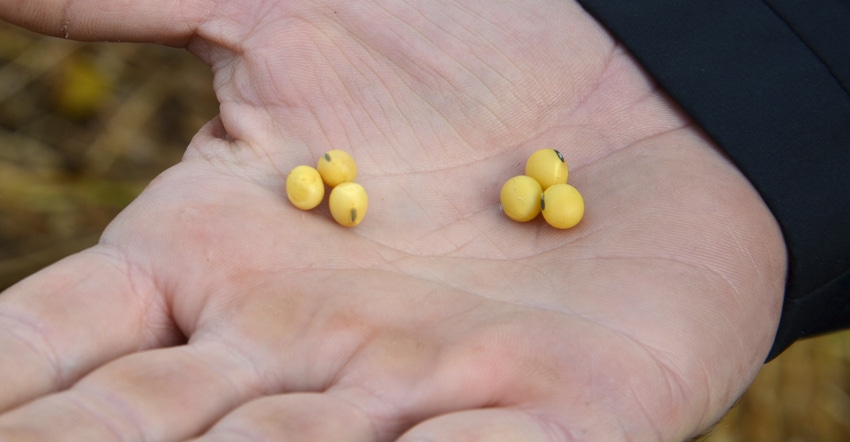 SEED SIZE MATTERS: The three soybeans on the right in Steve Gauck's hand came from one pod from one variety. The three slightly smaller seeds on the left came from one pod of a different variety.
Not all surprises are good. However, when Steve Gauck visited the Soybean Watch '19 field in early October, with both varieties in the field nearing maturity, he was met with a pleasant surprise. Seed size in both varieties was respectable to on the large size. Seeds of one variety were possibly slightly larger than the other variety. But both were acceptable, especially for 2019.
"We've been hearing about small seed size where it turned off dry in July or August and stayed that way for most of the rest of the year," Gauck says. He's a Beck's sales agronomist, based near Greensburg, Ind. Beck's sponsors Soybean Watch '19.
The Soybean Watch '19 field was no-tilled with a John Deere 750 drill in 7.5-inch rows into cornstalks on June 12. The field received over 5 inches of rain during a 10-day period beginning June 15. Later, it turned dry. However, this location received a couple of timely rains, including one over Labor Day weekend. That was the last measurable rain at the location before Gauck visited on Oct. 7.
There are varietal differences in seed size. That's why there are differences in number of seeds per pound for specific varieties, even in normal years. However, within a given variety, better years with ample moisture during pod fill produce larger seed compared to if the variety finishes pod fill in dry conditions.
Related:3 weeks makes huge difference in maturity
Why size matters
Gauck estimates that soybean seed size can account for up to one-third of the yield punch. Other agronomists agree, noting that filling pods with as large of soybeans as possible is a key component toward top yields.
Weather conditions play a huge role in determining if individual soybean plants can meet their yield potential in any given year, Gauck says. One of the major impacts of weather is on seed size. If it's dry during pod fill — and especially if it's also hot — seed size may suffer. The result is average soybean seed size, amounting to less yield. In severe conditions where seed is very small, yield losses may be significant.
"We know that's happening this year in southern Indiana, where it simply stopped raining in July and August, and didn't rain in September either," Gauck says. "The crucial period for soybeans to receive timely rain during the reproductive phase is usually mid- to late August. This year with planting pushed back and maturity running about three weeks behind, it was late August through September, in some cases."
Even in the Soybean Watch '19 field, where seed size was respectable, Gauck suspects one or two more significant, timely rains would have increased seed size.
"We would also have seen less seed abortion within pods," he adds. "The dry weather here in September probably took several bushels per acre off the top. It's just that we can't see it or measure it."
About the Author(s)
Subscribe to receive top agriculture news
Be informed daily with these free e-newsletters
You May Also Like
---