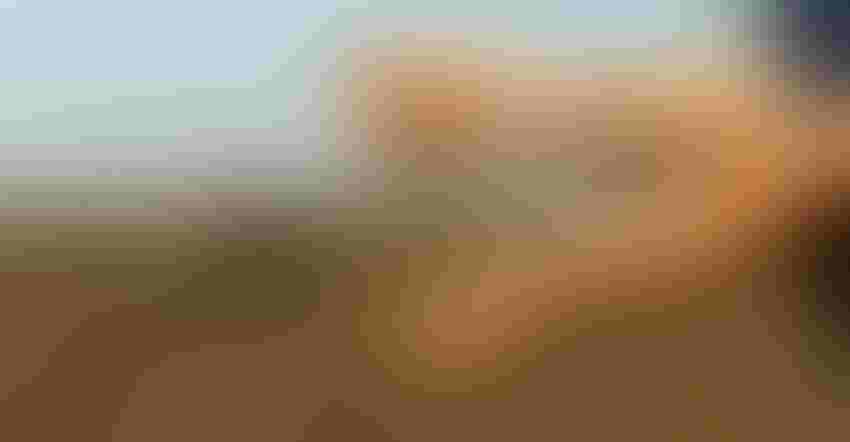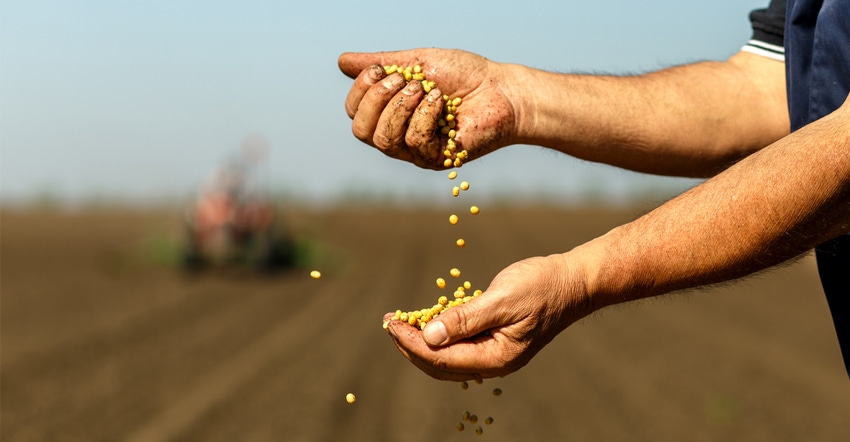 PLAN AHEAD: Protect your soybeans before your fields show signs of SCN and SDS.
Zoran Zeremski/Getty Images
Many producers in the Red River Valley are seeing symptoms of sudden death syndrome in their soybean fields.
 "We've been seeing SDS in fields with high soybean cyst nematode pressure around southeast North Dakota," says Tracy Hillenbrand, a seed treatment technical rep for BASF. The SCN pressure, she says, is reaching into Cavalier County, N.D., in the Red River Valley.
Hillenbrand works with Sam Markell, a plant pathologist at North Dakota State University. She says Markell has seen a lot of SDS around the southeast corner of the state. However, "many confirmed cases are affecting producers in other areas of North Dakota," Hillenbrand says. "Foliar symptoms for SDS don't always show, but you can still have yield loss through root rot."
BASF and The SCN Coalition have created SCN Action Month for October as a way to bring awareness of SCN symptoms and provide resources to producers around the country. Through her work with BASF, Hillenbrand conducts research and outreach on seed treatments, colorants and inoculants.
"We take care of this disease through the use of seed treatment on soybeans," she says. "If you see symptoms for either SDS or SCN showing up in your field that growing season, it's too late. Get out and scout your fields. If you see either of those diseases present, you should use the soybean seed treatment Ilevo. It offers protection of both SDS and SCN.
Another part of this action month is to encourage producers to get out and test their fields. "Right now is a great time to get out and sample fields for SCN," Hillenbrand says. Producers can receive soil SCN testing kits from BASF or from local Extension offices.
While SDS is not caused by the presence of SCN, it can be made worse by this disease. "This isn't a direct result, by any means, but it is worse in those fields because SCN is a stressor for the soybean plants, and when the plants are stressed, it's easier for other diseases to come in and infect," Hillenbrand says.
Prepping fields
Coming out of a drought year, producers can take other actions to protect their fields from disease pressures, Hillenbrand says. "A great thing to think about is inoculating the soybeans. With this stressful year, the drought can kill of some of the Bradyrhizobium japonicum, especially in areas in North Dakota that are very saline, that can also stress the plants," she says. The inoculant treatment Hillenbrand recommends is Vault IP Plus.  
"My experience before BASF was in seed genetics and plant breeding. One of the things I found so interesting there is how you can really set a plant up well for a beneficial year before you even plant," Hillenbrand says. "Some of those things are your inoculants and seed treatments, and it's one thing that many growers should consider. We live in a very cold climate, and we have products that can help with cold tolerance and ones that can help with fungicide treatments, things that can really help set you up for early-season protection of plant diseases right from the get-go," she says.
For producers planning for drought conditions in 2022, Hillenbrand says there are options. "We have a new product, Vault IP Plus, that uses an EPA registered biological called Bacillus subtilis to create a biofilm on the soybean roots." She says it acts like a sponge with the soil surrounding the plant roots. This allows the plant to take in around 10 times more moisture than it would normally.
Find out more information about the SCN Coalition and SCN Action Month here.
Subscribe to receive top agriculture news
Be informed daily with these free e-newsletters
You May Also Like
---