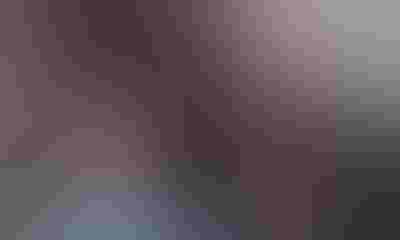 During his three-year hitch in the U.S. Army, young Myron Pingel saved his pay to get started in farming. In 1965, he returned home from overseas to farm with his parents and an older brother near Aurelia in northwest Iowa. He also rented acres on his own and raised livestock. Then he bought some land. Myron's wife, Joyce, helped support the growth of their farm with an off-farm job as a registered nurse, before becoming a full-time mother and wife. Myron and Joyce have been married 50 years.

Pingel: Embrace innovation
Today, Myron and son Paul are the owner-managers. The labor force has grown to four full-time employees, plus Myron and Paul. Over the years they've hired area youth and nephews as part time labor. "We finish about 17,000 hogs a year, and 800 to 1,000 head of cattle," says Myron. "It takes good help to get all that work done and manage it efficiently and, hopefully, profitably."
The Pingels hire a brokerage for marketing help, using hedging to lock in a profit when they can. "Good records and knowing your cost of production are very important, especially with these volatile prices," Myron adds.
Livestock has always been a major source of income and diversification. In the early years, Myron milked dairy cows, had a beef cow herd and fed cattle. Today the cattle enterprise is strictly a feedlot operation, buying feeder cattle and feeding them out. The feedlots have 80% concrete floors and 20% dirt, using buildings and bedding. A new catch-basin system controls runoff. Manure is applied to fields, according to an approved nutrient management plan.
Out-of-the-box thinking
The farm has a modern feed processing center. Cattle rations include high-moisture corn, silage, distillers grains, ground hay and cornstalks, and liquid protein. Hog rations are produced on the farm.
Myron helped establish one of the first sow co-ops in northwest Iowa. Today, six farmers belong to Twin Valley Sow Co-op.
The group began in 1994 and built a farrowing complex to supply weaned pigs to each owner on a per-share basis. "We get isowean pigs at about 21 days of age," he says. "It's locally owned and works well.
The facility manager and employees focus on farrowing. We get our share of pigs, and we focus on feeding them out to market."
Financial records are kept with the Iowa Farm Business Association, using PC Mars software. Myron worked closely with Iowa State University specialists and other beef producers to develop the original ISU Beef Monitoring Program for personal computers in the early 1980s.
Today, records for the hog enterprise are kept on a self-written Excel spreadsheet.
The beef enterprise uses Land O'Lakes Beef Performance Tracking. For crops, the Pingels use SMS Advanced by Ag Leader Technology for financial and production analysis, with monitors for yield, planting, spraying and manure application.
The cropping system is mostly corn and soybeans, and some alfalfa. "Our normal rotation is corn-corn-soybeans," says Myron. "Five years ago we quit growing continuous corn in the same field.
Continuous corn had been grown there for 30 years, mainly because it was convenient for making silage. But we like the benefits of a corn-corn-soybean rotation."
Put information to work
They plant non-Roundup Ready corn the first year, Roundup Ready the second year, and then soybeans. It meets feed needs, manages volunteer corn in the second year and helps manage weed resistance.
The Pingels use information from the yield monitor, GPS and planter monitor to track individual hybrid performance and compare hybrids side by side in whole fields instead of small test plots.
Myron is a founding member of the Northwest Iowa Crop Seminar, a group of farmers who meet with two goals: work with ISU in evaluating new farming practices for northwest Iowa, and emphasize the importance of careful recordkeeping and financial analysis of records.
Myron served on the board of Aurelia Farmers Co-op from 1985 to 1997, culminating with the merger of five local elevators into First Cooperative Association.
His son Wayne now manages one of the branches. Daughter Wanda Pingel Lenhart and her husband, Ron, and family have a dairy farm at Sutherland.
Myron helped start Little Sioux Corn Processors LLC, an ethanol plant at Marcus. He was one of a group of local farmers who in 2000 organized a fundraising drive and encouraged others to invest. Their investment was 100% at risk.
The Little Sioux plant began producing in 2003 and has done well. Myron still serves on the board and continues to gift some of his shares to his grandchildren.
Meet the Master Farmers
Myron and Joyce Pingel
Subscribe to receive top agriculture news
Be informed daily with these free e-newsletters
You May Also Like
---