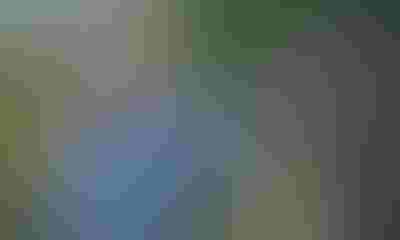 Not that long ago, the U.S. imported more pork each year than it exported. The first time more pork was exported than came into the U.S. from overseas was 1995. In 2015, nearly five times as many pounds of pork were shipped out of the country compared to what was shipped in. Why does that matter to you as a corn producer? And why is this a perfect time to review why pork exports exploded over the past two decades?

WORK FOR MARKET ACCESS: John Hardin is one of the farmers who worked behind the scenes to open up access to foreign markets for pork exports, creating new demand for corn in the process.
"The story of what happened to pork export volume since key pork producers and government officials began working on opening up trade opportunities for pork is an exceptional one," says Chris Hurt, Extension ag economist at Purdue University. "A sizable amount of corn is fed each year to produce the pork exported overseas. That's an obvious reason why pork exports matter to corn farmers."
Trade agreements open door
More than three times as many pounds of pork were imported into the United States in 1989 than left the U.S. as exports. The amount of corn going to market as pork overseas was miniscule.
Behind the scenes, John Hardin of  Danville, Ind., and many others were hard at work. Hardin was in the middle of the Uruguay Round of trade negotiations, which stretched out over the administrations of three U.S. presidents. He was president of the National Pork Producers Council during part of that time, and also represented the U.S. Meat Export Federation during part of the process.
The result was rules for conducting trade were put in place. During the same period, people began to join the middle class in droves, especially in Asia. People with money in their pockets want to buy meat first. If they're buying meat exported from the U.S., they're in effect buying corn used to feed those hogs, Hurt says.
"The agreements opened up access to foreign markets, where new members of the middle class had money to buy higher-protein food," Hardin says. "Pork exports soon took off."
That might be a classic understatement, Hurt says. By 1995, U.S. pork exports finally rose above the amount of pork imported into the U.S. "We were importing nearly a billion pounds of pork in 1990 and exporting only 268 million pounds," he says. "For the most recent year where we have full data, 2015, we still imported about a billion pounds of pork. But we exported about 5 billion pounds. Pork exports are almost 19 times larger today than in 1990."
Looking at it from a big-picture view, pork exports accounted for 20.2% of all U.S. pork production in 2015, Hurt says. "This percentage has bounced around a little, but is expected to be about 21% for 2016 and 2017."
In the 2008-09 corn marketing year, an estimated 385 million bushels of corn left the U.S. as pork exports, Hurt says. That includes the actual bushels of corn fed, plus bushels of corn fed as dried distillers grain, he adds.
"For the 2016-17 corn marketing year, we're up to 461 million bushels of corn needed to produce pork for export," Hurt says.
Take the pork exports away, and nearly a half-billion bushels of corn is back on an already flooded corn market. It doesn't take a market wizard to figure out that if that happened, there would be even more pressure on corn prices.
According to USDA, hogs consume nearly 30% of all feed grains produced in the U.S. That means hogs used for export account for about 6% of all feed grains fed.
The picture is similar for soybean meal, Hurt says. According to USDA, hogs consume nearly one-fourth of what they call "high-protein animal units." That means hogs exported overseas consume about 5% of all soybean meal fed in the U.S. That amounts to about 71 million bushels of soybeans exported as pork, Hurt says.
Maintaining markets
Maintaining current markets is all about keeping access to those markets, Hardin says. If political upheaval or change in U.S. policies toward trade causes the rules of trade to change, or disrupts existing agreements, that access could disappear, he believes.
If it disappears, it means less pork is needed, and less corn is fed. Neither situation is good for U.S. agriculture.
The Trans-Pacific Partnership has been negotiated, but it hasn't been acted upon by Congress, Hardin says. Currently, he doesn't see enough support in Congress to pass it. He's hoping a new Congress and administration might address that issue. Concerning primarily countries of the Pacific Rim, plus Australia and New Zealand, TPP, if put in place, could open the door to more pork exports, which means more corn leaving the U.S. as pork, he concludes.
Subscribe to receive top agriculture news
Be informed daily with these free e-newsletters
You May Also Like
---