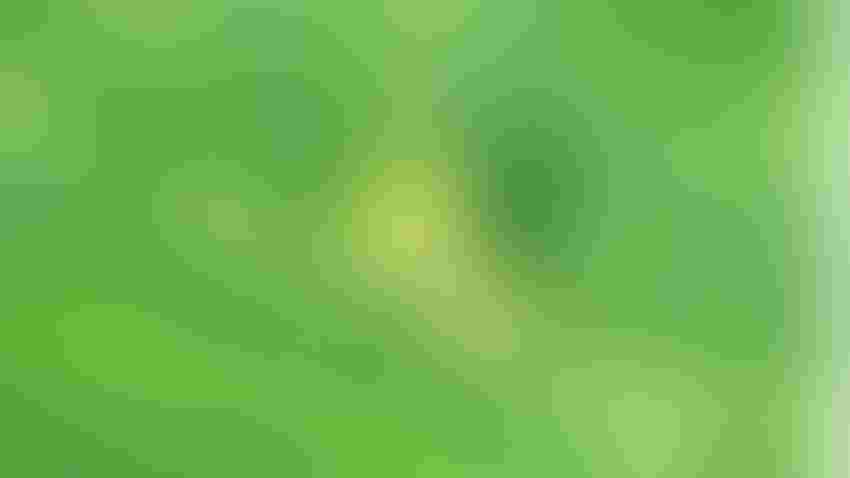 To confirm the presence of spider mites, growers can utilize a hand lens or conduct a paper test.
Corteva Agriscience
Once fields experience drought-like conditions, a door is opened for a number of pests and diseases. One such pest, the two-spotted spider mite, thrives during extended periods of drought with accelerated spider mite movement and reproduction.
Two-spotted spider mites damage crops by piercing plant leaves and feeding on the plant juices. Mites are almost impossible to see with the naked eye, but the result of their feeding is visible to farmers.
"Yellowing or speckling on soybean leaves is a good indicator of spider mites," said Scott Gard, Pioneer Field Agronomist. "The mites remove moisture and nutrients from the plants, resulting in the yellowing color growers can see."
To confirm the presence of spider mites, growers can utilize a hand lens or conduct a paper test.
Shaking a few soybean leaves onto a white piece of paper should show tiny orange- to yellow-colored mites slowly moving on the paper.
There is limited information regarding potential economic threshold for two-spotted spider mite infestations in soybeans, which makes treatment decisions challenging. Some extension sources suggest treating spider mites if 20% to 50% of the leaves are discolored before pod set. After pod set has begun, that threshold drops to 10% to 15%.
If hot and dry weather persists, spider mite populations will rise. Detecting outbreaks early allows for effective early treatments and control.
Chemical control of spider mites is challenging. While some pyrethroid products may suppress spider mite activity, nearly all synthetic pyrethroid products also have a detrimental effect on spider mite predators.
Source: Corteva Agriscience
For optimal population control, growers should use high pressure and a high volume of carrier to achieve thorough coverage and penetration of the crop canopy. Treated fields need to be re-scouted five to 10 days following application. A second application might be necessary to pick up any newly hatched spider mites.
Conditions can change quickly depending on environmental conditions. Heavy rainfall or changes in temperature, humidity or crop conditions may warrant a re-evaluation of mite populations before treatments are made.
Subscribe to receive top agriculture news
Be informed daily with these free e-newsletters
You May Also Like
---