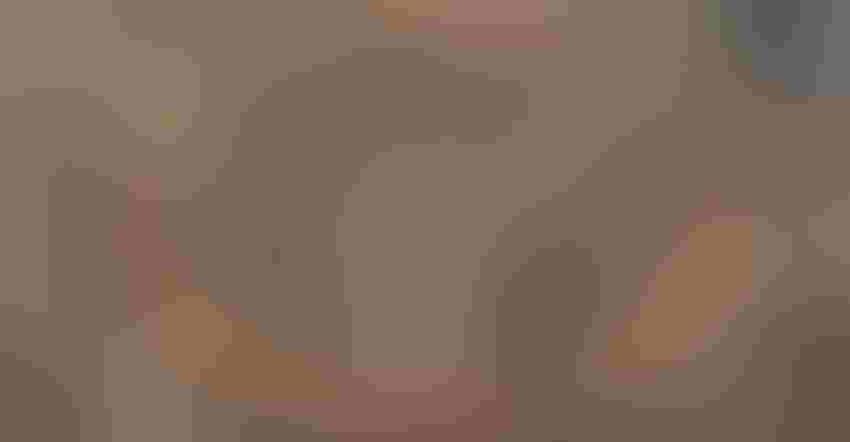 HOOP IT UP: Not everyone who buys a hula-hoop intends to slip it over their head and around their waist to do some sort of dance. Farmers find it's useful for pinpointing soybean stands.
Tom J. Bechman
The person who invented the hula-hoop certainly hoped to make money. But growers who throw a hula-hoop in the pickup and head to the soybean field are hoping to see a different kind of green. They're hoping enough soybean plants have emerged to turn the area inside the hoop green when they roll it within a field.
Now is the time to "hoop it up," says Steve Gauck, a regional agronomy manager for Beck's, based near Greensburg, Ind. The standard toy hula-hoop has become an important tool for helping assess soybean stands.
Related: Get soybeans out of the ground and growing
"You can do the same thing with a hoop made of No. 9 wire, but if you have access to a hula-hoop, it's easier to use," Gauck says. Beck's sponsors Soybean Watch '22.
"If you haven't checked populations in soybean fields, now's the time to do it," Gauck says. "Hopefully, you've got an adequate stand. But if not, you need to be making a replant decision soon. The yield penalty gets steep for soybean planting delayed past mid-June."
Using the hoop
Simply roll the hula-hoop in five random spots within a field or area of a field where you want to establish a plant count, Gauck says. Count the number of plants within the hoop at each location. Then average the numbers to get the average number of soybean plants per hoop.
The Purdue University Corn & Soybean Field Guide has a table in the Soybean Management section that makes it easy to convert average number of plants counted per roll to plants per acre. You need to know the inside diameter of the hula-hoop, Gauck says.
For example, the diameter of the hula-hoop pictured is 30 inches. Say the average number of plants found inside the hoop is 11. Using the table, the plant population would be estimated at 98,000 plants per acre.
If you're using a hoop with a larger diameter, you would need more plants inside the hoop to reach the same population. For example, suppose the hoop diameter is 34 inches. If you find 14 plants per roll, the estimated plant population is 97,000 plants per acre.
Likewise, if you're using a 32-inch-diameter hoop and find 15 plants per hoop, you should have around 117,000 plants per acre.
Interpreting results
Once you have the estimated plant population per acre, what's your next move? How many plants are enough?
"I typically figure that if I have 80,000 plants per acre, I can still obtain near full yield potential, based on population alone," Gauck says. "There is work in Beck's Practical Farm Research program which indicates you might be able to do it with as low as 70,000 plants per acre."
Gauck adds some caveats. "You can accept those kinds of stands as long as plants are reasonably uniformly spaced, without big gaps along rows," he says. "You also need good weed control. If those two criteria are met, then you should be in good shape at 80,000 plants per acre."
Subscribe to receive top agriculture news
Be informed daily with these free e-newsletters
You May Also Like
---