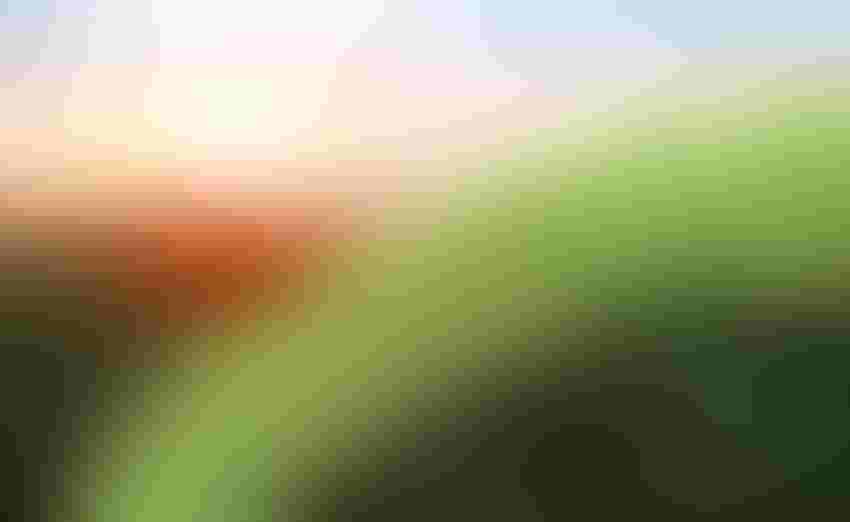 Weed scientists at the University of Arkansas System Division of Agriculture have created quite a stir with news that through experimentation in the greenhouse, researchers selected for a population of pigweed — Palmer amaranth — that is tolerant to the herbicide dicamba at a field rate. This pigweed population did not evolve resistance in the field, but there is much we can learn from the artificial selection that took place in the greenhouse.
The researchers exposed three generations of pigweed to sub-lethal doses of dicamba, a recipe for resistance development. We started with pigweed collected from the field that was susceptible to dicamba. By the third generation, we were able to select for seedlings capable of surviving an application at one-time rate that should've provided effective control.
This type of selection experiment with pigweed was done previously with glyphosate in Arkansas and with other weeds and other herbicides in Australia.
Dicamba is, of course, the active ingredient for use on Xtend crops, one of the emerging technologies for weed control in soybeans and cotton. This research was conducted only to examine the possibility of the development of resistance in the future — rest assured, these greenhouse-developed pigweed will remain tightly controlled. We believe this research applies not only to dicamba but also to all herbicide technologies and, therefore, is of great concern.
This research doesn't mean that pigweed will have evolved dicamba resistance within three years of using this technology, but it shows the need to continue using residual herbicides, multiple effective modes of action, prevention of pigweed escapes and other tactics.
The results of these experiments would also apply to other emerging technologies such as Enlist soybeans, cotton and corn. With both dicamba and 2,4-D effective at control when applied to small pigweed, we must make every effort to protect these technologies.
This past year we have seen the emergence of numerous populations of Palmer amaranth (pigweed) that are resistant to the PPO (Group 14) class of chemistry. This group of herbicides includes important soybean products such as Valor and Flexstar, and has been increasingly relied upon since the development of glyphosate-resistant pigweed in the late 2000s. Some of these populations have now been found to be resistant to as many as three formerly effective modes of action. This leaves few options for growers going into the 2016 season.
With this in mind, the thought of protecting these new technologies is of the utmost interest to those of us who make herbicide recommendations for a living. The problem is we are starting to run out of options. For example, in these three-way resistant fields, Liberty is our last effective post-emergence applied option. Even though there are a couple of residual options still available, if the field is to stay in soybeans, producers will need to or have to grow LibertyLink. But as we've seen in the greenhouse with dicamba, focusing solely on Liberty is not a long-term solution to a recurring problem.
Out of options?
If resistance develops to Liberty and the Xtend and Enlist technologies along with dicamba and 2,4-D are not labeled soon, the day may soon be approaching when we run out of chemical options for controlling pigweed in soybeans and cotton.
The greenhouse research that resulted in a dicamba-resistant pigweed illustrates how multiple resistances have developed in the past. One pesticide quits working and so we replace it with another, and so on and so on, until we are left with a weed population — or insects for that matter — that can tolerate multiple modes of action. This is the inevitable result of using a single effective mode of action to control a given pest.
As new technologies emerge we must be diligent in our efforts to stop this cycle. Both Xtend and Enlist technologies will allow for use of herbicides that control weeds and users of Enlist technology can choose to add Liberty to their herbicide program. However, if they are used alone with no other effective herbicide modes of action on pigweed, the result will be resistance to these technologies, as our research has shown.
Currently, other than HPPD-tolerant soybeans, there is no other herbicide chemistry in the pipeline, or at least none of it is close enough to market that anyone is talking about it.
Finger pointing is easy. The farmer or consultant decides what to use, the university and the companies make recommendations, but it is a complex problem.
Commodity prices can play a role. For example, if prices are high, it is easier for a grower to justify spending more money on herbicide resistance, as opposed to when prices are low.
The cost of these new technologies, which are tied to buying crops with a certain trait, can also come into play. Price the technology too high and there is no money left in the budget for additional herbicides, unless absolutely necessary to make a crop. Farming is, after all, a business. People have to make money and margins are tight.
So perhaps a stir is what is needed to make sure that we make every effort to preserve the technologies we have and the ones to come.
We need all the new GMO technologies to be labeled soon so that alternative modes of action are available. This work in no way aims at derailing any registrations. But once registered, everyone should understand the turning point we are at in terms of herbicide resistance in pigweed.
Based on the developments with PPO resistance this past summer, I can see a time, in my career, when I have to tell a producer he cannot grow a certain crop because we cannot control pigweed anymore.
Bob Scott an Extension weed scientist with the University of Arkansas Division of Agriculture. Contact him on Twitter at @BobScottWeedDr.
Subscribe to receive top agriculture news
Be informed daily with these free e-newsletters
You May Also Like
---