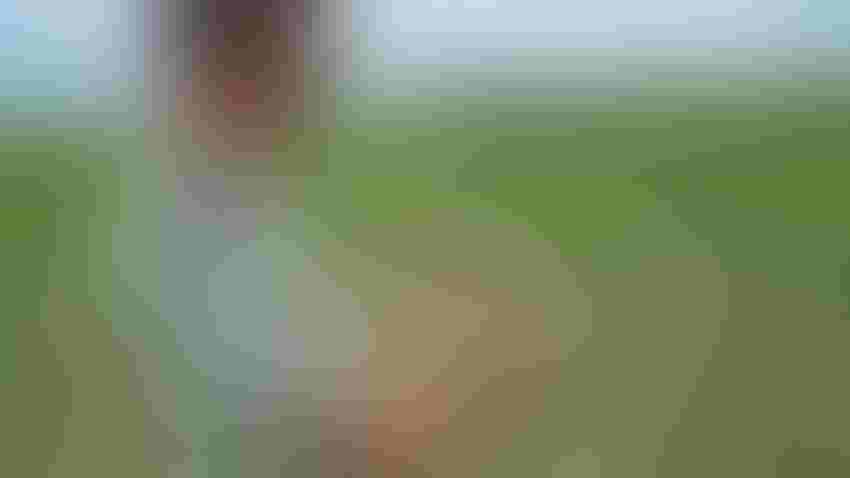 NO COMPARISON: Note the extra nodes on the plant on the left, which grew without weeds nearby. More nodes mean more beans and more yield, agronomist Steve Gauck says.
Photos by Tom J. Bechman
Nobody likes thistle patches. Yet getting rid of them is easier said than done. And the longer thistles grow before they're knocked back with herbicide, the more yield you stand to lose. That's why Steve Gauck believes in controlling all weeds early in soybeans, not just thistles.
Studies have been done on how much early competition from various weeds can impact soybean yield, says Gauck, a regional agronomy manager for Beck's, based near Greensburg, Ind. Beck's sponsors Soybean Watch '23. The more weeds per foot of row, the greater the expected yield loss, based on these studies.
"You can see it by examining plants that grow with weed competition, even for the first few weeks," Gauck says. "Plants tend to be spindly, because they're trying to outcompete the weed next to it for sunlight. Weeds like thistles, which grow in dense patches, make it even tougher for small soybean seedlings to compete."
Plant-to-plant comparison
Gauck puts two soybean plants side by side. One grew in a thistle patch for the first five weeks after emergence, while the other grew in a weed-free area. The differences are striking.
Growth stage. The plant not hindered by weed competition got off to a better start and was further along in development than the plant growing with weeds around it. Plants that see a faster start can usually make fuller use of the growing season, Gauck says.
Number of nodes. The plant with only soybeans for neighbors had several more nodes up and down the stem than the plant growing in a thistle patch. "More nodes mean there are more fruiting structures and more places for pods," Gauck explains. "High yields are based upon maximizing number of nodes and pods per acre."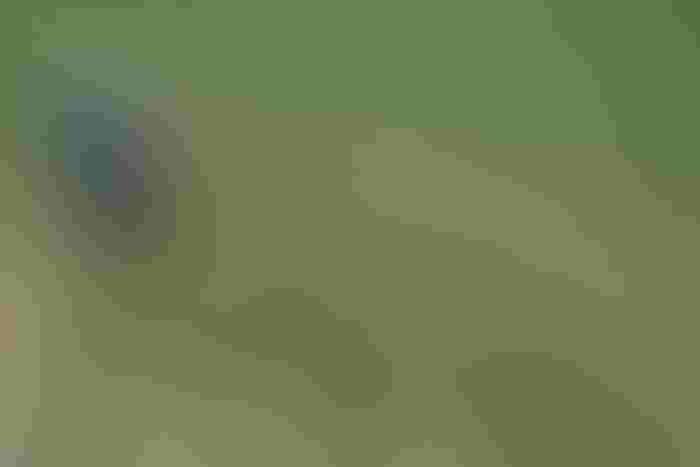 COSTLY THISTLES: Agronomist Steve Gauck pulled the spindly plant that he compared to a normal plant from this patch of thistles. Damage was done to the surrounding soybeans before they were sprayed.
Closeness of nodes. "Perhaps the most striking difference was that there was a node about every inch of stem on the normal plant," Gauck says. "On the plant stretching up for sunlight, nodes were 2 or more inches apart. The net results will be fewer nodes overall when the plant finishes growing. Fewer nodes mean fewer pods, fewer beans and less yield."
Limited chance for recovery. There is no way to get the nodes back that "might have been" in the lower part of the plant growing with weeds, Gauck says. "Once a plant becomes spindly and only puts on three or four nodes on the bottom 6 to 8 inches of the plant, there is no mechanism for adding back those nodes later," he explains. "The plant may recover somewhat if weeds are removed, but the damage to yield potential is already done."
Subscribe to receive top agriculture news
Be informed daily with these free e-newsletters
You May Also Like
---