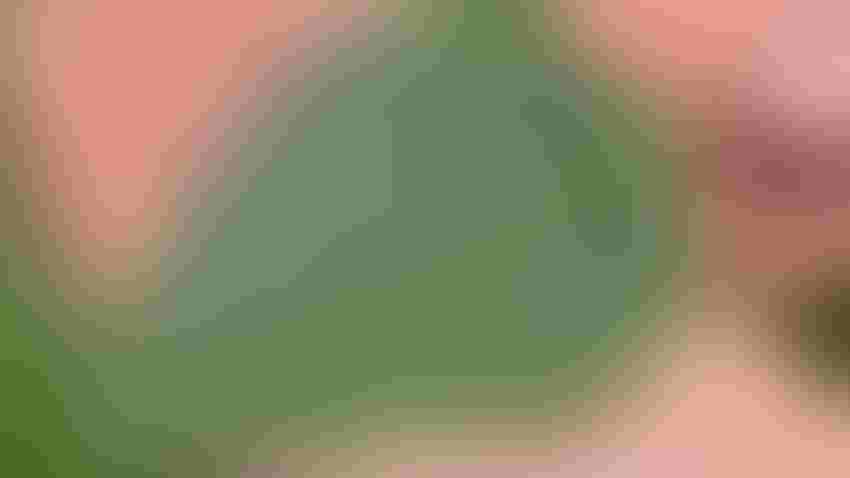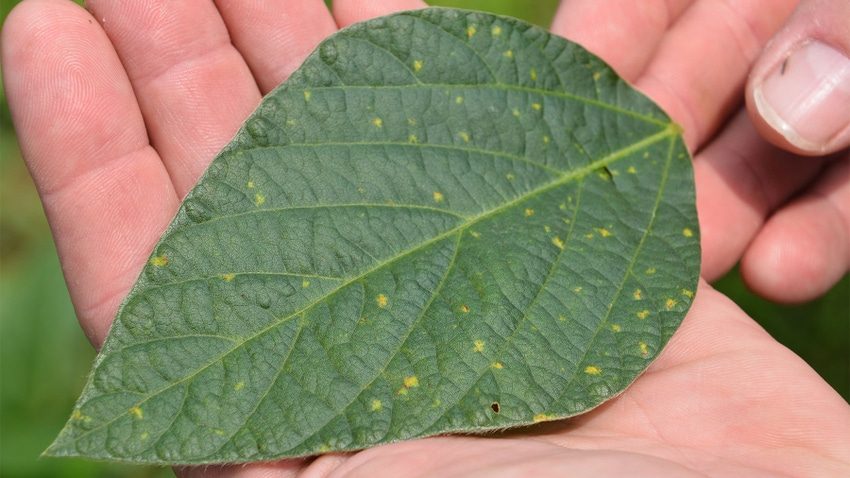 DISTINCTIVE SPOTS: Downy mildew on leaves is easy to spot, as scattered yellowish dot lesions on the upper surface. This disease does not result in yield loss.
Photos by Tom J. Bechman
Not everything you find in a soybean field while scouting turns out to be a big problem. The trick, of course, is knowing what to watch and what to ignore.
"That's another reason why I carry my Purdue University Corn and Soybean Field Guide in my back pocket," says Steve Gauck, a regional agronomy manager for Beck's, based near Greensburg, Ind. Beck's sponsors Soybean Watch '23.
"If I think I know what something is, I can look it up and confirm it," Gauck says. "If I don't know, often I can find a picture of it and identify it."
Here are two pests Gauck found on a recent visit to the Soybean Watch field. They're pests, but not necessarily problems, in most soybean fields, he adds.
Downy mildew. Lime-green spots develop on upper surfaces of upper leaves on the plant. Older lesions may die and turn brown. If it's humid, tufts of spore-bearing hyphae may be visible on the underside of leaves.
"You should be able to rub them off of the underside of leaves," Gauck says. "It's another way to know that it is downy mildew."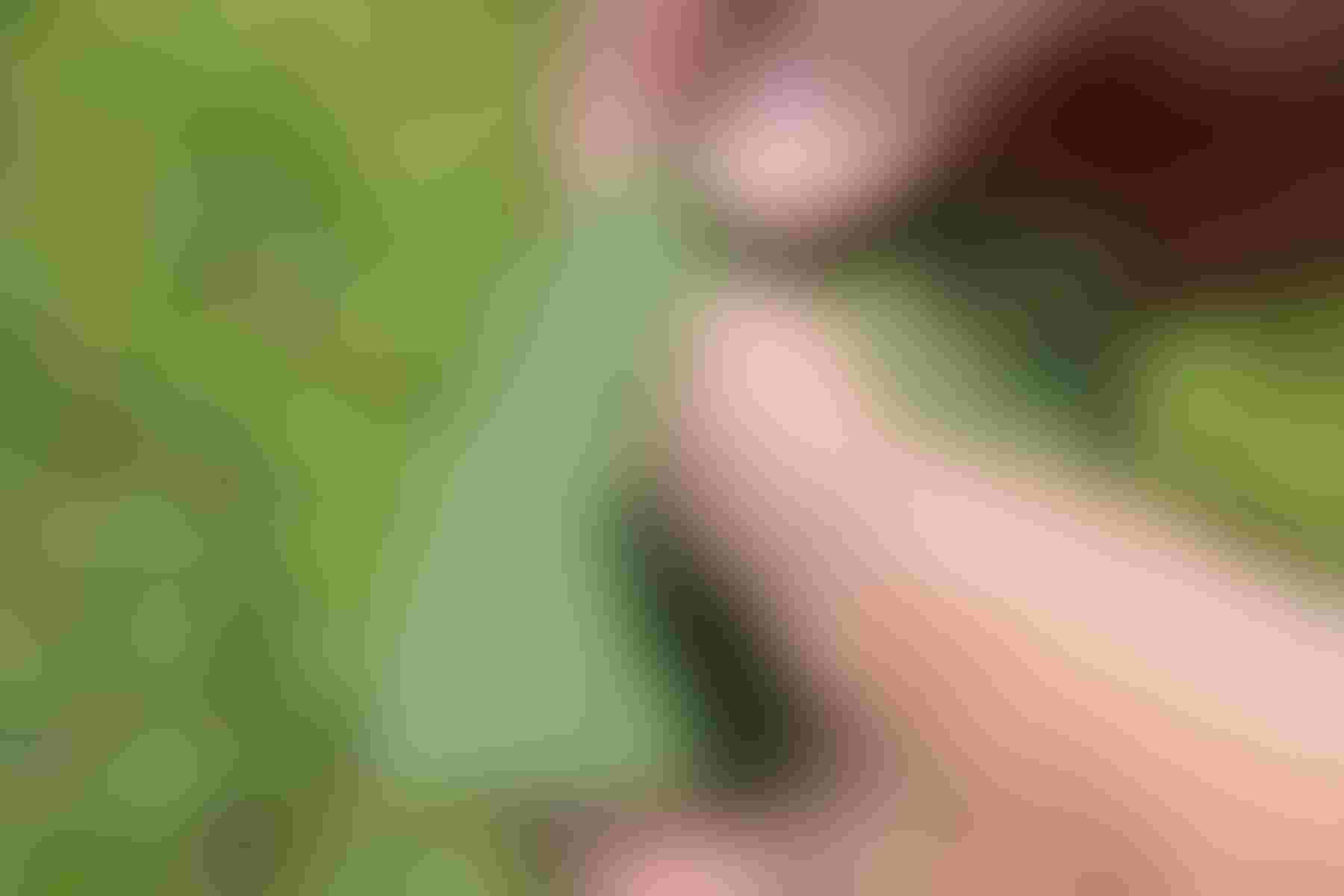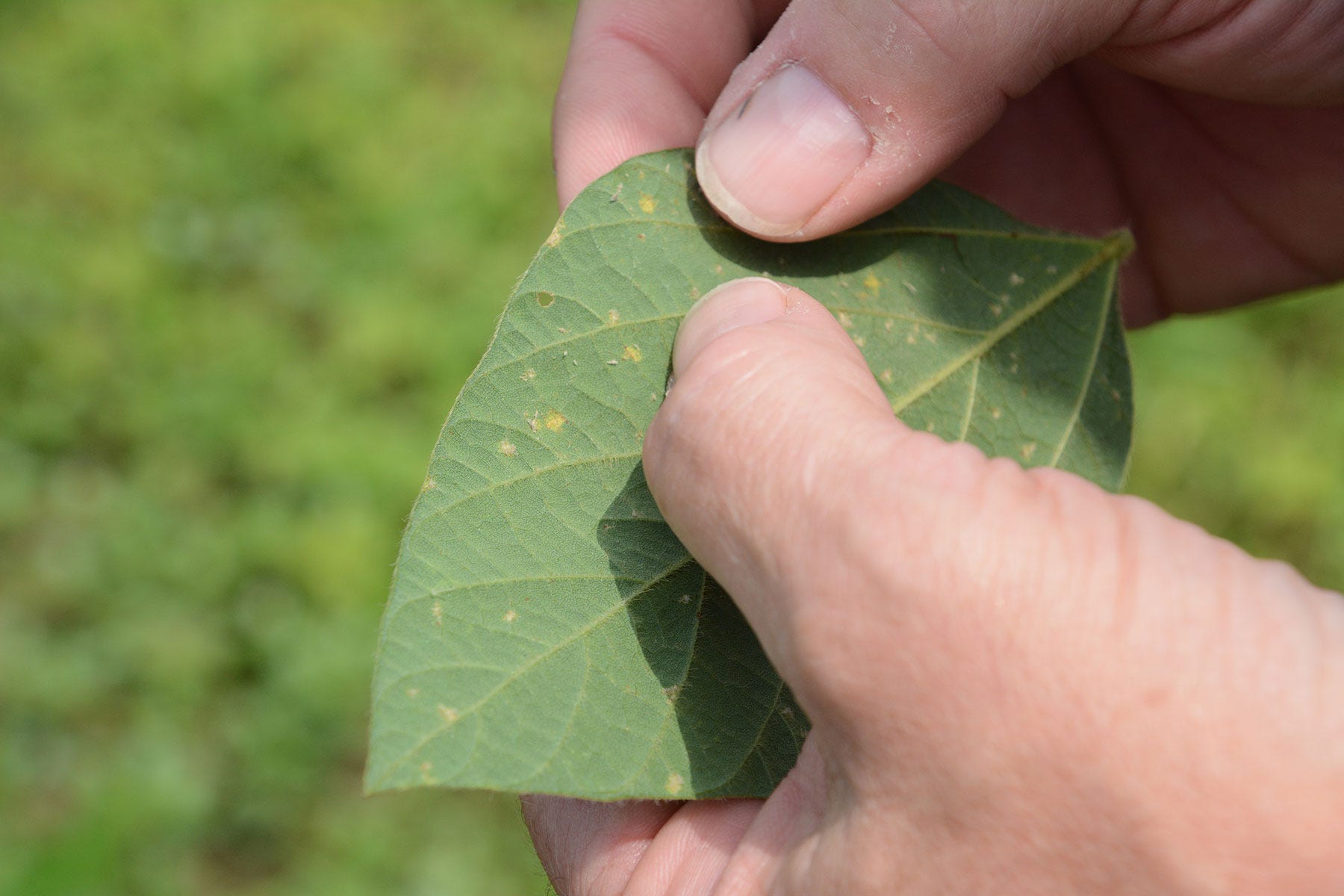 RUB AND REMOVE: Most spots on leaves don't disappear when rubbed. Agronomist Steve Gauck says these mildew spots caused by downy mildew will rub off.
According to the Purdue field guide, downy mildew rarely causes economic yield loss. It's not a typical fungus, so most fungicides used on soybeans may not work against it. Consult labels. Scientists often debate whether it's a fungus at all, or an alga instead. Expect to see it called a "fungus-like" organism in some reference materials.
In severe cases, it may produce a white mycelium that covers seed inside infected pods, although pods won't show visible symptoms. Some varieties are more susceptible to downy mildew than others.
Green cloverworm. Look for a tiny worm crawling along on the surface of a soybean leaf. They're pale yellow to green. Look closely and you should see two narrow, white stripes down the sides of the body.
"I found one here and there in the Soybean Watch field at midseason, but there wasn't enough to raise concern," Gauck says. "That's typically the case in soybeans. They can chew a few holes in leaves, but it's usually minor and of little consequence."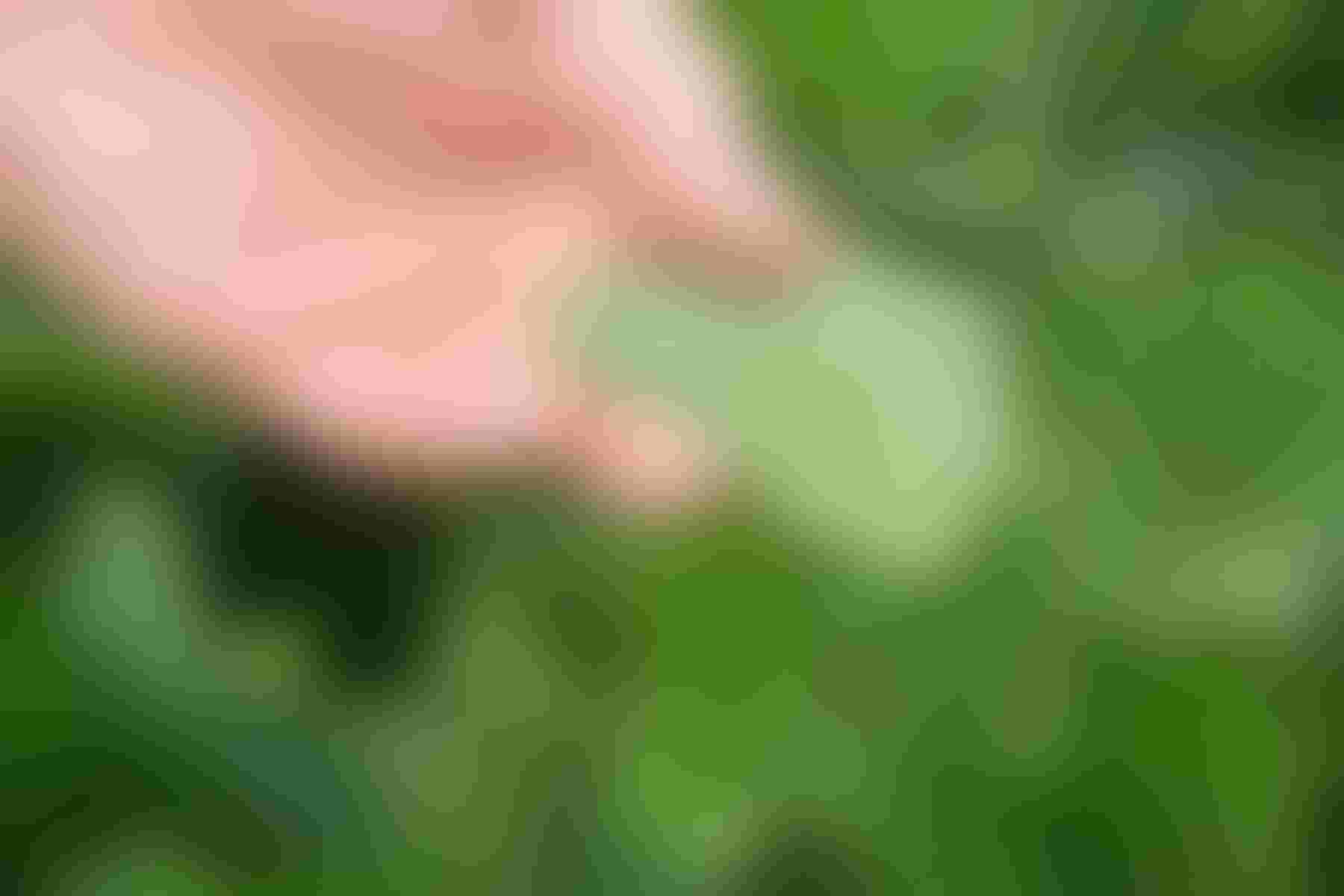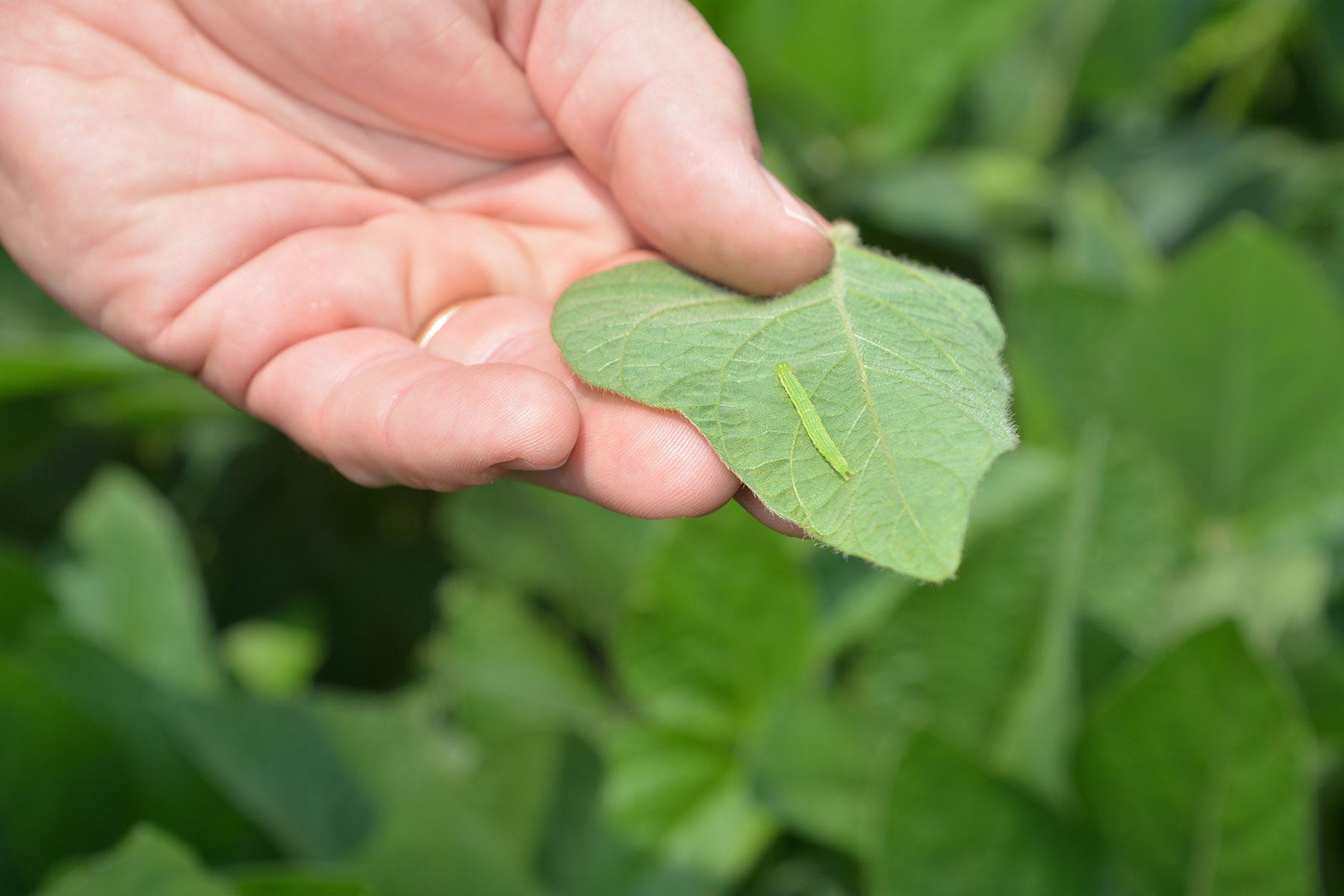 UNIQUE FIND: Sometimes your odds of finding a green cloverworm in soybeans are about as high as finding a four-leaf clover, which means the pest is typically not worth worrying about.
The only impact the field guide is concerned about is defoliation due to leaf feeding. Many other insects, such as Japanese beetles, bean leaf beetles and grasshoppers, also feed on leaves and are likely to do more significant damage than green cloverworms.
Regular defoliation guidelines that would apply for any kind of leaf feeding and defoliation apply here. In vegetative stages, it takes 30% total plant defoliation to reach the treatment threshold. During pod fill, it's 10%.
"Feeding on a few leaves on top won't get close to 10% if the rest of the plant is healthy," Gauck says. "This is a pest that it's good to know if it is there, but normally you're not going to worry about it in soybeans."
Subscribe to receive top agriculture news
Be informed daily with these free e-newsletters
You May Also Like
---