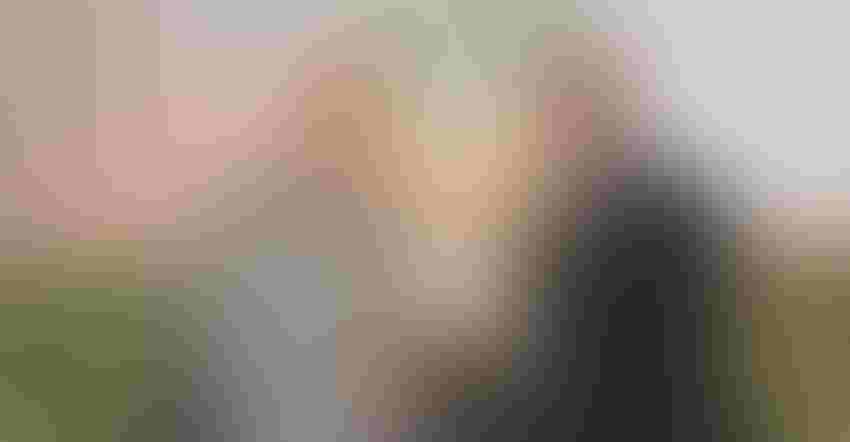 RECORD WIN: Doug Van Duyn (left) receives the overall first place plaque in the South Dakota Soybean Yield Contest from Jon Schaeffer, Viborg, S.D., chairman of the contest committee.
As the announcer read off the winning yields during the 2018 South Dakota Soybean Yield Contest awards presentation, the numbers kept rising.
78, 85, 90, 95, 100…
"How high can soybean yields in South Dakota go?" I wondered.
113.94 — that was the overall winning yield, a record for the contest. It would be a record in many other states, too. Fred Below, University of Illinois professor of agronomy and creator of the "Six Secrets of Soybean Success," who was the keynote speaker at the Ag Outlook meeting the following day, exclaimed, "One hundred thirteen bushels even beats the Illinois record! That guy ought to be up here instead of me."
"That guy" was Doug Van Duyn, Colton, S.D. He won overall first place in the contest with a Hefty Seed variety, Hefty 19R62. The variety was entered the maturity group 1, non-irrigated class.
"What does 113-bushel soybeans look like?" I asked.
"They were chin high," Van Duyn replied.
He credited excellent weather for the winning yield. But a lot more apparently when into it, including:
• Mulch tillage. Van Duyn leaves residue on the soil surface. He rarely does deep tillage. A disk and finishing tool are his main implements.
• Good drainage. Part of the area that produced the 113-bushel-per-acre entry had been pattern tiled the year before. "I don't think I would have had the yield if it hadn't been tiled," he says.
• Manure. Van Duyn feeds cattle and has spread on the field for many years. The biological life in the soil is supported by the manure, he says.
• Variety selection. Recently, Van Duyn has devoted more time to studying yield trials before selecting soybean seed. He farms not far from Hefty Seed's headquarters and uses data from their Baltic, S.D., research and variety trials. A Hefty Seed agronomist helps him drill down into the results.
The variety he won the contest with is an upright bush type plant that is less susceptible to white mold than other types. Van Duyn is concerned about white mold because the disease occurs when blossoms are wet. High-yielding beans will likely have more foliage than lower-yielding soybeans, and there will be less air movement in the rows, both of which will increase canopy humidity levels.
• Population and row width. Van Duyn uses far less seed than is typical. The final stand in the contest field was just 90,000 plants per acre in 30-inch rows. He planted soybeans with a John Deere row crop planter equipped with Precision Planting electric drives and Delta downforce. As with corn, Van Duyn aims to plant soybean seed at a uniform depth, so the plants emerge at the same time. He also tries to singulate soybeans seed as precisely as he singulates corn. He has counted pods on soybeans plants and has noticed that there are more pods per plant on uniformly spaced plants than on plants where there are gaps and doubles.
• Fertility. Van Duyn believes the Illinois research that indicates modern soybean varieties need more N than corn and only fix about half of what they need from the air. He soil tests extensively, keeps N, P and K nutrient levels in the target range and adds what he needs to reach his yield goal. He also applies sulfur, zinc, boron, copper and other micronutrients. He takes tissue tests weekly during key parts of growing season and foliar applies nutrients to correct deficiencies. Being able to maximize yields is not just about the amount of nutrients available, but also the balance of nutrients," he says.
• Early planting. Van Duyn planted the 2018 contest field the day before he planted his first corn field. Soybeans tend to emerge better in cool soil conditions than corn, he says. He treats the seed to help protect it.
• Fungicide. Van Duyn applied foliar fungicides three times on the contest field. His strategy is to apply the first fungicide when the soybeans are in the R1 stage of growth. He figures each application will protect the plant for three weeks. He scouts and then applies fungicide again if it is needed to protect plant health. "We are still experimenting with fungicides," he says.
More winners
Van Duyn wasn't the only winner in the South Dakota Soybean Yield Contest. The contest is divided in several categories by maturity group and production system.
Winners by name, yield in bushels per acre, county, variety name and contest category were:
Tim Hofer — 109.12, Hutchinson County, Legend LS28X840, Master Class
Kory Standy — 100.77, Charles Mix County, Group 0 or 1 Irrigated
Kory Standy — 95.75, Charles Mix County, Group 2 or 3 Irrigated
Jacob Waldner — 89.90, Clark County, Group 2 No-till
Rodd Beyer — 87.16, Roberts County, Group 0 Non-irrigated
Jay Kokes — 84.86, Charles Mix County, Group 3 No-till
Blake Carda — 83.18, Yankton County, Group 2 Non-irrigated
David Johanson — 78.64, Moody County, Group 0 No-till
James Hora — 76.98, Hutchinson County, Group 3 Non-irrigated
Charles Miner — 74.07, Beadle County, Group 1 No-till
Each first-place winner received a $2,000 cash prize. Second and third place winners received $1,500 and $1,000, respectively.
Samuel Bender, Hutchinson County, placed first in the Youth Class irrigated category with a yield of 74.84 bushels per acre with LG 1870R2. Brady Johnson, Moody County, placed first in the Youth Class non-irrigated category with a yield of 75.8 bushels per acre with Integra 51629N. They each received $250 cash prizes.
The 2018 South Dakota Soybean Yield Contest is sponsored by the South Dakota Soybean Research and Promotion Council and managed by the South Dakota Soybean Association.
For more results, see sdsoybean.org and click on the 2018 Yield Contest Results on the Agronomic Data page.
About the Author(s)
Subscribe to receive top agriculture news
Be informed daily with these free e-newsletters
You May Also Like
---