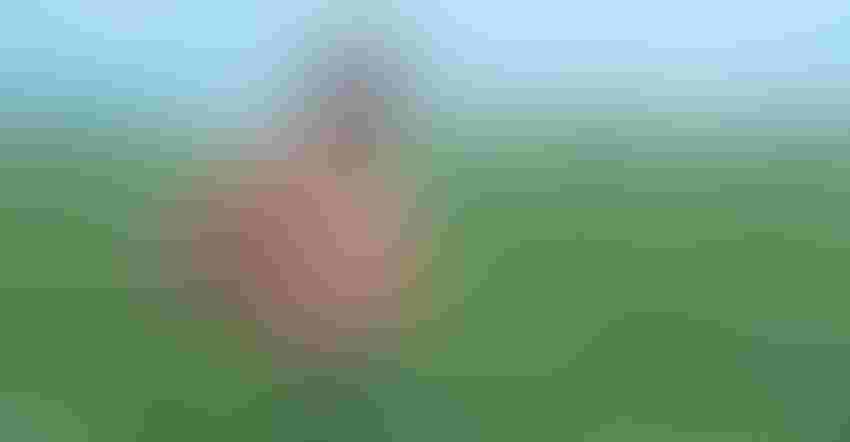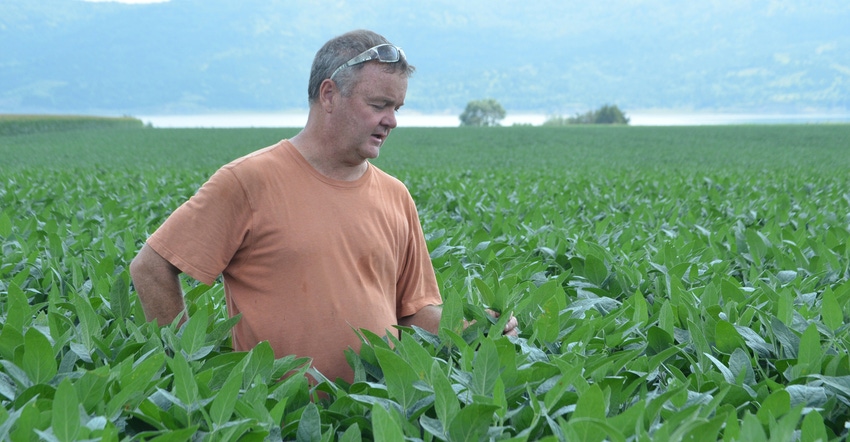 BEAN KING: Kory Standy and his wife, Tonya, topped the 2021 South Dakota Soybean Association yield contest with 118.48 bushels per acre and 108.82, respectively, on their subsurface irrigated land neat Platte in Charles Mix County, Mo.
Farm Progress
The king and queen of South Dakota soybean growers hail from Charles Mix County.
The South Dakota Soybean Association recognized its yield and quality contest winners during the association's recent AgOutlook Conference in Sioux Falls, and Kory and Tonya Standy took home top honors, with yields of 118.48 bushels per acre and 108.82, respectively, on irrigated ground.
"I was amazed with the yield — best yield I ever had," Kory says. In a drought year, the Platte-area farmer was able to make good use of his subsurface irrigation. "We never had big winds, and my beans didn't lodge this year, and everything turned out really well," he says.
Kory's winning soybean was Pioneer P28A42X, while Tonya took runner-up honors with Asgrow AG26XF1. The Standys helped the soybeans along with a foliar fungicide applied at the R2 to R3 stage, as well as micronutrients and potash injected through subsurface irrigation. Both were entered in the Group 2 or 3 Irrigated category.
The Standys incorporate a corn-soybean rotation "because it seems like you can pick up 10-, 15-, 20-bushel yield by doing the rotation," Kory says.
Winter wheat is rotated into the farm's dryland ground. Kory admits his dryland soybean yields dropped off 50 to 60 bushels an acre.
Contest rules state the contest field must be at least 10 continuous acres and a minimum of 3 acres must be harvested from this area. A third-party witness, such as an FFA adviser, university personnel, crop insurance agent, lender or other impartial witness must be present to supervise measuring, harvesting and weighing of the yield for each entry.
Friendly competition
Kory sees entering yield contests as a way to continue improving practices that can benefit the overall farm. "It's a good way to see how good we are and see if we can keep improving on it," he says. He also cherishes the friendly competition that develops between growers, as well as sharing practices and ideas.
Kory has entered the state soybean yield contest over the past few years, racking up multiple wins, but this year's 118 is his best yet.
He echoes the "best crop ever" on his irrigated cornfield, with a yield of 312.32 bushels per acre — good enough for second place in South Dakota in the Conventional Irrigated category in the National Corn Growers Association yield contest. "I'd kind of like to hit 120 on the beans, and hopefully, I'll get that done here."
The Standys' son Chandler, 25, won the yield main class two years ago but has yet to eclipse the 100-bushel mark. "He wants to get to that mark, but to do it on his own," Kory says, "and we hope we can get him to that."
Chandler will be working some of his parents' dryland and irrigated ground this year to work toward that 100-bushel plateau.
Soybean results
Here are the soybean yield winners from South Dakota, given in bushels per acre:
Group 0, No-till
Jerry Houslog, Moody County, 73.82; Asgrow AG09XF0

Mitchell McCranie, Brown County, 72.94; Asgrow AG09XF0

Paul Voigt, Bon Homme County, 54.01; Asgrow AG09X9
Group 0 or 1, Irrigated
Adam Weise, Moody County, 81.62; Pioneer P09A62X

John Wipf, Brookings County, 70.64; Channel 1619R2X
Group 1, Nonirrigated
Aubrey Scherff, Moody County, 84.22; Asgrow AG16X0

Paul Scherff, Moody County, 84.13; Asgrow AG16X0

Adam Wiese, Moody County, 79.96; Pioneer P18A98X
Group 1, No-till
Chuck Beving, Clark County, 83.98; Pioneer P11T55E

Garret Meier, Clark County, 76.01; Pioneer P16T58E

Conrad Waldner, Beadle County, 72.50; 18X128 distributed by Legend Seeds
Group 2, Nonirrigated
Rocky Schreurs, Minnehaha County, 82.49; AE2110 Apex distributed by Mustang Seeds

Harold Wipf, Hutchinson County, 80.71; Pioneer P28A42X

David Rochel, Brookings County, 73.39; Asgrow AG20X9
Group 2, No-till
Doug Hanson, Union County, 84.21; Golden Harvest GH2818E3

Justin Reaves, Moody County, 80.03; Asgrow AG20X9

Dean Bosse, Union County, 74.33; Golden Harvest GH2922E3
Group 2 or 3, Irrigated
Tonya Standy, Charles Mix County, 108.82; Asgrow AG26XF1

Steve Hagena, Turner County, 98.63; Pioneer P28A42X

Jarrod Hagena, Turner County, 92.18; Pioneer P28A42X
Group 3, Nonirrigated
James Hora, Hutchinson County, 70.72; Pioneer P31A95BX

Jon Schaeffer, Yankton County, 62.77; Pioneer P31A95BX

Nicholas Kniffen, Bon Homme County, 62.66; Pioneer P31A22X
Group 3, No-till
Paul Voigt, Bon Homme County, 67.47; Asgrow AG30X9

Brian Schmidt, Turner County, 63.24; Asgrow AG30XF1

Jay Kokes, Charles Mix County, 60.16; Pioneer P31A22X
Master's Class
Kory Standy, Charles Mix County, 118.48; Pioneer P28A42X

Tonya Standy, Charles Mix County, 108.82; Asgrow AG26XF1
Youth yield contest
Below are youth soybean yield winners:
Group 0 or 1, Nonirrigated
Jackson Hauglid, Moody County, 68.98; Integra 51629N
Group 2 or 3, Nonirrigated
Myles Kokes, Charles Mix County, 55.77; Pioneer P21A28X
Soybean quality contest
Below are winners for soybean quality:
Group 0
Paul Voigt, Bon Homme County, Asgrow AG09X9; oil, 19.9%; protein, 34.8%; estimated processed value, 174.7

Adam Wiese, Moody County, Pioneer P09A62X; oil, 19%; protein, 35.4%; EPV, 173.4
Group 1
Thomas Hagedorn, Moody County, NK S13-E3; oil, 19.5%; protein, 35.1%; EPV, 174.2

Richard Wiese, Moody County, Pioneer P18A98X; oil, 19.5%; protein, 34.7%; EPV, 173
Group 2
Tim Hofer, Hutchinson County, 27X827 distributed by Legend Seeds; oil, 19.3%; protein, 35%; EPV, 173.2

Doug Hanson, Union County, Golden Harvest GH2818E3; oil, 19.1%; protein, 34.7%; EPV, 171.6
Group 3
Paul Voigt, Bon Homme County, Asgrow AG30X9; oil, 19.6%; protein, 35.7%; EPV 176.4

Nicholas Kniffen, Bon Homme County, Pioneer P31A22X; oil, 19.4%; protein, 34.3%; EPV, 171.5
Youth soybean quality contest
Here are the winners in the youth quality contest:
Group 1
Jackson Hauglid, Moody County, Integra 51629N; oil, 18.9%; protein, 34.2%; EPV, 169.4
Group 2
Myles Kokes, Charles Mix County, Pioneer P21A28X; oil, 20.3%; protein, 33.2%; EPV, 166.4
100-bushel club
The 2020 100-bushel club winners are:
Bob Creasey, Charles Mix County, 118.14; Pioneer P28A42X

LaRohn Hagena, Turner County, 101.12; Pioneer P28A42X
Subscribe to receive top agriculture news
Be informed daily with these free e-newsletters
You May Also Like
---